Are You Like Sarah's Daughter or Lot's Daughter?
Are You Like Sarah's Daughter or Lot's Daughter?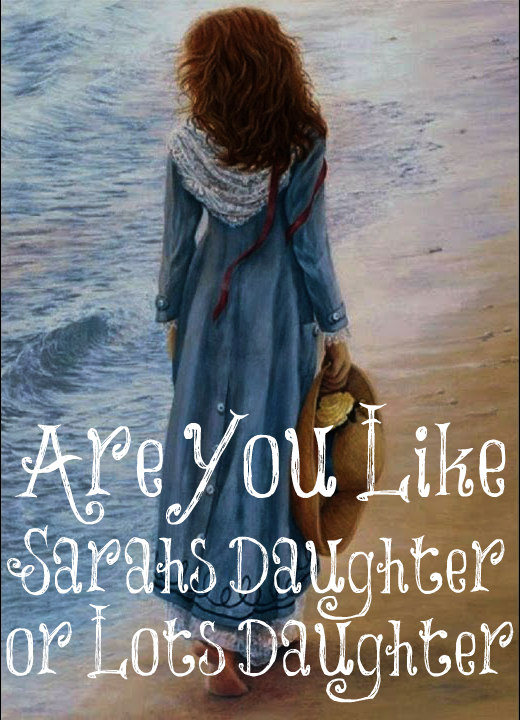 Abraham "hearkened to the voice of Sarah" (Genesis 16:2) and slept with her maid because Sarah couldn't bear children. She thought this was a good plan but nothing good came from it. Hopefully, she learned her lesson to not try to manipulate her husband after this. Twice she obeyed Abraham when he asked her to lie and tell people that she was his sister because he feared for his life. Both times, God protected her while in the Kings' harems.
One day, the LORD came and visited Abraham. Abraham wanted to feed the LORD and the two men who were with him. He went to Sarah and said this to her, "Make ready quickly three measures of fine meal, knead it, and make cakes upon the hearth" (Genesis 18:6).  He didn't say "Please" or even "Can you do this for me?" No, he told her what to do and I imagine she obeyed him immediately and made the bread. Most wives would not like being told what to do by their husbands in this way!
Then we look at Lot's wife. Two angels came to Lot's house to warn him of the impending doom on the cities of Sodom and Gomorrah. Lot begged them to come into his home and "he made them a feast, and did bake unleavened bread, and they did eat it" (Genesis 19:3). Where was Lot's wife? Why didn't she make the bread? (After so many years of teaching women biblical womanhood, I notice these things quickly!) If Lot had told his wife to make bread for the guests, would she have obeyed him? I doubt it since she was known for her disobedience.
Lot and his family were corrupted by the cities in which they lived. When the men wanted to have sex with the two angels, Lot offered his two daughters instead. Lot tried to get his two sons-in-law to go with him to flee the cities but they mocked him. In the morning before the devastation, the angels tried to get Lot to hurry up but he and his family "lingered" so the two angels grabbed their hands to get them to leave. More disobedience. They were told to not look back at the city and escape to the mountains. God rained brimstone and fire from the heavens and Lot's wife looked back and turned into a pillar of salt. She was a rebellious wife and didn't obey God nor did she seem to be a help meet to her husband.
Then instead of fleeing to the mountains as Lot was instructed, he fled to a small town for a while but shortly afterwards, he fled to the mountains as originally instructed. Later, his daughters got him drunk and had sex with him because they wanted children. No, Lot and his family are examples of "bad company corrupting good morals" (1 Corinthians 15:33) when living in and immersing oneself into the wicked culture around them.
 Lot's wife and his daughters were disobedient, but this is what the Apostle Peter wrote about Sarah in 1 Peter 3:6, "Even as Sarah obeyed Abraham, calling him lord: whose daughters ye are, as long as ye do well, and are not afraid with any amazement." When God told Abraham to go, he went and Sarah followed, living in tents and wandering in the wilderness for many years. As godly women, our greatest desire is to walk in obedience to the LORD. It's the least we can do for Him after all He's done and is doing for us. Therefore, we obey our husbands and call them lord. Well, most husbands probably won't want to be called lord but we should at least treat them as our earthly lord, with obedience and reverence as commanded by God.
Lot's wife is only known for not serving her husband and disobeying God. Sarah is known for serving her husband and obeying God. She adorned herself by "being in subjection to [her] own husband" (1 Peter 3:5). Are you more like Lot's daughters or Sarah's daughters? Lot's wife and daughters' were earthly minded and did what was right in their own eyes and Sarah was heavenly minded and obeyed God.
Who can find a virtuous woman? for her price is far above rubies.
Proverbs 31:10