Daughters of Eve or Daughters of Sarah
Daughters of Eve or Daughters of Sarah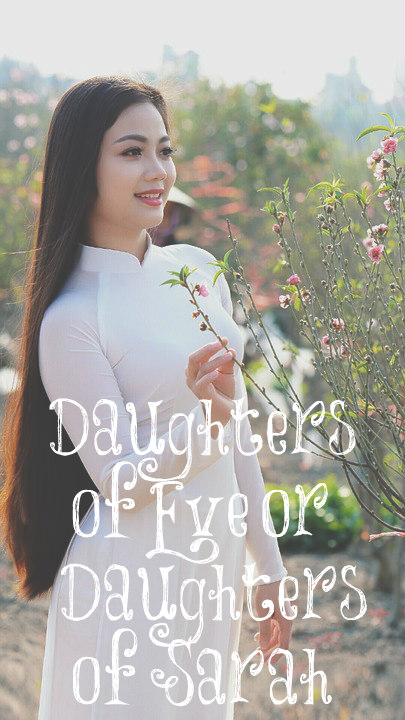 Would you consider yourself more of a daughter of Eve or a daughter of Sarah? Eve knew God's will. She walked with Him in the cool of the Garden of Eden. When Satan came as a serpent to tempt her, she quoted what God had said to her and added a few words to His commands. (He never told her not to touch the fruit.) "But of the fruit of the tree which is in the midst of the garden, God hath said, Ye shall not eat of it, neither shall ye touch it, lest ye die" (Genesis 3:3).
She was willingly deceived by the serpent, ate the forbidden fruit, and then gave it to her husband to eat which plunged the world into sin and darkness. There isn't much more said about Eve except that she and Adam hid from God and God gave them the consequences of their sin. Now to be fair to Eve, I am sure if any of us were in her situation, we would probably choose to do the same thing. But we don't have to continue to live like Eve – in rebellion to God and His will for our lives as many do today. She knew God's Word yet chose to disobey Him. Do you know God's Word yet continue to disobey it?
Then we come to Sarah. Sarah wasn't perfect either. She knew God had promised them a baby but instead of waiting on God for the promise, she took matters into her own hands and gave her handmaid to Abraham as his wife so they could have this promised child but this child wasn't the one God had promised (Genesis 16:1 – 3). Sarah didn't have her promised child until she was 90 years old! Both Eve and Sarah cause horrible long-term consequences for their disobedience but let's look at other aspects of Sarah's life.
She wandered around the desert living in tents with her husband Abraham. "By faith he sojourned in the land of promise, as in a strange country, dwelling in tabernacles with Isaac and Jacob, the heirs with him of the same promise; For he looked for a city which hath foundations, whose builder and maker is God." (Hebrews 11:9, 10). She followed where her husband went. Many women today want their husbands to follow them and their careers. Sarah didn't do this. She was willing to sacrifice much to follow her husband, even living in tents!
She was a servant. When three men appeared at their tent, "Abraham hastened into the tent unto Sarah, and said, Make ready quickly three measures of fine meal, knead it, and make cakes upon the hearth" (Genesis 18:6). It doesn't say anything about her telling him to do it himself or being upset at him for commanding her to do this. No, I'm sure she willingly obeyed him for she was known for obeying her husband. "For after this manner in the old time the holy women also, who trusted in God, adorned themselves, being in subjection unto their own husbands: Even as Sara obeyed Abraham, calling him lord: whose daughters ye are, as long as ye do well, and are not afraid with any amazement" (1 Peter 3:5, 6).
Did you notice what Sarah adorned herself with? It doesn't say she adorned herself with gold, jewelry, fancy clothes or shoes. No, we are told that she adorned herself with subjection unto her own husband. This is the adorning that we all should have since this pleases God and if we aren't adoring ourselves with submission to our husbands, we are blaspheming the word of God (Titus 2:5).
Many will bring up the fact that she lied twice when her husband told her to lie and tell others that she was his sister and not his wife. They will use this as a way to say that wives should obey their husbands even when their husband tell them to sin against God. If you look at the stories where this is told, she lied because she thought she was protecting her husband's life. Most of us would willingly lie to protect our husbands' lives. God values life over a lie. Many lied to protect Jews during the Holocaust. This is not wrong.
Sarah willingly obeyed her husband in both instances because she valued her husband's life. God protected Sarah even during these times when Abraham lacked faith in God. From the Word of God, she loved her husband and wanted the best for him. She was a true help meet to him and lived in subjection to him. She sought to do him good and not evil all of the days of her life (Proverbs 31:12). Does Sarah describe the wife that you are to your husband?
Her children arise up, and call her blessed; her husband also, and he praiseth her. Many daughters have done virtuously, but thou excellest them all. Favour is deceitful, and beauty is vain: but a woman that feareth the Lord, she shall be praised.
Proverbs 31:28-30