Fatherlessness is Destroying Our Country
Fatherlessness is Destroying Our Country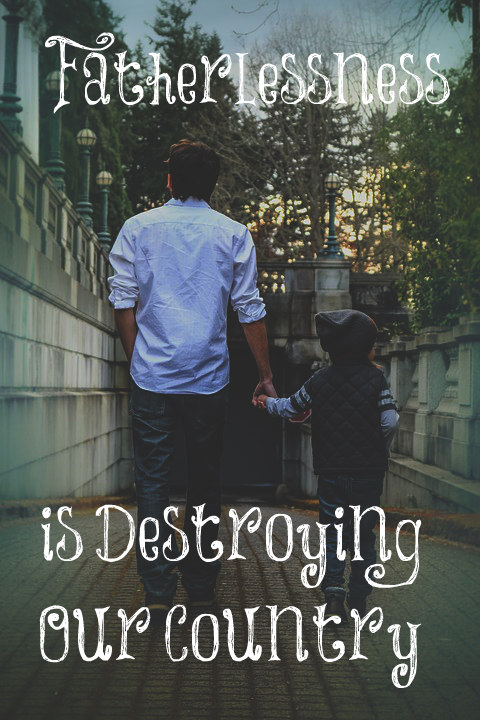 Yesterday, I tweeted this: "The fatherless shooters among us: Of the 27 deadliest mass shooters, 26 were fatherless. It's NOT gun issue. It's a 'lack of fathers' issue. Despite popular opinion, children need their fathers just as much as they need their mothers.'
One woman asked for the source of this quote. I posted the article for her. Here is an eye-opening comment from the article: "Indeed, there is a direct correlation between boys who grow up with absent fathers and boys who drop out of school, who drink, who do drugs, who become delinquent and who wind up in prison," she writes. "And who kill their classmates."
Most of you are aware of the terrible gang violence and murders happening in Chicago, right? Did you know that most of the gang members were raised without fathers? Do you know that most of the men in prison for violent crimes were raised without fathers?
Here's a comment I found under this article: "I've been telling America this since Springfield. But America is a Feminist Nation, and she refuses to hear ANYTHING that might point to the U.S. destruction of masculinity and fatherhood over the past half-century as the cause of most of your nation's woes. The very intentional destruction of both. You want a nation of Holy Empowered Females, and of males as second-class citizens? Sow, reap, baby. This is only the beginning."
Feminism has left mass destruction in its wake! They shout, "It's only about 'equality'" but it's not true. I see it every day from comments left on my social media sites; the many women who hate men and want to blame men on all of their problems. But it's women who have left their marriages, children, and homes in droves. They initiate 80 percent of the divorces then get half of what their husbands owns and makes. They leave their children in the care of others while they go off to pursue their "dreams." Their homes are left empty all day long since they refuse to be "keepers at home" because feminism convinced them that home was bondage.
The end result: broken children and a broken society. Strong cultures are built upon strong families. Feminism has dramatically weakened the fabric of our nation. Yet, women want more, so they continue to fight for their "rights" (to murder their own babies in their wombs on taxpayer money!).
Stop the crazy destructive cycle, women. Feminism is a lie! Stay married to the husband of your youth. The greatest gift you can give your children is to love their daddy deeply. Be a keeper at home, bear children, and care full time for those precious children the Lord has given you. Teach them daily the ways of the Lord to combat the lies they will be told. Don't allow Satan to destroy your home and family!
And He shall turn the heart of the fathers to the children, and the heart of the children to their fathers, lest I come and smite the earth with a curse.
Malachi 4:6