Feminists Have Done Violence to Mothering
Feminists Have Done Violence to Mothering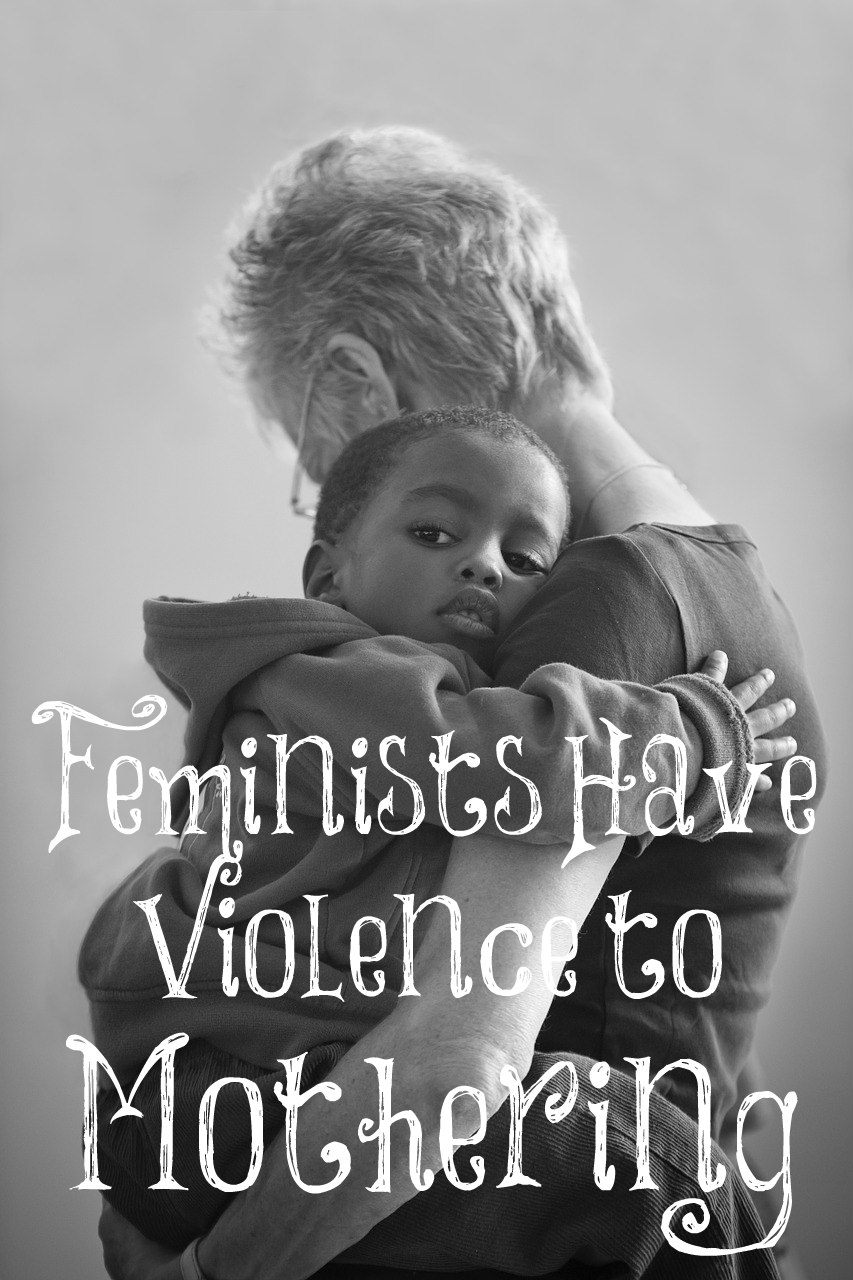 "Feminists have largely controlled the public image of women. Mothers at home, who are impediments to the feminist agenda, have been largely ignored. In their thrust for subsidized child care, equal rights, abortion rights, feminists have done violence to mothering with their constant proclamation that mothering is a 'low status job'" (Dr. Brenda Hunter).
Unfortunately, feminists have not only controlled the public image of secular women but Christian women as well. Many Christian women seem to be as unsubmissive to their husbands as women who are not believers and Christian women are working in full-time careers in almost the same numbers as those women who don't claim the name of Christ. Instead of searching scriptures for God's will for their lives, they go along with our culture instead, sadly.
Anyone who fights for subsidized child care is fighting for something that is not from the Lord. Children need their mothers full time. The last thing mothers need is more incentives to leave their children in the care of others all day long. They need incentives to stay home with their children and care for them.
Ken and I were watching a television show recently and two young daughters just found out that their beloved nanny had quit and their mom was going to have to find another one for them since their mother had a high-powered and stressful career that kept her away from her children most of the time. The daughters cried, "Whose going to take care of us?" That question should never have to be asked by children. Their mothers are the ones responsible to care for them!
All of the equal rights that feminists are fighting for are those in the workplace which make it more desirable for mothers to pursue. When they get equal pay with men (which they mostly do), paid maternity leave, and other perks, why should they stay home with their children? In their minds, working outside the home is much more profitable than raising children since money has more worth in our culture than children. (You don't believe me? Ask people who they would rather be; Oprah Winfrey with her millions or Michelle Duggar with her nineteen children. Most would much rather have wealth than many children.)
There are many women, even Christian women, who place their careers above being mothers. I know some Christian women who have no desire to ever have children because their careers are more important. How did this ever infiltrate the Church? Why is the Church so weak that it listens to the lies of our culture instead of the Words of God? How could women in the Church ever believe that a career is more important than having and raising children when children are clearly blessings from the Lord?
There are some acquaintances of ours that don't believe in the God who created the universe. They just can't believe a good God can send anyone to hell. The Bible states that the only ones that God is going to send to hell are those who "hold the truth in unrighteousness;' those know the truth but refuse it and reject their Creator. I have noticed something about these families who reject God and His truth, each generation is producing less and less children. Some of the children have become homosexuals, some transgenders, some never marry, and some never have children. Each generation gets smaller in number.
Then there are acquaintances and friends of ours who love the Lord. I hate to say this but their numbers aren't growing much either. They marry late and then put off having children due to the women having careers. Then if they have children, they only have a few since they want their "freedom" to travel and enjoy life before children come onto the scene. They waste valuable fertile years to pursue pleasure instead of bearing and raising godly offspring.
Where are the Christians who want to marry, then begin having children soon after marriage, if the Lord blesses them in this way? In the chat room, there are many women who are like this but they feel lonely in their beliefs. People at church make comments about their many children, as if having children were a sin. Jesus had a lot of things to say about children and they were all good.
"Except ye be converted, and become as little children, ye shall not enter into the kindgom of heaven. Whosoever therefore shall humble himself as this little child, the same is greatest in the kingdom of heaven. And whoso shall receive one such little child in my name receiveth me. But whoso shall offend one of these little ones which believe in me, it were better for him that a millstone were hanged about his neck, and that he were drowned in the depth of the sea" (Matthew 18: 3-6).
He created children. He knits them together in their mother's womb. He calls them gifts and blessings and so should we.