How to Have a Merry Heart
How to Have a Merry Heart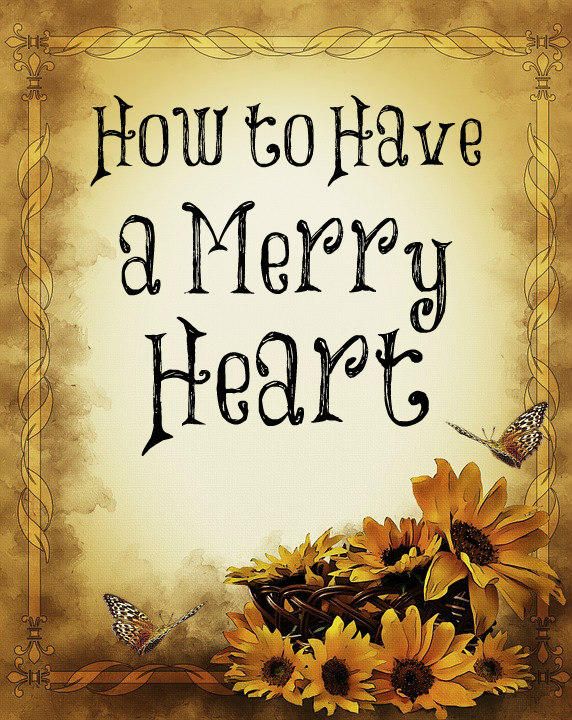 How do we gain a merry heart? There are many positive and beneficial things about having a merry heart.
"A merry heart does good like a medicine" (Proverbs 17:22).
"A merry heart makes a cheerful countenance" (Proverbs 15:13).
"[She] that is of a merry heart hath a continual feast" (Proverbs 15:15).
From a merry heart comes a cheerful countenance and a continual feast. It is like good medicine without the negative side effects! It's not faking being happy that makes a merry heart. It's a matter of what we dwell upon. If we feed upon the news, soap operas, and the filth in our culture, we will never have a merry heart. Satan's goal is to make people have dark hearts full of negativity, pessimism, bitterness, and anger.
God gives us some instructions on how to have a merry heart. We are to be continually renewing our minds with God's Truth; for this is what transforms us. We are to take every thought captive to the obedience of Christ. We are to dwell on the lovely and the good and let NO unwholesome word come out of our mouths. We love others more than we love ourselves. We serve others and are generous. This is God's prescription for having a merry heart!
When you wake up in the morning, let the first thing that comes out of your mouth be, "This is the day that the Lord hath made! I will rejoice and be glad in it." Thank the Lord for His many blessings. Thank Him for the food you eat, the clothes you wear, the roof over your head, and the relationships that you have. Thank Him for what He accomplished on the cross for you, your sins are all forgiven, and you are now in Christ. Forgive others freely, too. Be thankful!
Dwell on the good in others. Kick out the negative. Give it to the Lord and allow Him to convict and change others. He wants us to give Him our burdens. We aren't meant to carry them. Memorize Romans 6 and 8. Learn who you are in Christ and the freedom that He has given us! We don't need self-esteem. We need Christ-esteem! We are nothing without Him but we have everything we need for life and godliness in Christ! We can do all things through Christ who strengthens us and the joy of the Lord is our strength.
Let His Word dwell in you richly, women. I can't say this enough. God's people are being destroyed for lack of knowledge and they are being easily led astray since they aren't knowledgeable in the Word of God. We gain wisdom from being in His Word. You won't be wise women if you aren't in the Word consistently.
Learn to love His Word and you will grow more in love with Him! Then, most likely, you will have a merry heart.
The joy of the Lord is your strength.
Nehemiah 8:10