Looking Forward to the Future with Joyful Confidence
Looking Forward to the Future with Joyful Confidence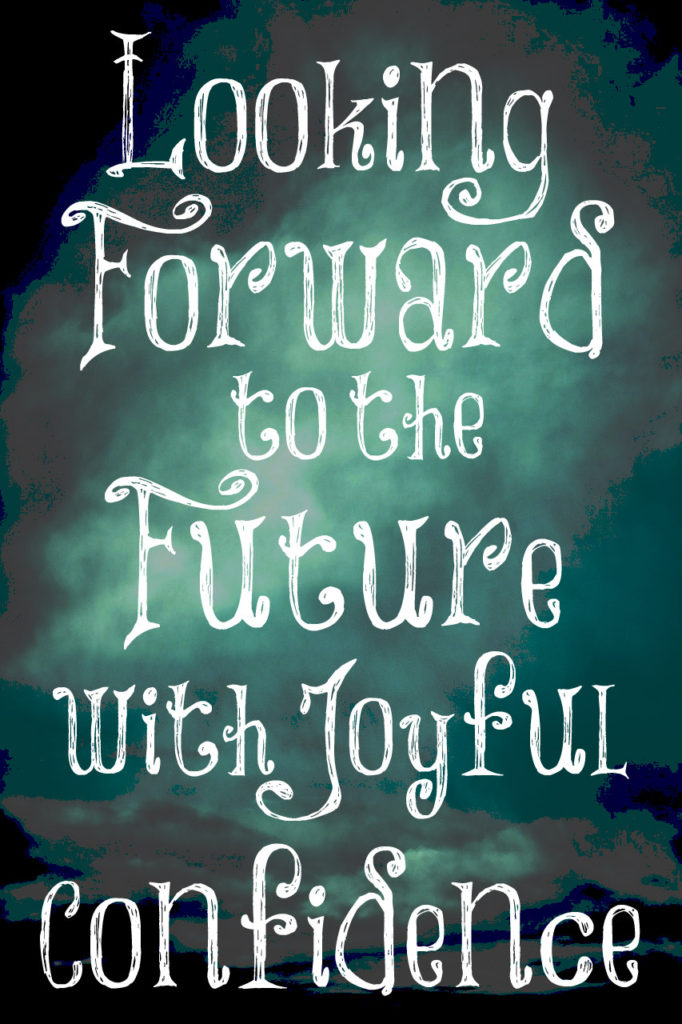 She is not afraid of the snow for her household: for all her household are clothed with scarlet…Strength and honour are her clothing; and she shall rejoice in time to come.
Proverbs 31:21, 25
Many women today live in almost constant fear of the future for their children and themselves. The daily news paints a horrific picture of what is going on in our country and around the world. There are many things to fear but God continually tells us in His Word that we should not fear but put our trust in Him. Remember, He is still on His throne and He is in control. Yes, evil will continue until we are on the new earth but until then, there will be pain, heartache, and struggle but we can trust God and His perfect will for our lives.
Let's look at the Proverbs 31 woman for encouragement; for she is given as an example of godly womanhood to us.
"She lives in constant tranquility of mind, and a confident and cheerful expectation of all future events, how calamitous soever, partly because she hath laid in provisions for a rainy day, and chiefly because she hath the comfortable remembrance of a well-spent life, and, which follows thereupon, a just confidence in God's gracious providence and promises made to such persons." (Matthew Poole's)
God has given us many promises in His Word. Highlight them in yellow so when you open your Bible you can be reminded of them. We can do all things through Christ who strengthens us. The joy of the Lord is our strength. He will never leave nor forsake us. He is with us wherever we go. He makes all things new. We are forgiven and free from sin and condemnation. He will supply all of our needs according to His riches in Christ Jesus.
He shall cover thee with his feathers, and under his wings shalt thou trust: his truth shall be thy shield and buckler.
Psalm 91:4
"Strength, not of body, but of mind. The church is clothed with strength, as her Lord, head, and husband, is said to be, Psalm 93:1; and which she has from him; for though she is the weaker vessel, and weak in herself, yet is strong in him; and is able to bear and do all things, with a fortitude of mind to withstand every enemy, and persevere in well doing: and she is clothed with 'honour'; with honourable garments, suitable to her rank and dignity; in cloth of gold, in raiment of needlework; with the garments of salvation, and the robe of righteousness." (Gill's Exposition)
God has promised that He has blessed us with every spiritual blessing (Ephesians 1:3) and we are complete in Him (Colossians 2:10). Instead of keeping your eyes on the news and the happenings around you, seek those things which are above! We are commanded to dwell on the lovely, pure, and good for a reason. God does not want us to live in a state of continual fear. This isn't our home. He's building a mansion for us. We can trust in Him.
"She shall rejoice in, rather: she laugheth at, i.e. so far from regarding it with apprehension, she can look forward to it with joyful confidence." (Cambridge Bible)
She doesn't allow the events around her steal her joy. She rejoices in the Lord and is thankful as He has commanded her to be. She reminds herself of the abundance that He has blessed her with and lives her life in continually gratitude and praise for what He has done for her.
"She is invested with a moral force and dignity which arm her against care and worry; the power of a righteous purpose and strong will reveals itself in her carriage and demeanour. She is not disquieted by any fear of what may happen, knowing in whom she trusts, and having done her duty to the utmost of her ability. The true servant of God is not afraid of any evil tidings, his heart being fixed, trusting in the Lord." (Pulpit Commentary)
Many women today live their lives and make their choices based on the fear of "what if…?" This is NOT how we, who serve the Living God, are supposed to live. No, we live as He has commanded and trust Him with everything.
He shall not be afraid of evil tidings: his heart is fixed, trusting in the LORD.
Psalm 112:7