Making Women Feel Horrible
Making Women Feel Horrible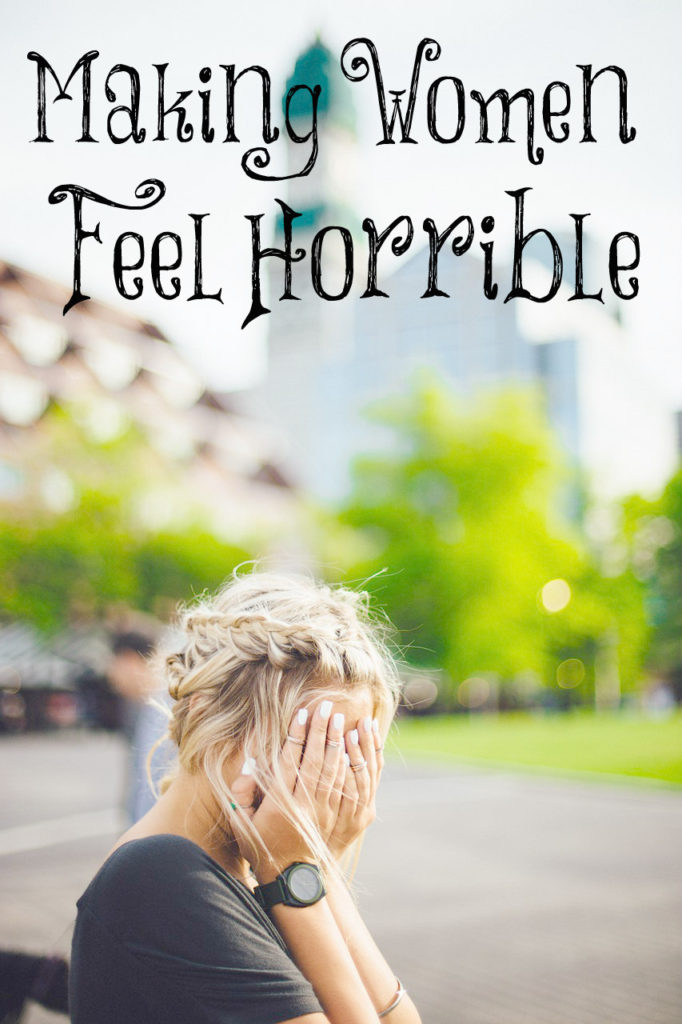 A woman commented on Ben Shapiro's post about Matt Walsh writing and speaking too much about Jesus,"I love this! One thing I don't understand is how can you be a Democrat and a Christian? Pro-choice, marriage equality, anti-gun (we have a right to defend ourselves). I'm not saying I'm against marriage equality because it's not my place to judge. But I don't go around promoting it."
Is it not our place to judge? How can we rebuke, exhort, and speak the truth in love if we can't make judgments between what is right and what is wrong? How can we not say that abortion is murder and any person who is a Democrat is automatically supporting the murder of the unborn since this is the Democratic party's platform? As Lindsay Harold wrote: "Even if one can claim that they do some good things, their support for the murder of children cancels out any other good they do. They cannot be termed a good party. The murder of children makes them a horrible monster of a party." How can we not say that God ordained marriage to be between one man and one woman from the beginning of time if we can't judge?
Frequently, women accuse me of judging. Lately, I have been posting Paul Washer's words under their accusations: "People tell me, JUDGE NOT lest ye be judged. I always tell them TWIST NOT SCRIPTURE lest ye be like Satan." Yes, many women are great at twisting Scripture these days. Women can be preachers in the churches and teach men. They no longer need to be silent. Women don't need to submit to their husbands because they are equal in every way. Women don't need to be keepers at home since careers weren't possible back in the day but now women are highly educated. "Women are enlightened these days, you know!"
Some women write and tell me that when I teach women to be keepers at home and homeschool their children, I am making all the women who must work and send their children to public schools feel horrible about themselves and we're supposed to build each other up, not judge. Well, I am commanded by God to teach women to be keepers at home. I am commanded to teach them to love their children and raise them in the nurture and the admonition of the Lord.
What if 20 percent of the women who have careers and send their children to public schools read my posts and decide this is what they want for their children? What if they seek the Lord, explore their options, and finally make a way to be home full time with their children homeschooling them? Would you not say this was best for the children – to be home full time with their mothers and wouldn't you be happy for this 20 percent?
Am I not supposed to teach what God has commanded I teach because I make some women feel badly? If I were a single mother who had children in public schools and read my posts, I would be convicted about working and sending my children to public schools since I've always had a soft and teachable heart to the ways of the Lord. I would seek the Lord in prayer, write to godly friends and family for advice and maybe help, and do all I could to be able to be home full time with my children. I would consider that if my Creator said this was His will for my children and me, I would do everything in my power, with His power working mightily within me, to make it happen.
Many women are WAY too easily offended these days. No, I'm not going to stop writing truth. I'm not going to stop writing what is best for women and children because it offends some of them and makes them feel badly. Maybe, just maybe, some of them will find a way to do what is best for them and their children because with God ALL things are possible and what He commands He provides.
Instead of getting offended and being afraid of judging (speaking the truth in love), seek and speak the Lord's ways. Ask Him to make a way to obey His commands and then trust Him. He owns everything! He can make a way.
Now unto him that is able to do exceeding abundantly above all that we ask or think, according to the power that worketh in us, Unto him be glory in the church by Christ Jesus throughout all ages, world without end. Amen.
Ephesians 3:20, 21