Misogyny in the Church
Misogyny in the Church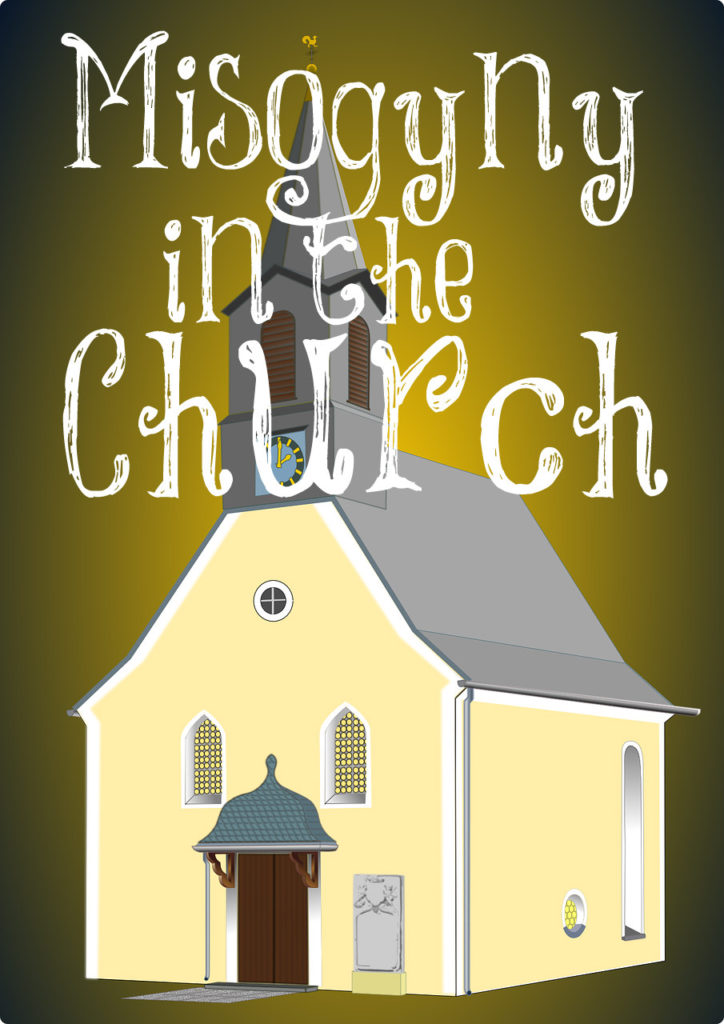 Do you love being a woman and the role that the LORD has given you? Do you believe the Word of God as written? Then you are in the minority of women, as you know. The LORD has told us that the road is narrow and few want to walk on it.  Most choose to walk on the broad path that leads to destruction. I believe the Word just as God has written it. I accept absolutes easily. Most seem to try to explain them away; I simply take God at His Word. He's our Creator and He knows what's best for us.
Many women want to fight, twist, and water it down. This is a bad place to be. And if any man shall take away from the words of the book of this prophecy, God shall take away his part out of the book of life, and out of the holy city, and from the things which are written in this book (Revelation 22:19).
An article titled The Hashtag #ThingsOnlyChristianWomenHear Is Blowing Up Twitter and Pointing Out Misogyny in the Church is an example of those women who are in this bad place unless they repent and believe God's Word the way it was written.
Misogyny means "a hatred of women." Women in America have more rights than ever before but feminists will NEVER be content because they are searching for worth on this earth instead of in Christ and they will NEVER be men!
What are these things we need to address that are supposedly misogynist in the Church and are so wrong according to feminists? Here are some of the tweets.
"You can't serve communion, but you are expected to serve at the potluck later." Women serve communion in our church but I wouldn't care at all if they didn't. Some churches have the elders and deacons, who are all men, serve but so what. Feminists make a big to do over the non-essentials and only seem concerned about their perceived rights. What a waste of one's time! Jesus, the Creator of everything, would have gladly served at a potluck. After all, He got down on His knees and washed His disciples feet. But he that is greatest among you shall be your servant (Matthew 23:11).
"When you heard many sermons on how women submit to husbands but zero on how husbands lay down their life for wife." I have never heard a sermon from the pulpit of any church I have attended in my 58 years that teach women to submit to their husbands. In fact, there are few women preachers/teachers/writers/bloggers who even teach it. Instead of searching out Scripture for how they are to live their lives, they prefer to hear how their husbands should treat them instead. These women are either unbelievers or baby Christians because those who are mature in the faith examine themselves to see how they can become more like Christ. They understand that they will only have to answer for themselves one day instead of constantly pointing their finger at their husband. Examine yourselves, whether ye be in the faith (2 Corinthians 13:5).
"Dress modestly because men are too weak. Also men are in charge of you because they are spiritually superior." Men are too weak? The Bible calls women the weaker vessel and  easily deceived. This doesn't bother me at all. I try to measure everything according to the Word because of this tendency. Yes, men struggle with lust but women struggle with their desire to control. For some reason, these women fail to point out any of their struggles and weaknesses.
Are men spiritually superior? No, it's simply the way God has designed it partially because women are the ones who are easily deceived because they are often led by their emotions and feelings instead of by wisdom, as these tweets prove. These women are having childish temper tantrums and screaming, "Life isn't fair!" Their parents failed to teach them that no, life isn't fair and all things aren't equal but that's okay. The sooner children are taught this, the easier life will be for them to not only live under their parent's authority but God's authority.
"A little girl raised in today's culture is eventually going to start asking: Why does my teacher at school tell me I can be the next President of the United States, while my teacher in Sunday school says the only teaching I can do at church is teach children or a room full of women. Whether your church holds to this particular standard or not is beside the point. This is the perception of the culture toward the broader church." As a Sunday School teacher, I would never tell a girl she could be the President of the United States. I would encourage her to want to get married, bear children, and be a keeper at home since these are all God's perfect plan for women. I would explain all of the wonderful ways that God made males and females differently.
"Leaders, it is time that we lead and steward what God has given us better. Silencing and ignoring is not leadership. Loving, teaching and addressing concerns is leading like Jesus led." This author believes that women should be leaders in the Church. She doesn't see anything wrong with it because she doesn't believe the Word of God. She's making up her own bible and serving her own god.
Feminists are jealous of men. These comments prove it. I love being a woman and I love the role the LORD has given me. I pray you do too. Read your Bible, believe it, and do what God has told you to do.
For my thoughts are not your thoughts, neither are your ways my ways, saith the LORD. For as the heavens are higher than the earth, so are my ways higher than your ways, and my thoughts than your thoughts.
Isaiah 55:7, 8