Mothers Who are Blaspheming the Word of God
Mothers Who are Blaspheming the Word of God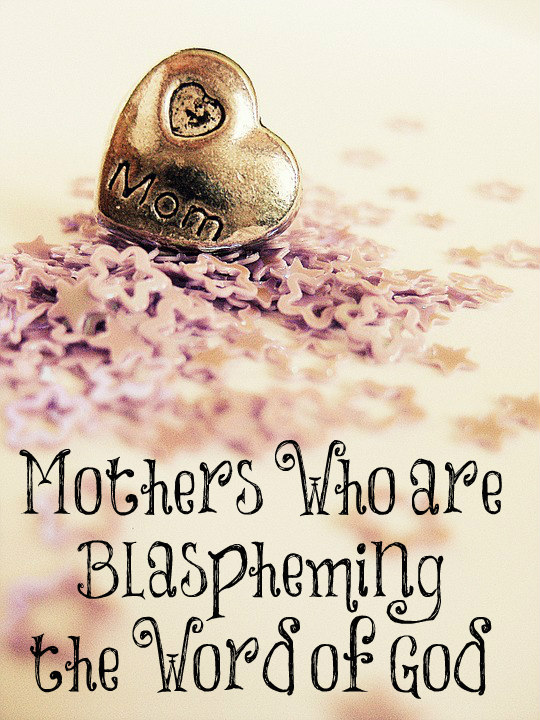 This post was written by Scott Brown who is director of the National Center for Family-Integrated Churches and a pastor at Hope Baptist Church. Can anyone tell me why ALL pastors aren't preaching this?
The Bible says that when a woman refuses to be a keeper at home she causes the Word of God to be blasphemed. This means that she creates conditions that discredit the Word of God. It gives people reason to rail against God. Instead of glorifying God, the Word of God ends up getting blasphemed.
God has established that women be keepers at home, "that the word of God may not be blasphemed," (Titus 2:5). With something so important at stake it is no wonder that home making is so viciously attacked, so casually undervalued and so easily dismissed. And it is no wonder that a biblically illiterate and historically ignorant Christian populace does not even know what the Bible says about motherhood, women's roles and the creation order.
The beauty and power of home life is hard to overestimate. Godly women are called to take responsibility for this realm. In doing so, they build homes with an investment in labor and love for beauty and stability that would make a home a center of the ministry of the church; a source of peace for all who enter there; a place of hospitality.
The home is the fountain of society, and the spring from which flows the members of the church, the ranks of business and the citizens of the realm.
So please understand how important home life really is even when so many do not value it. The women of this world who have abandoned home life to spend their days in cubicles, are the wrong role models. They defeat what is beautiful and good and lead a host of followers to do the same.
Instead, see what a piece of heaven you can provide to the weary and lost of this world by making your home a rich and overflowing fountain of the love of Christ.
See the importance of rich home life that sends out happy children to the ends of the earth. Being a keeper at home makes you a "keeper of the spring" for raising the next generation and filling the earth with worshipers who fill their churches and towns and nations with the knowledge of God. This is one reason women should be keepers at home. But there is also a terrifying reason – to reject it causes the Word of God to be blasphemed.
 That they may teach the young women to be sober, to love their husbands, to love their children, To be discreet, chaste, keepers at home, good, obedient to their own husbands, that the word of God be not blasphemed.
Titus 2:4, 5