Our Obedience Never Depends on His Obedience
Our Obedience Never Depends on His Obedience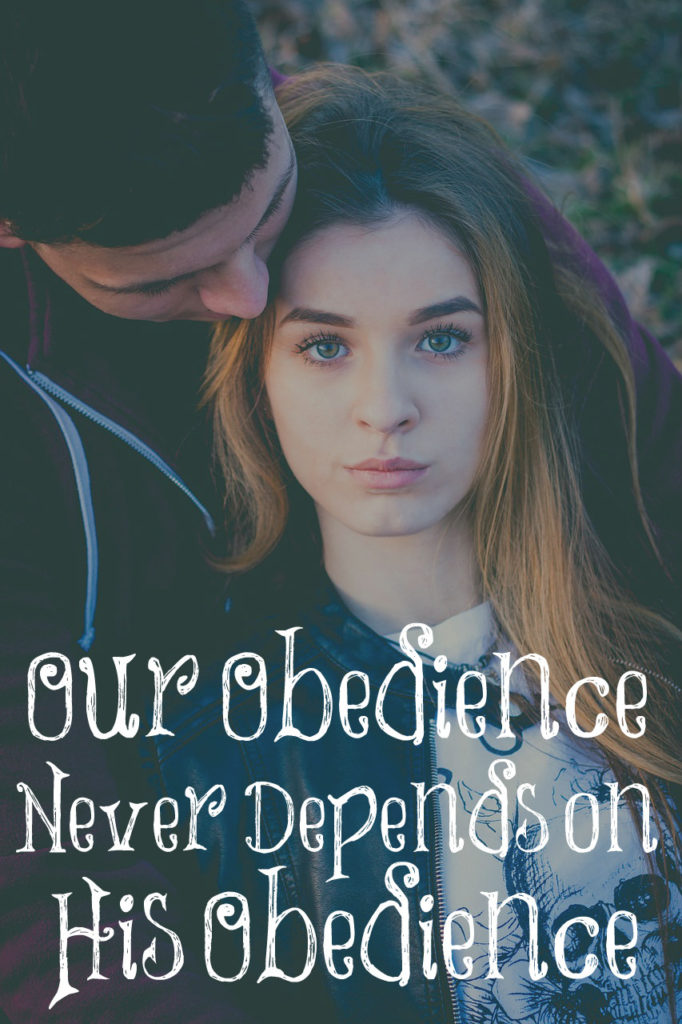 There is a false and destructive teaching about submission that is prevalent in our day and age as this one woman stated: "Women do not want to submit because they don't feel safe and they don't feel that they can depend on the man. If men want women to submit, they need to make her feel safe (physically and emotionally) and they also need to be dependable in areas such as family income and finances. When these happen, a woman will naturally."
Our obedience NEVER depends upon someone else obeying the Lord. Never. As Theresa responded to this woman's comment: "A woman should submit to her husband because she loves God and is obeying Him and not live in disobedience to the word of God until she thinks her husband meets her requirements. Oh how I wish people could see and understand the beauty of submission in faith and obedience to God!"
Then KB responded: "'When these happen, a woman will naturally submit to her husband.' There is simply no evidence or basis to this statement. Should men also love their wives ONLY if they meet certain criteria? Point is, love and submission to our spouses are both done because of obedience to God's word – and not because the other party deserves it, or does something to 'earn' it."
Ken has mentored men who have rebellious wives and he teaches them to only act in a Christian way towards their wives. We have yet to see one of these women submit or begin to be kind to their hard-working, kind husbands. Unless a woman decides to soften her heart and become the wife the Lord has called her to become, there isn't much a husband can do about it. A continual dropping in a very rainy day and a contentious woman are alike. Whosoever hideth her hideth the wind, and the ointment of his right hand, which bewrayeth itself" (Proverbs 27:15, 16). What does the second part of this verse mean? 
 "Whoever attempts to stop her brawls and contentions, to repress and restrain them, and hinder her voice being heard in the streets, and endeavours to hide the shame that comes upon herself and family, attempts a thing as impossible as to hide the wind in the palm of a man's hand, or to stop it from blowing…all attempts to stop the mouth of a brawling woman does but cause her to brawl the louder" (Gill's Exposition).
"If he tries to hold or stop his wife, she escapes him like the oil which you try in vain to keep in your hand…An old adage says that there are three things which cannot be hidden, but always betray themselves, viz. a woman, the wind, and ointment" (Pulpit Commentary).
It's impossible to stop a woman who decides to be contentious (given to angry debate; quarrelsome, perverse) no matter how badly she is destroying her family. Yes, there are many women who are choosing to live in rebellion to God's plan for them and will often use the excuse that their husbands aren't loving them as Christ loved the Church.
Every wise woman buildeth her house: but the foolish plucketh it down with her hands (Proverbs 14:1) If you want to be a wise woman, obey the Lord and begin living in submission to your husband's leadership. Don't wait until he's the perfect husband that you believe he should be; for you will one day stand in the presence of the Lord to give an account for how you lived your life, not how your husband lived his.