Teaching Children Healthy Eating Habits
Teaching Children Healthy Eating Habits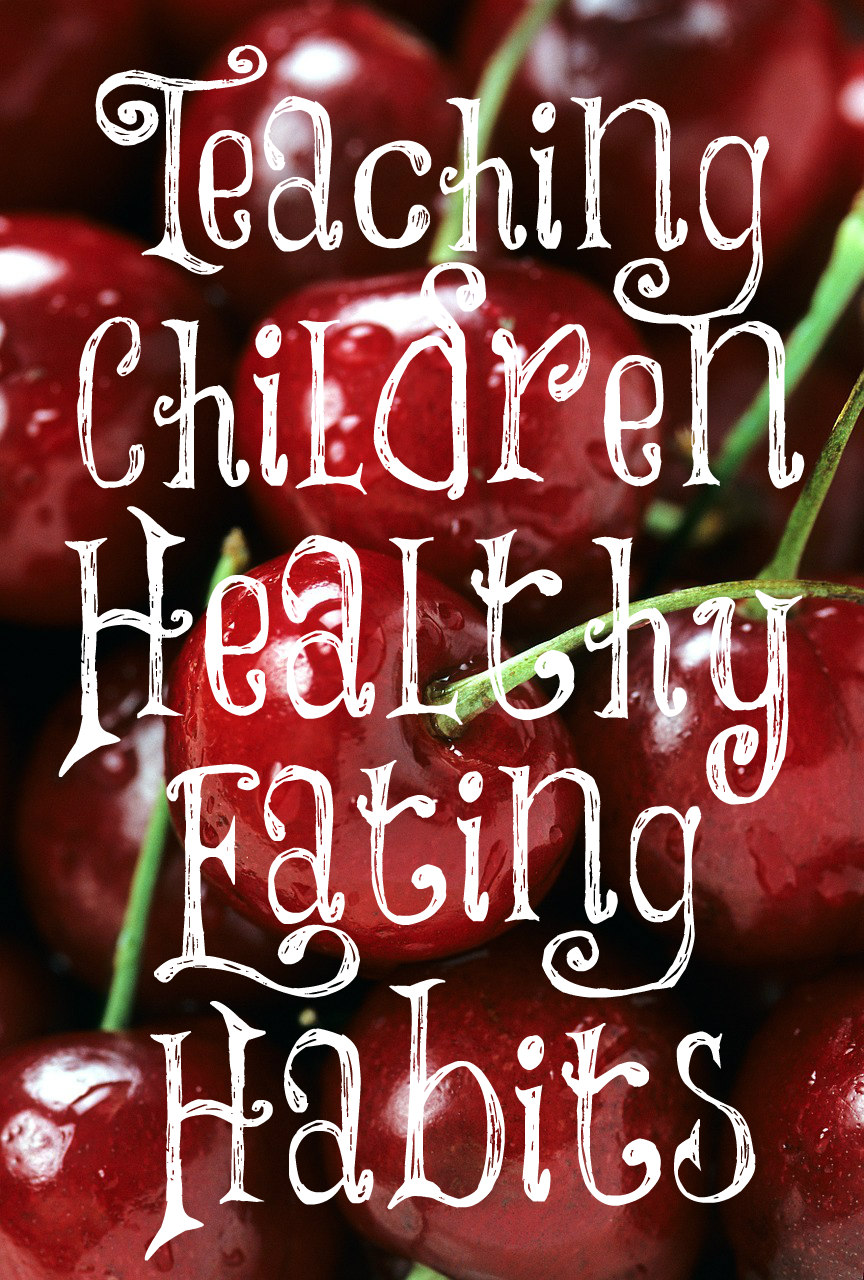 Most Americans have a problem with self-control. You can see it by their expanding waistlines and I can hear it from the comments from the women in the chat room. Food is abundant and inexpensive in our country and junk food that is filled with non-food is available for practically nothing.
The Apostle Paul wrote about discipling the body. "Know ye not that they which run in a race run all, but one receiveth the prize? So run, that ye may obtain. And every man that striveth for the mastery is temperate (moderate) in all things. Now they do it to obtain a corruptible crown; but we an incorruptible. I therefore so run, not as uncertainly; so fight I, not as one that beateth the air: But I keep under my body, and bring it into subjection: lest that by any means, when I have preached to others, I myself should be a castaway" (1 Corinthians 9:24-27).
As I have mentioned before, I have to watch what I eat for the first time in 30 years because my stomach is better and I'm hungry. I can eat almost anything I want now and it's fun BUT it's easy to gain too much weight now. I have found that in order to not be overweight, I must feel some hunger pains between meals and not eat. It's as simple as that. If I eat every time I want to eat, I would gain too much weight. I have a set weight limit and I stick with it. I want to discipline my flesh and make it my slave. I don't want my lusts to control me. I wrote a post about this recently: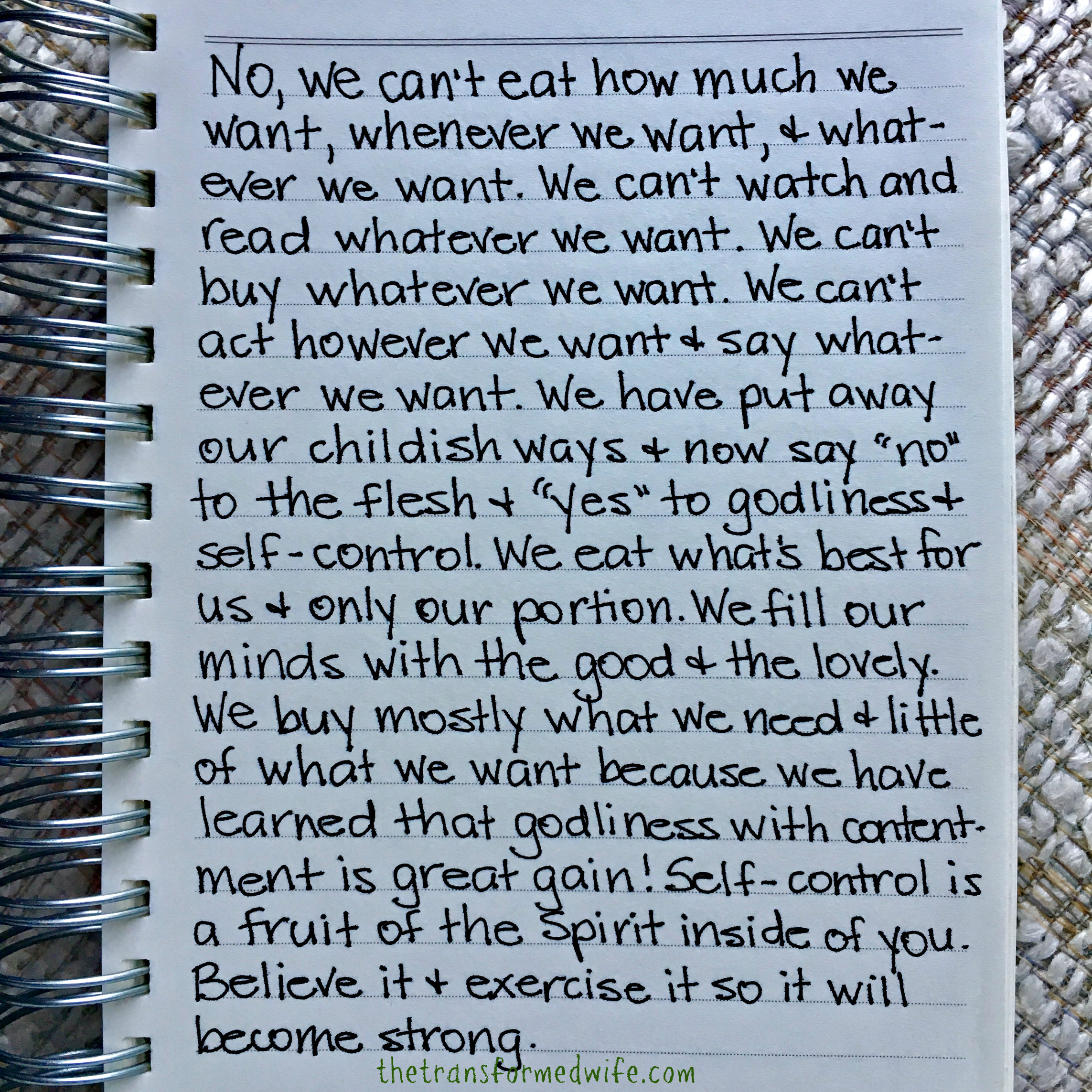 Michael Pearl wrote a post about training your children to discipline their eating habits and I am going to share some of it with you. I love his blunt and direct manner of writing and teaching. I know it offends some but it's my kind of teaching!
"If it didn't make any difference to my health, I would eat fried pork chops and fried potatoes every night for supper. And I would top it off with a big piece of chocolate cake or pecan pie. I would drink a coke and eat cookies before bed each night, and wake to a breakfast of bacon and eggs—fried in pig grease. Life would be a lot more fun if I ate what I wanted and as much as I wanted—that is until it started showing in pants sizes, doctor bills, headaches, crippling diseases, and indigestion medicines.
Self-control is self controlling self. The very term implies that some part of self needs management, and that some part of self should limit or control the other part. It is a contest between the body, which has no values—sweet will always taste better, and the mind which is informed as to the need of exercising some restraint.
Small children are not yet equipped to deny themselves. If a parent allows the child to choose what he will eat, when he will eat it, and how much he will eat, he will make the wrong decision every time. I started by saying, 'retraining children is hard because it demands everything from the will of the parent.' The burden falls entirely on parents. And that is where the problem lies….
Your children don't want to eat their meals; fine; don't make them eat anything. Forget it. Let them eat what they want when they want it. Just go home and throw away all sweets, all pre-prepared foods, all greasy foods, and stock your home with nothing but basic staples—rice, beans, potatoes, raw and cooked vegetables, whole wheat breads, oats, lots of fruit, nuts, dried fruit, and fruit juices. Them let them eat as they will. How simple!
Picture this. It is breakfast time. The table is set with oats or scrambled eggs, real butter, honey, orange juice, and wheat toast. They are invited to the table. All must come and sit, but it is their business whether or not they eat. If they do not eat, ignore them. When the given amount of time is passed, the table is cleaned off. Fruit is available at any time.
There will be nothing else to eat until lunch, at which time you will place in front of them beans, rice, salad, a cooked vegetable (not corn out of a can that has sugar in it) or what ever suits your fancy. It is up to them to eat. If they don't like it, it is no concern of yours.
Supper will be at five, and there is always the raw fruit to eat. Supper is similar to the noon meal. Eat all you want, kids; there will be fruit, but nothing else until breakfast. You say, 'But my children sneak food.' Fine, let them sneak into the kitchen and eat anything they can find—a slice of wheat bread, cold beans, or rice. There is nothing else to be pilfered.
The dog ate all your junk food last week and died of constipation. Ah! But you say, 'My children would cry and refuse to eat.' Don't worry about them not eating. They will eat when they get hungry enough, and a three day fast would be good for them if they are coming off the junk food.
There it is: the easiest answer and the easiest solution to a common problem. The only draw back is weak-willed Mamas and Daddies who can't give up the junk food themselves. Don't expect to lead your children closer to self-control than you are willing to go. Set the example."
Some have told me that children will gorge on junk food if they are deprived at home when they are away from home. Children gorge on junk food whether or not they get it at home but it's our job as parents to train our children in the way they should go when they are under our roofs. Teach and model to them healthy eating patterns and it will benefit them for life!