Teaching Others Without Time-Tested Experience and Wisdom
Teaching Others Without Time-Tested Experience and Wisdom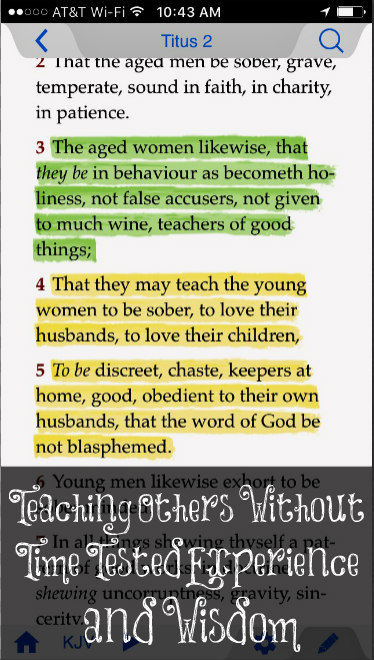 In Titus 2:3, God makes it clear that it is the "aged women" who are to teach the younger women the ways of godly womanhood. I have heard women say that this just means those who are spiritually more mature but I disagree. I believe it means those who have been married a long time, have raised their children and are actually older since they are the ones with the experience needed to teach these things. The aged women are in contrast to the younger women whom they are to teach.
The word "aged" means "old persons." We must not try to read things into scripture when the Lord has made it clear to us what they mean. The entire chapter of Titus 2 speaks to aged men, then aged women, then younger women and young men, all having to do with the age of these groups, not how spiritually mature they are.
Benson Commentary has this to say about these aged women: "For their age and experience call them to be so."
Gill's Exposition: "godly women in years, who are to be instructed and exhorted" to teach the younger women.
Tim Challies wrote an excellent article about age and maturity being a qualification for being a teacher of marriage and child raising using this verse: Not a novice, lest being lifted up with pride he fall into the condemnation of the devil (1 Timothy 3:6). Novice means one who is new, unacquainted, or unskilled, a beginner. There are many younger women on the Internet with blogs and sites who are teaching other women about marriage and child raising even though they haven't been married for many years and their children are still young.
Mr. Challies wrote: "There is a correlation between time and maturity and a further correlation between maturity and humility. Time brings maturity and maturity fosters humility. We enter the faith arrogant and it is only through the passing of time and the testing of trials that we gain humility. This qualification exists to guard the church from thrusting men into ministry who have gifts, talents, and knowledge that might make them suitable, but who do not yet have a proven track record of humility. Christian history proves repeatedly that giftedness makes a woeful substitute for character…
We address our inadequacies by turning to experts, lining up en masse to sit under their teaching and benefit from their wisdom. Yet a surprising number of these are written, founded, or run by people who have very little experience. Their scant experience makes them less than ideal as teachers or mentors, for time has not yet given them humility….
After four or five years of marriage you have already learned so much. You've identified so much selfishness and seen so much growth in character. You've established good habits and patterns and perhaps taken an even newer couple under your wings to help them through the early days. All this is true. But you're still only getting started. There is so much you've yet to experience, so many trials that have yet to come your way. Your knowledge and confidence may well have outpaced your humility—and it's that humility that marks the best teachers.
After a few years of parenting it may feel like you've got this thing solved. Your little ones are well-behaved, they are learning their lessons, memorizing their verses, and sleeping through the night. You're raising them in the discipline and instruction of the Lord. But you haven't yet dealt with a child who fully-accepts and then fully-rejects salvation, a tween who has few friends but plenty of self-loathing, a teenager who falls into patterns of sexual sin. Humility comes through these trials, not apart from them, as you face your utter inability and lack of answers. Humility comes as you realize how little you really know and as you cry out to God for his help."
It can be heady stuff to write for a blog and have a lot of readers, emails, be asked for interviews, write a book, have posts go viral, and all that comes with this. I have seen younger women go through this and unfortunately, I also see some of them divorcing their husbands and some even walking away from the truth of God's Word.
I've had all of this "heady stuff" happen to me, too, but at the age of almost 59 years old, a brain tumor, neck fusion, ill health for many years, and all the suffering that I've been through, I don't believe it's made me heady or prideful. God has taught me humility through all of the things that I have suffered and I know that I am nothing without Him. Teaching the truth and getting all the backlash from it doesn't bother me in the least since I know this is expected. Many hate God and they hate those who love God. We are guaranteed this in the Word.
I've been married 37 years this December and have raised four children who all walk in truth. I believe I am qualified to teach younger women what I teach them. I have no desire to travel to churches and stand behind pulpits and teach thousands of women. I have no desire for a television show or go on a book signing tour. I want to stay in my home as a wife to my husband and now a grandmother to my almost six grandchildren. Oh and yes, I'm still a mother but not needed as one much now since they are all grown and gone.
If you are a younger women in the midst of married life and raising children, this needs to be your focus. When I was raising children, we didn't even have the opportunity to be "famous" through blogging, Facebook, or Instagram. We just went about our business as homemakers, mothers, and wives. This is what you are called to do at this time in your lives. Yes, if you have a chance to share what is working in your marriage and raising children, by all means share it but don't allow it to become a "career" or a time-consuming adventure for you during this time in your life. Being a wife to your husband, building a strong marriage, and raising your children to walk in truth should be your main priority and where you spend the bulk of your time and energy.