"The Boy Crisis" Book's Horrible Solution
"The Boy Crisis" Book's Horrible Solution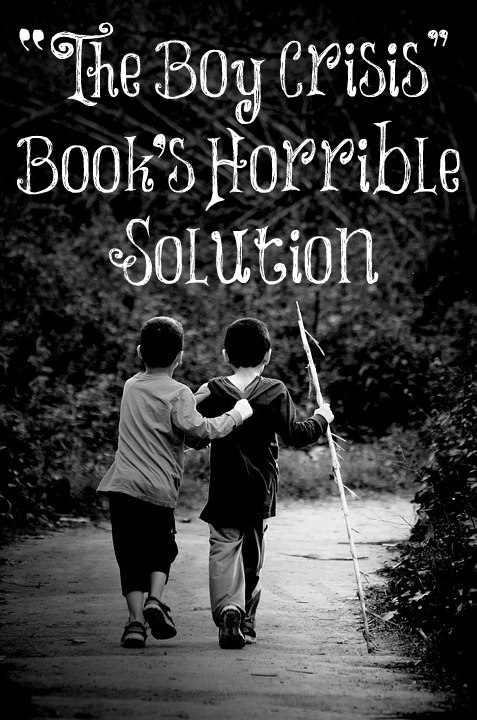 God is a God of beauty and order. The roles He has ordained are for beauty and order. As the Church submits to Christ, wives are to submit to their husbands. This brings beauty and order to marriage. Husbands as providers and wives as keepers at home bring beauty and order. Nothing but chaos results when we leave God's created order.
In the book "The Boy Crisis," the authors clearly spell out the problems boys and men are having today. "The boy crisis cannot be solved, then, without addressing the most important single crisis in developed countries: dad-deprived children and especially dad-deprived boys. The boy crisis' primary cause is dad-deprived boys. Depriving a child of his or her dad is depriving a child of part of her or his life. Dads – like moms, air, and water – are essential to our lives. Dad-enriched boys tend to fill the purpose void with constructive new senses of purpose; dad-deprived boys are more likely to either drown in their purpose void, or fill it with destructive senses of purpose."
I have only read about a fourth of this book but a few of their solutions are unbiblical and are what have led to this boy crisis of fatherless boys. "Help our daughters and sons free themselves from the rigid roles of the past toward more flexible roles for their future" and "The good news is gender roles within your son's lifetime have the potential for a greater liberation of rigid roles for our son as well as your daughter."
No, Dr. Farrell and Dr. Gray, we can't leave the "rigid roles of the past" and expect good results. God has created mothers with their sensitive and emotional nature to be the ones home full time with their children and He has created fathers with testosterone pumping through their bodies to be the ones to protect and provide for their families. These roles create beauty and order in families. Leaving these roles will continue to create chaos.
Yes, I do agree that boys desperately need fathers. I believe mothers need to stay married to their son's fathers until death do they part. I believe fathers need to make time to be with their sons and model godly manhood to them. They need to teach their sons to work hard and be faithful but they don't need their fathers to take their mother's role in their lives and they don't need their mothers to take their father's role of providing. This isn't how God created it to be.
God is perfect and His will is perfect for us. If we expect to get good results in raising children, we must follow His instruction manual. He created us and knows exactly what He created us for. Let's not mess with His created order.
Thus saith the LORD, Stand ye in the ways, and see, and ask for the old paths, where is the good way, and walk therein, and ye shall find rest for your souls. But they said, We will not walk therein.
Jeremiah 6:16
*I do recommend this book even though the authors write highly of the Women's Rights movement. They do tackle many of the problems boys and men are having today and give some great solutions so it's worth reading, however, I wanted to make a huge disclaimer of why I can't wholeheartedly endorse it.