The World is Too Evil to Have Children?
The World is Too Evil to Have Children?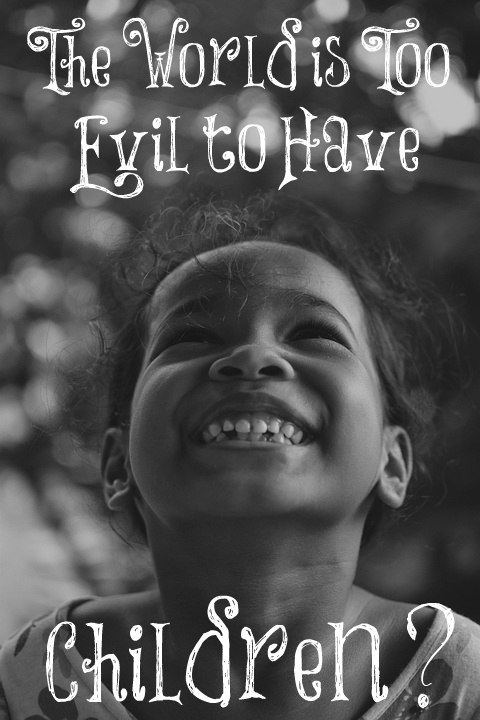 Many young couples don't want to have children because they are fearful and see how evil the world is around them. Should they bring children into this world when there is so much turmoil? I was listening to Nancy Wolgemuth last week and she was sharing the idea that we are living on the dot. Time on this earth is short, very short compared to eternity. Eternity is the line after the dot. Are you living for the dot or for eternity?
God commanded that we be fruitful and multiply and He's never taken back this command. He tells us that the man who has a quiverful is blessed and that children are a gift from Him. Recently, I have been watching three of my grandchildren a lot. I love it! They bring so much joy into our lives. We often laugh at and with them. I can't imagine anyone not wanting to bring the joy of children into their lives if God blesses them with them!
Birth control and not wanting children are not from God. The mindset that we shouldn't have children because of the evil culture we live in is not from God, either. Because we live for the line (eternity) instead of the dot (here and now), we don't have to live in fear. We have freedom from fear! We don't need to fear the future since we know what our future holds and that God controls the future.
When I asked the women in the chat room about this question, Lindsay Harold responded with the following:
"Having children and raising them to know the Lord and make a difference in their world is one of the best ways to make the world a better place. Plus, while our society is certainly in decline, we still have far more freedom, wealth, health, and knowledge of God than most of the people who have ever lived. Countless generations before us managed to bear and raise children in a truly terrible world. Most did not even know if their children would survive to adulthood. If they could raise children in poverty, in squalor, in a godless world, and hold out hope for a better tomorrow, who are we to complain or lose hope when we live in far more wealth and luxury than the kings of their time and we know that the King of Kings has come and given us new life?
"Every child in a Christian home is a tangible hope that life will go on, more people will be taught about God, and more people will be in heaven. That's far more important than an idealized and impractical notion that children should only be born into the most perfect of situations. If our ancestors had taken that view, none of us would be here."
We are choosing to either live on the dot of the here and now and have the attitude that Gina has towards not having children: "That's a good thing! The world is overpopulated. We need less sperm count and less straight couples reproducing." Or you can live on the line of eternity and have the attitude Amanda has about having children: "If every Christian couple that were able, had many children and raised them in God's ways, there would be so many more Christians in the world – families raising up their small armies for the Lord – more of a majority to stand for the things of the Lord. Maybe so much wickedness wouldn't be abounding."
Let's live for eternity, women. Every child that you bring into this world is an eternal soul and a blessing. Raise your children up in the Lord and in His wonderful ways. In this way, you are making  your spot on this dot a beautiful  and joy-filled place!
Happy is the man that hath his quiver full of them: they shall not be ashamed, but they shall speak with the enemies in the gate.
Psalm 127:5