Were We Created to Marry Young?
Were We Created to Marry Young?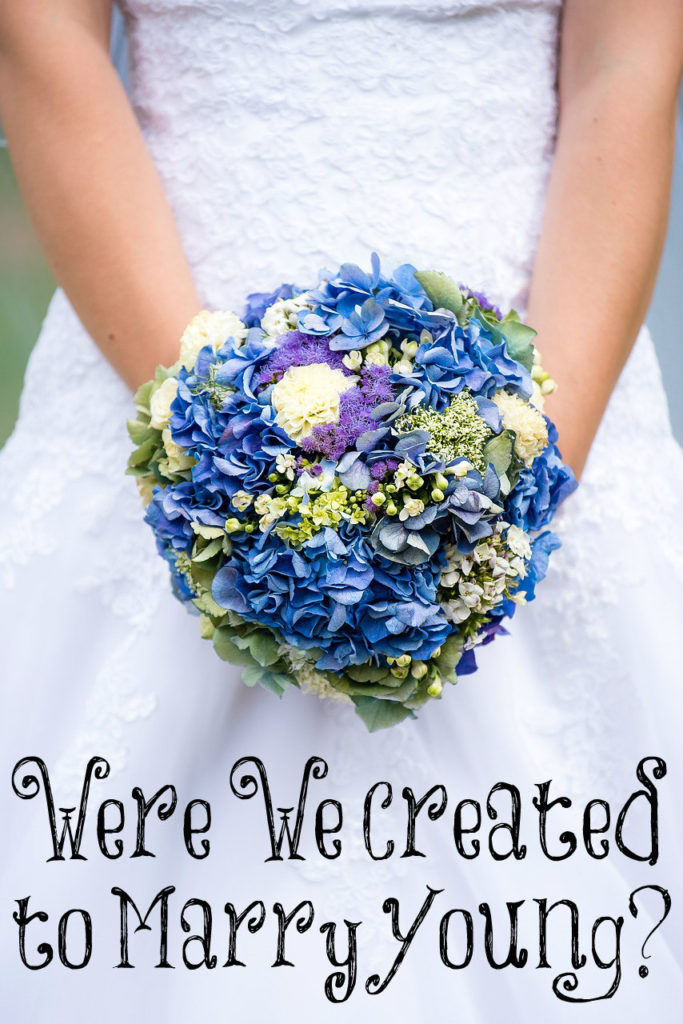 Guest Post by Celina Hernandez
Not long ago it was the norm in America (and still is in a good part of the world) to be having sex (and having children) at sixteen years old. Our grandparents (or great-grandparents for the younger ladies) were married with several children by the time they were 19-20. And so it has been since the dawn of time up until about 50 years ago.
Awhile back, I was thumbing through my mom's senior-high yearbook from 1959. These high school seniors looked like 30 year old women. And they acted like it too in many ways. Our immediate foremothers displayed maturity and skillsets in terms of resourcefulness, frugality, wisdom, and homemaking abilities at age 18 that the modern 35 year old American woman would be hard pressed to display. A lot has changed in a short time.
I do not believe that God made a mistake when he designed our bodies to mature fully by the mid teens. This is when we were designed to meet the person we were to marry and begin life together and that has not changed despite our culture changing. The undisputed optimal age biologically for a woman to have a baby is around age 16. This age demonstrates the very best outcomes for mother and baby. Yet we now have women having their first child at age 35 and the age is getting pushed back further and further. And now the expected age of emotional maturity in American society is also being pushed back further and further with "kids" in their 30's living in their parents' basements and the inability to launch into adulthood altogether.
Also, the oh-so-common phenomena of the "teenage years" is unique to America and NEW – originating in the last 50 years- referring to the time of intense clashing between parent and child. It has originated because at this age the "child" is not meant to be a child anymore.
It is extremely unnatural to NOT begin having sex at 16 according to the design that God Himself created. We are the ones who have created the crisis of teen sex outside of marriage. We minimize the legitimacy of teenage love/ attachment and label sexuality as something that must be resisted, with no viable alternative of marriage at this now unacceptable age. Teenage love is tritely coined as "puppy love" and when these relationships inevitably end and the teen is utterly devastated we pat them on the head and explain that this heartbreak is a rite of passage. It is not. The love that occurs between two teens at 16 is real and powerful because it is meant to stick for life because God originally designed it that way.
It's time for us to treat our young people as young adults and acknowledge that they are no longer children when we see them maturing physically and displaying independence. We must guide them to godly independence, encouraging and acknowledging rather than denying. We must raise our expectations of them to their capability, which is far higher than we give them credit for.
The American culture of late age (if any) marriage with impossibly long courtships is a sure recipe for fornication for even the godliest of people. It's unnatural and nearly impossible. I will be encouraging my children to find godly mates young.
There is nothing wrong with having sex at age 16 if you are married. It is not the age that is the problem. It is that we have stigmatized young people to believe that they are incapable of commitment. Society sold the lie to "live it up" first and not get tied down young. Yet we can look to our grandparents lives – many married at 16 and married for 65 years, and their parents before them and so on. They lived and loved fully and richly, and worked hard, giving their lives beauty and meaning. Instinctively we (society) sense they had it better somehow- that they were more fulfilled despite having less materially and having to work harder- but the "why's" are elusive to the majority, even to those in the church.
We need to return to God's order.
Luckily, the "pendulum swings".
Thus saith the LORD, Stand ye in the ways, and see, and ask for the old paths, where is the good way, and walk therein, and ye shall find rest for your souls. But they said, We will not walk therein.
Jeremiah 6:16