When Women Become Vile
When Women Become Vile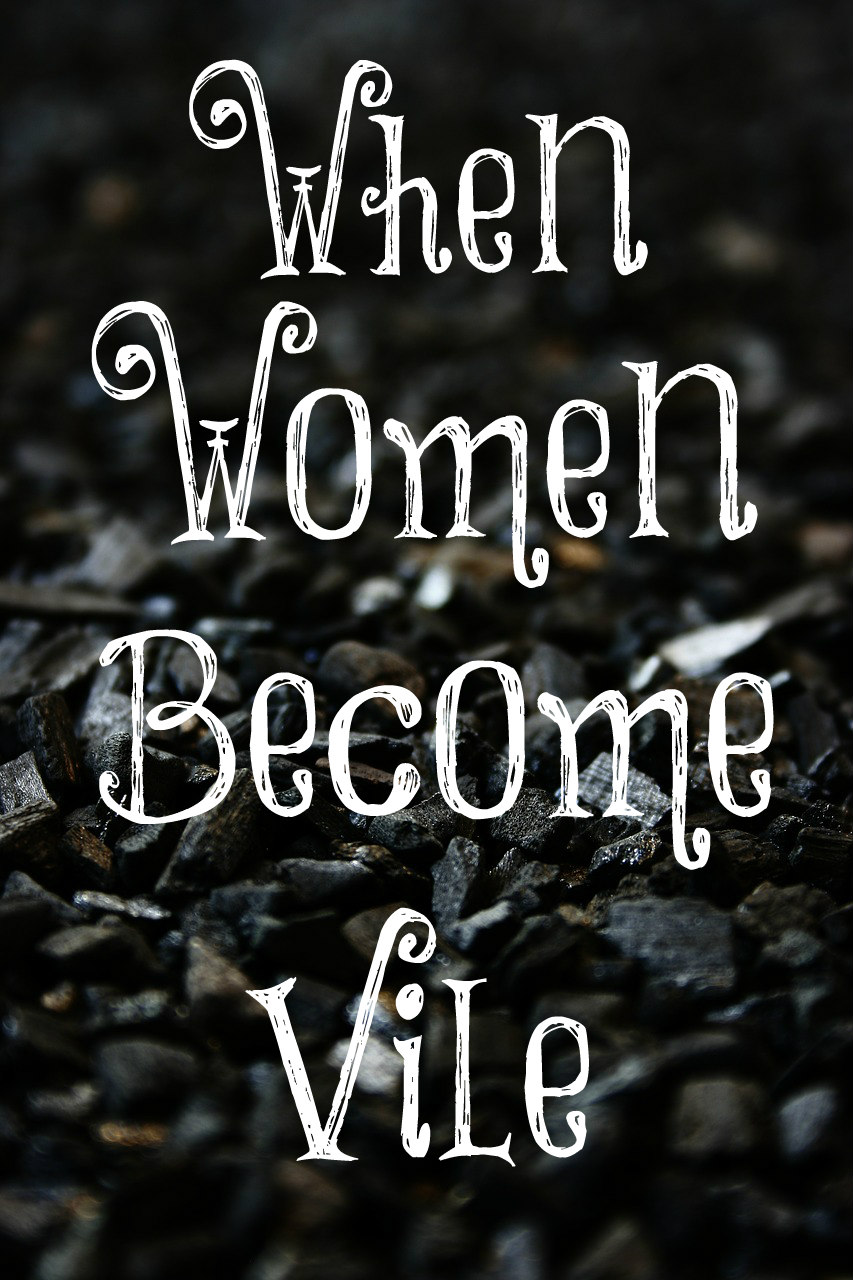 A woman's natural use for her body is to have intercourse with her husband and from this have children and nurse them at her breast. This is the way God created women to use their bodies but as a result of sin, as carefully described in Romans 1, and from their rejection of God, God gave them up to vile affections: for even their women did change the natural use into that which is against nature (Romans 1:26).
"For even their women—that sex whose priceless jewel and fairest ornament is modesty, and which, when that is once lost, not only becomes more shameless than the other sex, but lives henceforth only to drag the other sex down to its level" (Jamieson-Fausset Brown Commentary). Women have a huge influence upon culture. If they can tear their own homes down with their hands, they can tear down cultures. If they can win their husbands without a word by their conduct, they can win cultures.
"The moral worth of a woman holds a man in restraint and preserves his ways from becoming utterly corrupt. Mighty is the power of a woman in this respect. A woman's influence is the chief anchor of society. The world is moved and civilization is advanced by the silent influence of women. Our times call on women of a higher order of character and life. Will they heed the call?" (from The Golden Gems of Life, 1880).
We must use this influence for good, women, by dressing modestly and using our bodies the way God intended us to use them. We must seek moral purity and pass this down to our children. We must love and obey our husbands and draw them to ourselves by our patience and kindness. Let's model Christ and His Church to a depraved culture. People are watching us.
"The practices here referred to, though too abundantly attested by classic authors, cannot be further illustrated, without trenching on things which 'ought not to be named among us as become the saints.'" (Gill's Commentary). We aren't supposed to know what the depraved do behind closed doors. We shouldn't watch it on the movie screen, television, or through the Internet. We should have no desire to watch the latest popular celebrity who wants to change their gender and know the details. None of this should be named among us for we are commanded to dwell on the good and the lovely, instead.
"Observe, nevertheless, how the Apostle delineates the female dishonor in less concrete traits than the male. He touches the matter in Romans 1:26 briefly and clearly enough, but with delicate avoidance of detailed description…The Apostle's point of view is the moral, which, in the case of female depravity, comes out most glaringly. And therefore Paul, in order to cast the most tragic light possible on these conditions, puts the brief delineation of female conduct in the foreground, in order then symmetrically to subjoin, with, the male vice as the second part of the filthy category" (Meyer's Commentary).
I believe it is more egregious for women to leave their natural function than it is for men since women don't have the strong and powerful sex drive that men have. Men have ten times the testosterone and just their anatomy and the fact that they are visually stimulated makes it more difficult for them to remain morally pure. This is why women are called to be modest, discreet, and chaste for the good of culture. It is easier for them and when they lose this, all hell breaks lose and culture sinks into all types of depravity quickly.
"On this and the next verse we must not comment in detail. The hideous vices here plainly named, one of them in particular, frightfully deface some of the very fairest pages of ancient literature." (Cambridge Commentary) A few of the commentaries made reference to this fact of not knowing the details. The Bible doesn't go into any sordid details and neither should we. This means we need to be careful about the books we read and things we see. We should keep our eyes on things above and desire more than anything to be pure and holy (set apart) as the Lord has called us to be.
Let's use our bodies for the natural functions in which the Lord created them to be used by getting married when a godly man wants to marry us, bearing children if we are blessed, and guiding the home.