Your Happiness Does Not Negate the Word of God
Your Happiness Does Not Negate the Word of God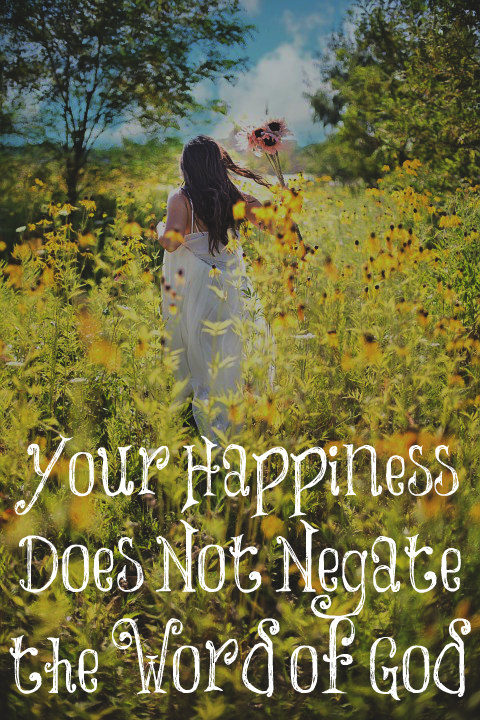 Many believe they can have it all. Women are not immune to this thinking: believing that they can have a career, a marriage, and children without someone or something suffering. Too often those who suffer the most are those who "gain the whole world but lose their soul." They lose the things that are of eternal value for nothing but wood, hay and stubble that are to be burned up in the end. A life well lived will not be a life that was happy, but one that sought happiness in building its foundation on things of everlasting value. The things that God says He blesses. "Happy is that people, whose God is the LORD" (Psalm 144:15).
Women write me saying how happy they are doing things of this world, even after being presented with God's Word. They tell me that what they are doing is "working" for them, and somehow I am to believe that so long as it works for them and makes them happy, it must be okay. Certainly God wants His children to be happy, right?  They tell me this often when I teach them that God's will for them is to be keepers at home. They would be bored at home. They "need" to use their talents away from their homes. Their careers make them happy and fulfilled. One woman wrote on my Facebook page that she's a nurse with a husband and children who thinks it's fine to not be a keeper at home but to continue on with her career because she has a "happy and fulfilling life."
One wise woman responded to her this way: "I hope everything stays happy for you. Keep in mind that your happiness does not negate the word of God. 'God forbid: yea, let God be true, but every man a liar; as it is written, That thou might be justified in thy sayings, and might overcome when thou art judged'" (Romans 3:34). The thing is, by putting your children in school and leaving them with others, carries with it the potential for all kinds of wickedness. There's no need to list them because some of you deal with it on a daily basis.
Another thing to consider, you may very well be happy, but it is not the level of joy that God intended for you. You're underestimating the joy that God has in store for you. You're actually forfeiting blessings that God intended for you to specifically have. Many women don't know that God actually calls us to be keepers of the home. Sometimes, we believe it's just an old-fashioned view. Therefore, many women start careers and/or send their kids to daycare and school because they didn't know any better in the beginning. This is when it becomes a good time to prayerfully examine yourself and your life and make a decision. This falls into the category of sacrifice.
Consider for a moment that the word "blessing" in the Bible is often translated "happy" because the two words go hand-in-hand. Should not the things that God blesses be those things that we seek to set up as the foundation of our lives? The world has many things that can make us happy in the short run, but God's blessings are the things of substance that endure for an eternity.
"And God blessed them, and God said unto them, Be fruitful, and multiply, and replenish the earth, and subdue it" (Genesis 1:28). If God has blessed marriage, family and children, will He not also bless the full-time homemaker? After all, she may be the one through whom many of God's blessings flow. Will God not fill her up with great happiness and joy knowing that the foundation she is building may be with a great and worthy sacrifice, but when done well, with God and His will at the center of it all, it produces far greater eternal value than any other career?  What career can compare to growing up two, three, five, nine, or even thirteen little souls who will be glorifying God together with you for eternity? "Happy is the man that hath his quiver full of them: they shall not be ashamed, but they shall speak with the enemies in the gate" (Psalm 127:5).
There is little in this world of any lasting value that is not won with hard fought sacrifice. Women are going into careers in droves, sacrificing the best years of marriage, family and baby making for some elusive dream of doing something important and worthwhile with their lives, all the while not considering that perhaps the most worthwhile things they can be do is to seek the things that God blesses. Does God say he blesses careers?  Hard work, yes, but on women in careers God is silent. No blessings are promised,  But for the full-time mom with her little brood under her watchful eye, her caring hands and loving work, such things God has asked of us. What God asks and promises, He will abundantly bless those who do things His ways.
Now if any man build upon this foundation gold, silver, precious stones, wood, hay, stubble; Every man's work shall be made manifest: for the day shall declare it, because it shall be revealed by fire; and the fire shall try every man's work of what sort it is. If any man's work abide which he hath built thereupon, he shall receive a reward. If any man's work shall be burned, he shall suffer loss: but he himself shall be saved; yet so as by fire.
 1 Corinthians 3:12-15