Can Sex Be Separated From Intercourse?
Can Sex Be Separated From Intercourse?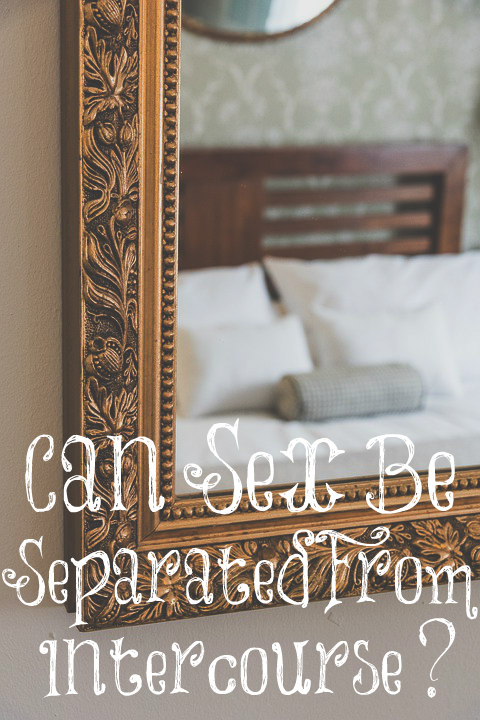 What is sex? Is it just intercourse? Are unmarried couples who are fooling around and ejaculating with each other but not having intercourse having sex or just fooling around? President Clinton told the world that he did NOT have sex with that woman. He only had oral sex so was he telling the truth? What exactly is purity and being chaste before marriage?
How about anal sex? I found out about some young women who pledged purity until marriage but are having anal sex because they think that this keeps them virgins. Is anal sex not sex? What about fondling? Does this count for sex? Does this defile the marriage bed? Can young women proudly proclaim they are virgins on their wedding day who have participated in some other sexual activities with men?
I believe you need to have strong convictions about this so that you can teach your daughters truth since they will be hearing a whole bunch of lies in culture about what sex is and what it is not. It has been so watered down and trivialized in our culture that the sanctity of sex is no longer taught nor sought after.
Here are what some women had to say about this topic in the chat room:
"Any act that is meant to be a FORM of sex is sex. So oral sex, hand jobs, and fooling around are all sex. They all have an emotional and physical component to them. They all are meant to cause pleasure in a sexually intimate way." (Cassie)
"From my understanding of God's Law, a woman is to be untouched/a virgin until a man takes her as his wife. This was and still is very important in most ancient cultures. A man ejaculating with a woman in any form other than anal sex is something designated for marriage. There have always been prostitutes, but a righteous man is meant for his wife." (Paige)
"Days we live in are evil and the devil perverts absolutely everything. Killing millions of babies is called 'women's rights.' Try calling it murder publicly and you'll be called a 'women hater.' Sex and pleasure of any kind is meant for the wife and husband." (Slavik)
"Kissing can be very sexual! Usually it's what opens the floodgates. I made sure that my husband and I didn't do anything beyond a (not too long) kiss before we married and we don't regret it one bit." (Zelma)
"Anything designed to sexually arouse one or both partners is sexual. That certainly includes oral sex, caressing and fondling, hand jobs, and so on. Making out is sexual. That's why we're disgusted to see two men doing it or angry if a married man does it with someone not his wife. All of these things cause arousal and are intended to. They prepare the body for intercourse. Thus, they are sexual." (Lindsay)
I strongly believe that a young couple who becomes engaged should marry quickly in order to keep their purity. The engagement time should only be a time to plan a wedding. Marriage between a husband and a wife is the most sacred relationship on this earth. Every time a young woman flees any type of sexual involvement with a man, she is glorifying God.
Mothers MUST talk with their daughters. Daughters need to hear truth. Truth gives boundaries to their lives and then they feel protected. Teach your daughters to keep their marriage bed undefiled and be a true virgin in every way on her wedding night. Marriage is sacred. Do it God's way. His ways are perfect.
Marriage is honourable in all, and the bed undefiled: but whoremongers and adulterers God will judge.
Hebrews 13:4