God Commands That You Be Good and You Can Be!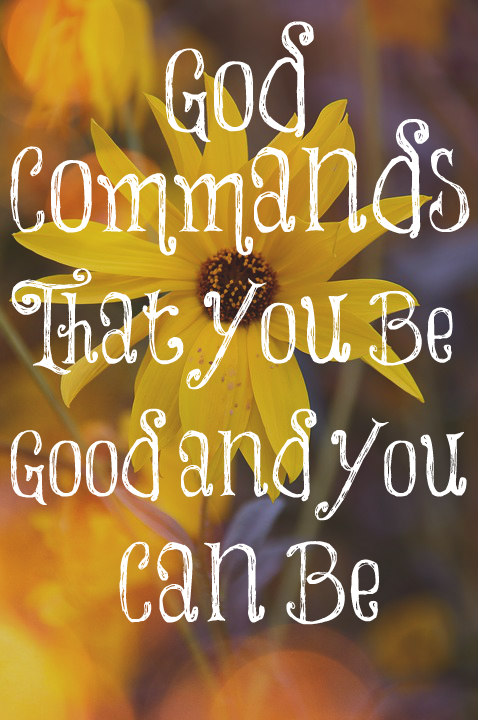 God commands the aged women to teach the young women to be "good" in Titus 3:4. There's only one way to be good, dear women, and that is to believe what God says about you, to "reckon" it to be true as Abraham reckoned that he was a father of many nations when he was an old man and had no children. "For what saith the scripture? Abraham believed God, and it was counted unto him for righteousness" (Romans 4:3). God wants us to believe what He says about us! Trying to be good without believing what God clearly says about you is simply religion instead of faith.
What does God say about us? For one thing, once we believe in Him, He calls us saints and not sinners (in Philippians 1:1 and every other place that the New Testament authors refer to those who believe in Jesus Christ.)
We are told that we are crucified with Christ in Galatians 2:20. (I encourage you to look up these verses, write them out, and believe them!)
We are buried with Christ in Romans 6:4.
We are raised with Christ in Colossians 3:1.
We are new creatures in Christ in 2 Corinthians 5:17.
We are seated in the heavenly places with Christ in Ephesians 2:6.
Our body is dead to sin in Romans 6:11.
We are alive unto God in Romans 6:11. (We are told multiple times in Romans 6 that we are dead and freed from sin.)
We are the righteousness of God in 2 Corinthians 5:21.
We are free to sin no more in Romans 6:18.
We are free from Satan in 1 John 2:13.
We are overcomers in Christ in 1 John 4:4.
We can do all things through Christ who strengthens us in Philippians 4:13.
Most Christians really don't believe this about themselves so they go about trying to be good in their own strength. Why go about trying to be good in your own strength when it's a lot easier to believe what God says about you and walk in the Spirit while the Spirit works in you mightily (Colossians 1:29)?
Believe what God says about you! Reckon it to be so and then live as a believer in Jesus Christ who daily chooses to walk in the Spirit! This is our new lives in Christ, women, and it is glorious. God came to set you free from sin. You can be good because He lives within you and He is good!
Likewise reckon ye also yourselves to be dead indeed unto sin, but alive unto God through Jesus Christ our Lord.
Romans 6:11
***If you want to learn more about your new lives in Christ and what He accomplished on the cross for you, I encourage you to listen to Michael Pearl teach Romans 6-8. It is truly life transforming! (Make sure to have a pen and notebook to take notes! And no, he doesn't teach "sinless perfectionism" as some have claimed. Before we are saved, we are "in the flesh" but once we are saved we are "in the Spirit." We can choose to "walk in the flesh" but we are repeatedly told to walk in the Spirit. "But ye are not in the flesh, but in the Spirit, if so be that the Spirit of God dwell in you" – Romans 8:9)