Oprah Didn't Want to Be a Traditional Wife
Oprah Didn't Want to Be a Traditional Wife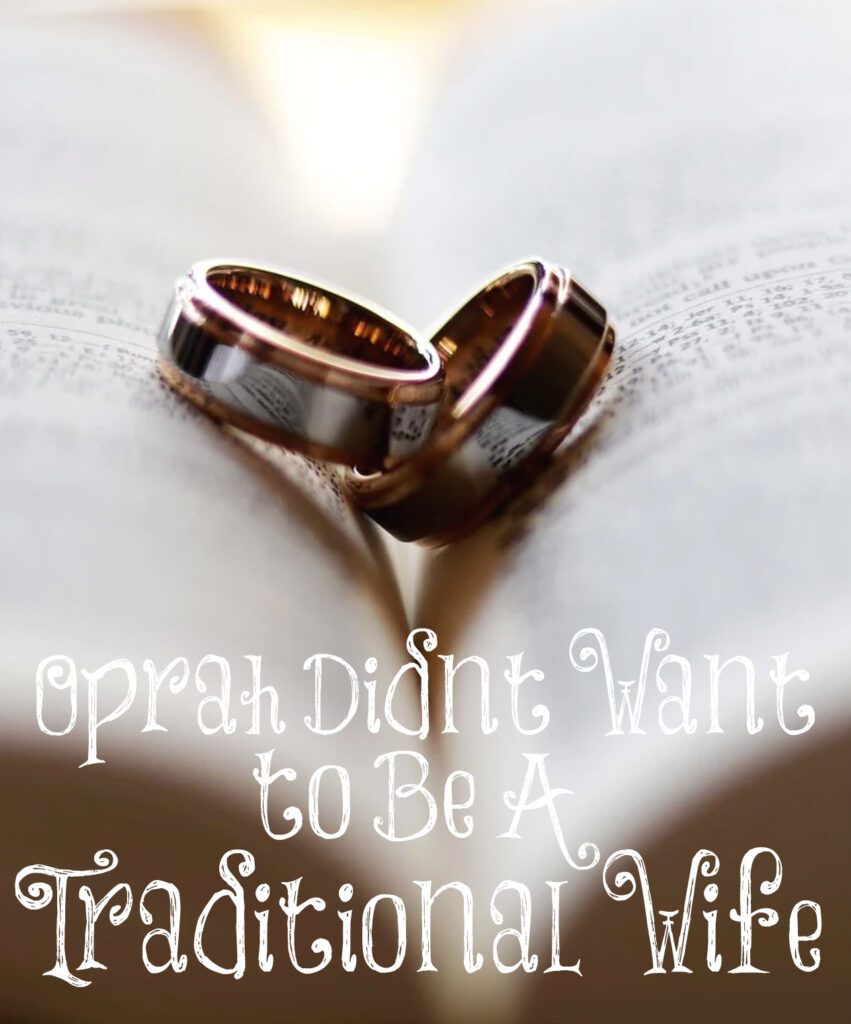 "Winfrey is revealing in a new interview with Vogue that she and Graham actually did talk marriage back in the '90s. "Nobody believes it, but it's true. The only time I brought it up was when I said to Stedman, 'What would have happened if we had actually gotten married?' she remembered. 'And the answer is: 'We wouldn't be together.'
"She continued, 'We would not have stayed together because marriage requires a different way of being in this world. His interpretation of what it means to be a husband and what it would mean for me to be a wife would have been pretty traditional, and I would not have been able to fit into that.'
"More: Oprah Winfrey Reveals Why She Never Wanted Kids, Is a Total Queen: 'If I had kids, my kids would hate me,' she said at the time. 'They would have ended up on the equivalent of the Oprah show talking about me; because something [in my life] would have had to suffer and it would've probably been them.'"
We live in a humanistic culture now. It has done everything to rid this nation of every single biblical truth. It has accomplished its goal. Marriage and children are no longer valued. Couples can live together and fornicate with no one thinking anything about it. Mothers can have their babies slaughtered in their wombs. Married couples can choose not to have children thanks to the birth control pill. They call each other "partners" rather than husband and wife. Mothers can have children but be away from them all day in the workforce while others raise them. Women can be and do everything they want to be, because they are no longer under the constraints of biblical mandates.
Feminism's goal was to rid culture of God's Word. This is higher institutions and TV's goals too. Now, we have generations who have grown up under humanistic education with no foundation of morals and truth. They are lost and floundering. Up to 38 percent of people ages 15-24 identity as LBGT. Depression and suicides have skyrocketed among the young, even children. Families are broken. Many children don't even have fathers. Divorce is common. Nothing that is commanded in the Bible is regarded, even by many Christians. This nation is clearly ready for God's judgment.
When the big and loveable stars like Oprah Winfrey are pushing the humanistic lifestyle upon millions, a nation is doomed. Most young women have never even heard of the things I teach. Many will write to me and thank me, since they've never heard these things. Many also hate me and tell me plainly, because I disrupt their humanistic world view.
Choose you this day whom you will serve, women. Will you continue to go down the broad, humanistic, godless path that leads to destruction, or will you choose to walk on the narrow path that leads to life? The first step to being on the narrow path is to believe in Jesus Christ as your Savior. Then grow in the wisdom and the knowledge of Him. Study His Word for His will in your life. Immerse yourself in His perfect ways. Stop listening to the "life gurus" of our day like Oprah who have no wisdom. They make up their own way which is far from God's. Once you believe, God's Spirit will indwell you, and then you can do all things that He asks of you, because His Spirit strengthens you.
Enter ye in at the strait gate: for wide is the gate, and broad is the way, that leadeth to destruction, and many there be which go in thereat: Because strait is the gate, and narrow is the way, which leadeth unto life, and few there be that find it.
Matthew 7:13,14