Reasons Women Should Be Able to Preach
Reasons Women Should Be Able to Preach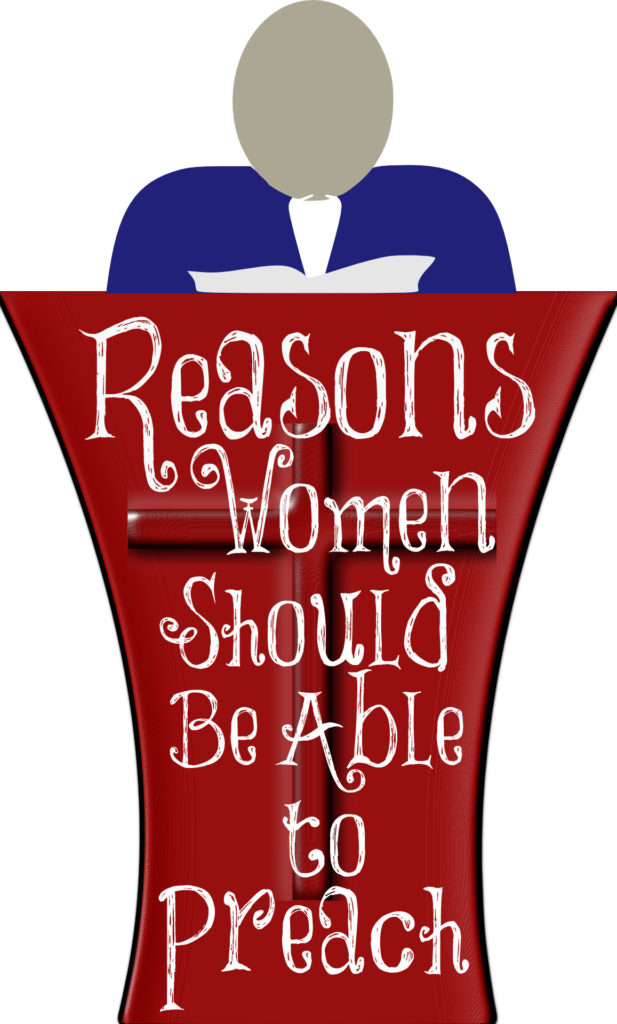 Premier Christianity from the UK wrote a post arguing why women should be able to preach and teach men in the church. "God created us male and female. By not including women equally with men, Christian events are depriving the body of Christ of the fullness God created us with." Men and women are equal in the eyes of the Lord but they are not the same no matter how much feminism tries to convince us. The author is fighting God's perfect design for male and females, especially those in the Church.
"However, it is alienating to women and girls without Christian faith if there are no people like them sharing the difference the gospel could make to them. If we want everyone to have access to the truth of Jesus." Women and girls can hear the Gospel just as well from a man as they can from a woman. The Gospel is the Gospel and does not strengthen or weaken depending upon who teaches it. Mothers should be sharing the Gospel with their children, their friends, and others. There are plenty of opportunities to share the Gospel without having to be a preacher.
"Most of us bleed for a few days a month, many of us have been subjected to harassment and stereotyping, some of us are teachers, careers, CEOs and mothers." And this is why women should be preachers? Preachers are to teach the Word of God. If women want to talk about their periods or harassment, they can find girlfriends; they don't need a pulpit.
"The Church is missing out on some incredibly talented, knowledgeable and experienced people when they don't include women equally to men." They must not care at all what the Bible's commands are about this or they would understand. Women are not to teach nor have authority over men because men were created first as the leaders and women are more easily deceived. (1 Timothy 2:12-14). Women can use all of those talents in the home, raising children, homemaking, being a help meet, ministering to others (neighbors, friends, church members, and strangers).
"Research has found women are leaving the Church. More and more women are finding that the Church has little to say to them." Biblicial truth is truth and is applicable to men and women alike. And it's men who are leaving the Church since it has become more feminized. There are plenty of churches with female preachers for women to attend, but they are not biblical. I sure would never attend one. If they are disobeying one part of Scripture, how much more are they disobeying?
"Domestic abuse, child sexual exploitation, female genital mutilation, trafficking and pornography are rooted in men's superiority over women." No, they are rooted in sin.
"When girls and young women don't see platforms that include women, they may conclude that public leadership, preaching and teaching are gifts solely given to men." That's because they are not gifts solely given to men but commands and the way the Lord has set up His Church. This woman and many like her need to dig into God's Word and find out Truth for themselves, instead of fighting for what they want that is not being obedient to the Word.
"Women in our churches and across Christian culture may be called by God to lead, teach, preach and write." No, women are not called to lead, preach, or teach men in the Church. Many have decided to become their own god and write their own bible.
"The few Bible passages on men and women's roles and responsibilities are far from clear cut and the wider context of Scripture gives us women such as Deborah, Esther, Mary, Priscilla and Junia who evidence that God calls women to lead too." Deborah is the only women in this list who may have been a leader but she was a judge and I am not sure how much a judge actually leads men. Esther was a queen but certainly didn't lead anyone. God did use her to free the Israelites and yes, He does use women in powerful ways but not outside of their designated roles. Mary was Jesus' mother, not a leader. Priscilla lead no one but was Aquila's wife. Can you tell me how Junia is a leader in this verse?"Salute Andronicus and Junia, my kinsmen, and my fellowprisoners, who are of note among the apostles, who also were in Christ before me" (Romans 16:7).  It sounds like he is a man – "kinsmen".
"The Spirit of God is falling on women across the globe, gifting and calling them, and we must be open to seeing and facilitating that, in our events, churches, mission and social action projects and in each of our lives." It has nothing whatsoever to do with the Spirit of God. It is the spirit of deception. Stay far away from it, women.
Now the Spirit speaketh expressly, that in the latter times some shall depart from the faith, giving heed to seducing spirits, and doctrines of devils; Speaking lies in hypocrisy; having their conscience seared with a hot iron.
1 Timothy 4:1, 2