What is the Gift of Prophecy?
What is the Gift of Prophecy?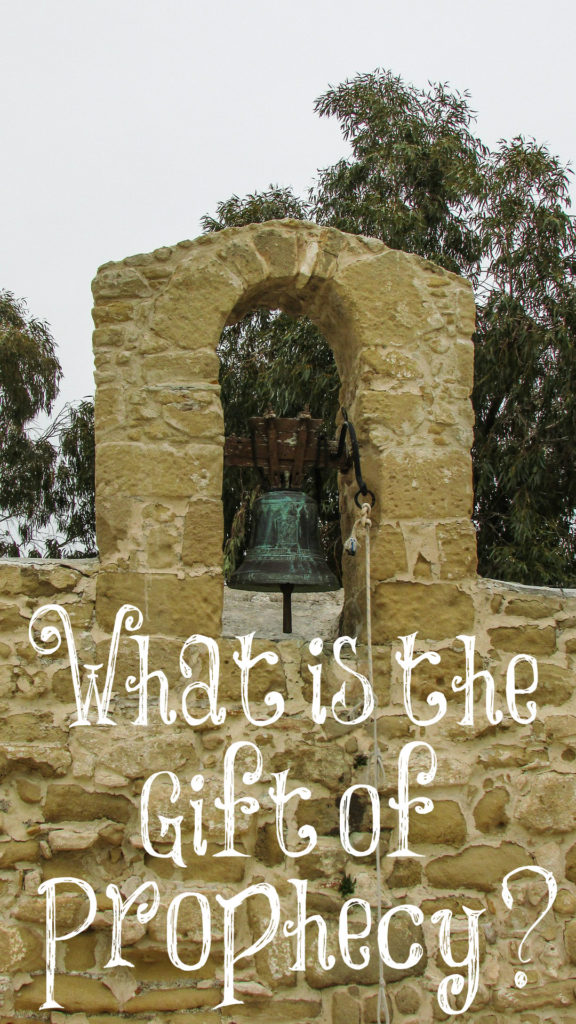 Many today have a "new" word or revelation from God as if God speaks directly to them. It seems to be especially prevalent among women preachers/teachers/authors and many Christian woman as if His Word isn't enough for them apparently. Women, who are more easily deceived, seem to be very prone to this. They want to "feel" close to Jesus and be able to communicate with Him by hearing His voice. Everything we need for life and godliness are in His Word.
The gift of prophecy is clearly spelled out in His Word: "But he that prophesieth speaketh unto men to edification, and exhortation, and comfort" (1 Corinthians 14:3). Men and women can have this gift. Here is a great explanation of a person who has the gift of prophecy from the Institute of Basic Life Principles web site. If you have the gift of prophecy, this is a great source to study and know clearly your strengths and weaknesses so you can work on your strengths and rid yourself of your weaknesses. My favorite preachers are those who are gifted with prophecy since I love to clearly know right from wrong, good from evil.
A prophet's basic motivational drive is to apply the Word of God to a situation so that sin is exposed and relationships are restored. Prophets might be considered the "trumpets" of the Body of Christ who sound the alarm in the face of sin and compromise.
A prophet calls attention to sin and wrong attitudes.
The prophet is passionate about exposing sin, but not primarily so that sinners can be punished. Rather, he is passionate about exposing sin so that truth can be revealed and fellowship with God can be restored.
A prophet has a God-given ability to sense when compromises are being made, and his nature demands that action be taken—something must be done. This action may take the form of an overt protest or confrontation, or it may take the form of a conversation or correspondence.
For a prophet, any solution that involves compromise is unacceptable.
For the prophet, to observe or discern sin and say nothing is, of itself, sin. Naturally, knowing that a prophet has this perspective tends to make some of us feel intimidated or uncomfortable around them—even when we are guiltless! The prophet's abhorrence of sin can easily be viewed as a judgmental spirit, and no one wants to be the object of that judgment.
The prophet often displays the spiritual gift of discerning of spirits; he is able to discern true motives as the Holy Spirit gives him divine insights. As a general rule, the prophet is more interested in whether or not the heart is pure than whether or not the activity in question is acceptable.
Prophets are usually outspoken, sometimes brash; they tell it like it is.
They tend to see issues as "black or white," not "gray."
A Prophet's Strengths
A prophet is confident in his use of Scripture, because he regards Scripture as the only source of truth.
A mature prophet easily discerns hypocrisy, because God has gifted him to discern Truth.
He is usually more teachable than others, especially when discipline or correction is required. When a wise prophet is confronted with his sin, he sees it as God sees it and consequently is crushed (if he is walking in the Spirit and not in the flesh).
The prophet accepts absolutes easily. The rest of us try to explain them away; prophets simply take God at His Word.
He is not easily swayed by emotions.
A prophet has a deep capacity to trust God, based on what God has promised. This is the prophet's attitude: "If it's right, do it. Trust God for the outcome—it's His responsibility."
A Prophet's Weaknesses
A prophet's need to be "painfully truthful" may result in insensitivity or harshness.
Prophets often have little sympathy and patience with people who do not respond objectively.
A prophet's sense of conviction may tempt him or her to become intolerant or prideful.
Because of the prophet's deep consciousness of sin, he sometimes seems to have a negative, "gloomy" approach to life.
I would that ye all spake with tongues but rather that ye prophesied: for greater is he that prophesieth than he that speaketh with tongues, except he interpret, that the church may receive edifying.
1 Corinthians 14:5