Are Women Bent Towards Being Disgruntled?
Are Women Bent Towards Being Disgruntled?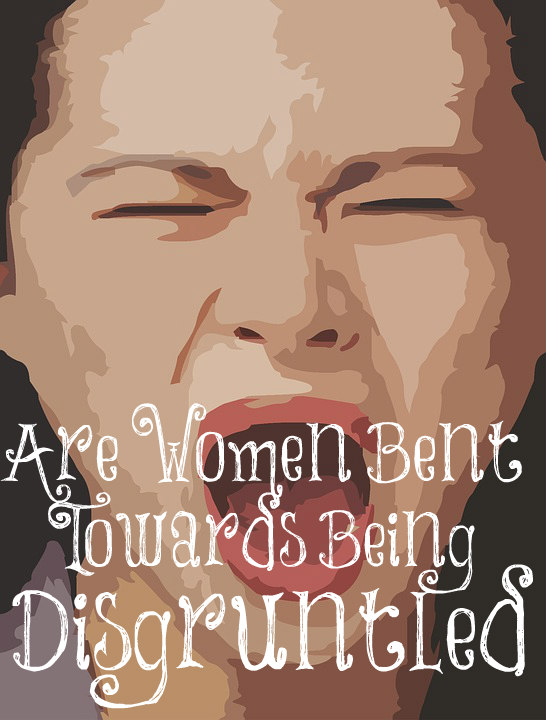 Dennis Prager, on his male/female hour recently, shared that he had read one of the first feminist's books written by Betty Friedan called The Feminine Mystique. Betty found that women who were wives, mothers, and homemakers were disgruntled with their lot in life, so she worked with this discontentment in women and encouraged them to seek fulfillment outside of the home. However, here we are in 2019 and women have gained everything feminists fought for and women are still disgruntled. Dennis wondered aloud if women simply struggle with being disgruntled. They are the most "free" women that have ever existed, yet they are still fighting for their "rights."
I believe women generally tend towards being disgruntled and this is why there are a number of verses warning men about this character flaw.
"…the contentions of a wife are a continual dropping" (Proverbs 19:13).
"It is better to dwell in the corner of the housetop, than with a brawling woman and in a wide house" (Proverbs 25:24) Brawling is the act of quarreling.

"A continual dropping in a very rainy day and a contentious woman are alike" (Proverbs 27:15).  Contentious means "given to angry debate and quarrelsome."
"For three things the earth is disquieted…For an odious woman when she is married" (Proverbs 30:21, 23). Odious means "hateful and disgusting."
It's interesting that there are no verses in the Bible about these types of husbands. There's a verse about a wise woman building her home up and a foolish one tearing it down with her own hands but nothing similar about husbands. It shows what a powerful influence for good or evil that women have in their homes and marriages.
Michael Pearl recently wrote, "After more than 40 years of marriage, I still think the number one important trait to look for in choosing a wife is a joyful, thankful spirit." If you have a joyful and thankful spirit, you will not be disgruntled, contentious, brawling, or odious. One of the first sins listed in Romans 1, which explains the progression of sin into a reprobate mind, is unthankfulness. "Because that, when they knew God, they glorified him not as God, neither were thankful…" (Romans 1:21).
The Apostle Paul told us that he "learned" contentment and so must we. "… for I have learned, in whatsoever state I am, therewith to be content" (Philippians 4:11). How did we do this? By renewing our minds with truth. "I can do all things through Christ which strengtheneth me" (Philippians 4:13). "But my God shall supply all your need according to his riches in glory by Christ Jesus" (Philippians 4:19). It's by having a simple faith in Christ Jesus and knowing that He will be with you every single step of the way on this earth and because of this, we can live thankful and joyful lives.
Happy is that people, that is in such a case: yea, happy is that people, whose God is the LORD.
Psalm 144:15
***How Complaining Physically Rewires Your Brain to Be Anxious and Depressed