Modest and Pure in Heart and Dress
Modest and Pure in Heart and Dress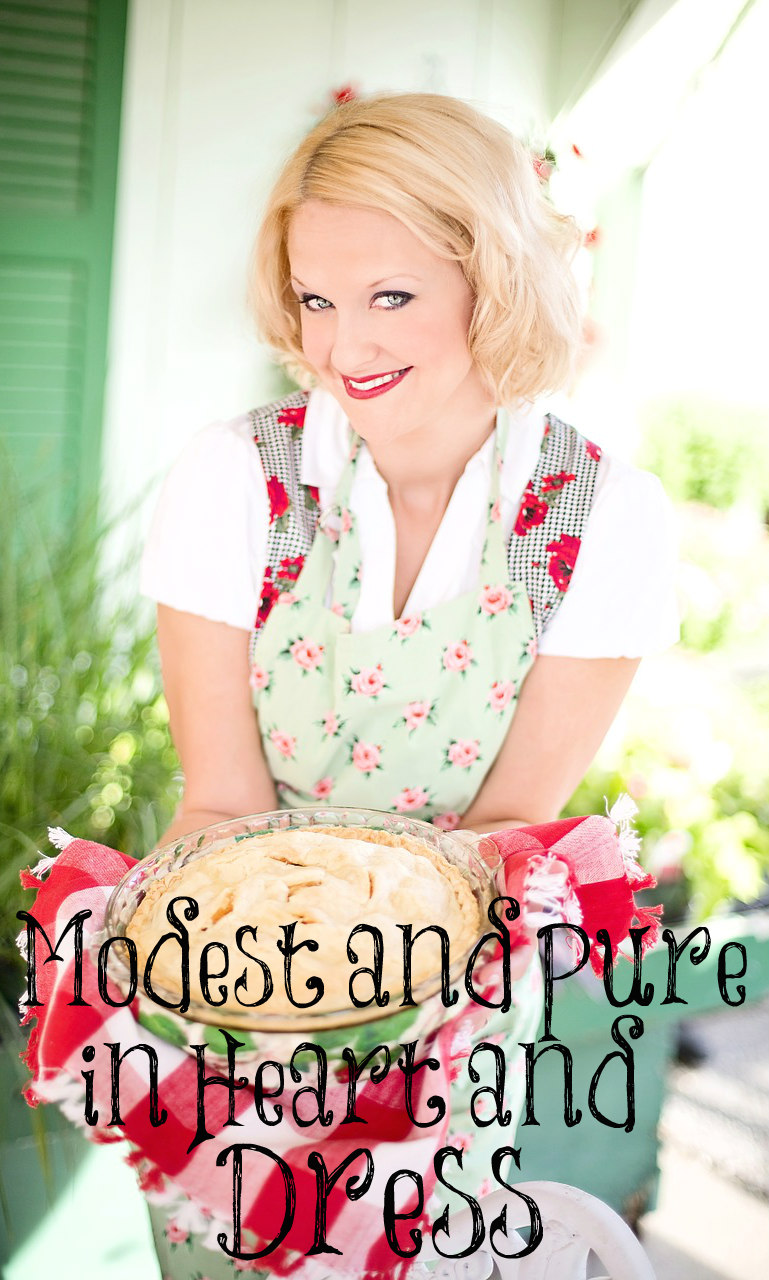 A godly, pastor's wife lent me her book Modesty: More Think a Change of Clothes by Martha Peace and Pastor Kent Keller. I love that it has a godly man chime in since it's good to know men's opinions about these things. They state that the purpose of this book is "about repenting from immodesty and becoming modest and pure in your heart and outward dress."
"We should not dress or act in any way that would cause another person to be tempted to sin. The Bible tells us we are not to be a 'stumbling block to the weak'( 1 Corinthians 8:9). Since men are weaker in this area, we females should try to make it as easy as possible for them to remain pure…A woman could show love to the men in her life, whether she personally knows them or not, by not dressing in a way that would entice them to think of her in an unrighteous manner.
Another vivid picture of how difficult it is for a man not to lust after an immodestly dressed woman comes to us from one of the sermons of a seventeenth-century pastor, Richard Baxter. This part of the sermon was to help women understand the man's struggle. Baxter suggested that you think of yourself as a candle in a room filled with gunpowder. Gunpowder is harmless in a room filled with gunpowder. When exposed to a flame, it immediately blows the entire building to bits. You cannot take it back once the explosion happens.
Therefore, protect your flame (be modest) so that you do not ignite explosive, sinful passion in guys who are quickly and easily inflamed by immodesty…You don't have to hide, but you do have to cover those God-given gifts that are meant to be revealed only to your husband. Exposing those gifts outside the context of marriage cries out for the lustful attention of guys."
Recently, I read a popular post that was going around Facebook that stated that the word 'modest' is only mentioned one time in the Bible and the Church makes too big of a deal about it, thus shaming women and placing all of the blame upon them for men lusting. I don't know what church he goes to but in the 58 years that I've been attending church, I have never heard modesty taught from older women in the church or preached from the pulpit.
The concept of modesty isn't mentioned only once in the Bible as he claimed. Nakedness and shame go together throughout the Word. The word 'shamefaced' is also mentioned referring to how women should behave which means to not draw attention to themselves. Women are also instructed to be discreet (prudent) and chaste (purity) which includes being modest. We are told to have meek and quiet spirits and our apparel, actions, and words either prove this to be true of us or false.
I also disagree that any of God's principles can be made too big a deal about, especially in our overly immodest and highly-sexualized culture and yes, women need to know what their immodest dressing does to men. We are to be wise as serpents and not be children in our thinking or actions anymore.
What we wear IS important! It's the first thing people notice about us when they see us. Are we bringing glory to the Lord in the way we dress or are we bringing glory to ourselves? We are to deny ourselves and think more highly of others than we do ourselves. We are to love other as ourselves. Do you love the men around you enough to cover up and not to be a stumbling block for them?
If you are married to a godly man, he should be your barometer on what is modest and immodest, not other women's convictions or their husband's convictions, but your husband's convictions since he is head over you and you are called to submit to him. Since he is a man, he will easily know what men lust after today and what is modest. Modesty standards do change with the culture and times or we'd all be wearing dresses down to our feet and sleeves down to our wrists. Thankfully, the Lord didn't define modesty for us so we do have freedom in Him to figure out our convictions individually, although there are some things that are definitely immodest which even ungodly men will admit.
Finally, your modesty should come from a place of love and devotion to your Heavenly Father. Your heart's desire should be to please Him in everything by living in obedience to all of His ways. When you love Him deeply, dressing and acting modestly will come easily for you since you represent Jesus on this earth and you will want to adorn the Gospel of Christ. Ultimately, modesty is a heart issue and the way you dress shows if your heart has been transformed by the power of the Word or not.
What? know ye not that your body is the temple of the Holy Ghost which is in you, which ye have of God, and ye are not your own? For ye are bought with a price: therefore glorify God in your body, and in your spirit, which are God's.
1 Corinthians 6:19, 20