Buying Modest Clothing
Buying Modest Clothing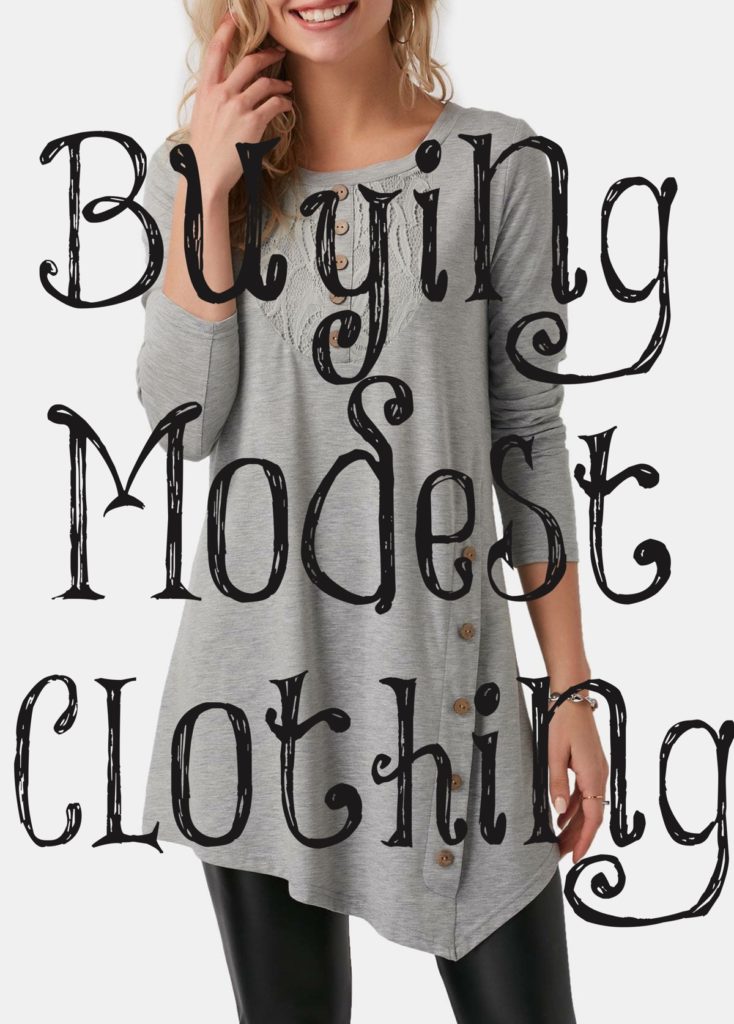 As you can see from my blog, I don't have any advertisements. I never wanted to be beholden to advertisers and my goal in writing was never to make money. Yes, I have made a bit of money on my book but not nearly as much as I spent to make it! But I didn't write a book to make money. I did it to continue the ministry of biblical womanhood to women.
Sometimes I will be asked to advertise or told ways I could make money from my blog but I always decline. It annoys me to go to blogs and have to click through a bunch of advertisements to read the post. Yes, I know some people must try to make money from blogging and I have no problems with that, but it wasn't something I ever started out to do or want to do. Thankfully, my husband has a good job and I don't have to make money.
Recently, a woman from ModLi contacted me since this company's website was receiving hits from my blog and asked me if she could send me a bathing suit and in return, I would write about it on my blog. I told her that it sounded great! I found a bathing suit I liked and it promptly arrived at my home. I quickly tried it on and loved it! It is high quality and very comfortable. (She wanted me to send a picture of me in it but at almost 60 years old, there's no way I would want to do that!) They have very pretty modest dresses, too.
Modesty in bathing suits isn't common today. For some reason, women disconnect modesty at the beach with modesty at church. Sure, I wouldn't ever wear my modest bathing suit from ModLi to church but I still want to be modest whether I am at church or at the beach.
I have noticed a troubling trend at the beaches around us. More and more women are wearing thong bathing suits. When they lay on a towel, they look naked. There is no shame with nakedness anymore but we, as women of God, need to be diligent about covering up our nakedness. The more flesh we show, the harder it is for guys to not look and we want to do all we can to not cause men to stumble. Most men enjoy the female body but that enjoyment of your body belongs to your husband alone if you are married and to your husband-to-be if you want to be married some day.
"A godly woman guards her sexuality with a modest attitude and modest apparel that does not draw lustful attention. She seeks to glorify God and not herself. Her life shows the worship of God and not the flesh" (Ryan Liberty).
In 1 Timothy 2:9, women are to "adorn themselves in modest apparel…" This means two things. One, it means we are to be shamefaced, not dress to draw attention to ourselves. Secondly, we should not spend a lot of money on our clothing since it states "not with…costly array."
According to the 1828 Webster Dictionary, modest meant "not bold or forward; not loose or lewd; not excessive or extreme; not extravagant." It's clear what God requires of us as godly women. He wants us to cover our nakedness, not show off our bodies, and not spend a lot of money on our clothing which is contrary to the times we live in with fashions changing constantly. We live in a consumer driven society.
Don't get caught up in the fashions of this world, women! Dress to please the Lord. We don't need stuffed closets with clothes we seldom wear. I believe it's good to buy fewer clothing items but make them high quality so they last. This bathing suit is high quality so I know it will last a long time. (Make sure you never put your bathing suits in the dryer!) The jean skirts I buy are high quality and will last. I try very hard to be wise with my purchases since we should be wise in all of our ways.
In like manner also, that women adorn themselves in modest apparel, with shamefacedness and sobriety; not with braided hair, or god, or pearls, or costly array; but which becomes women professing godliness with good works.
1 Timothy 2:10, 11
*I don't receive any money from ModLi if you buy from this post!