My Mom's Last Days
My Mom's Last Days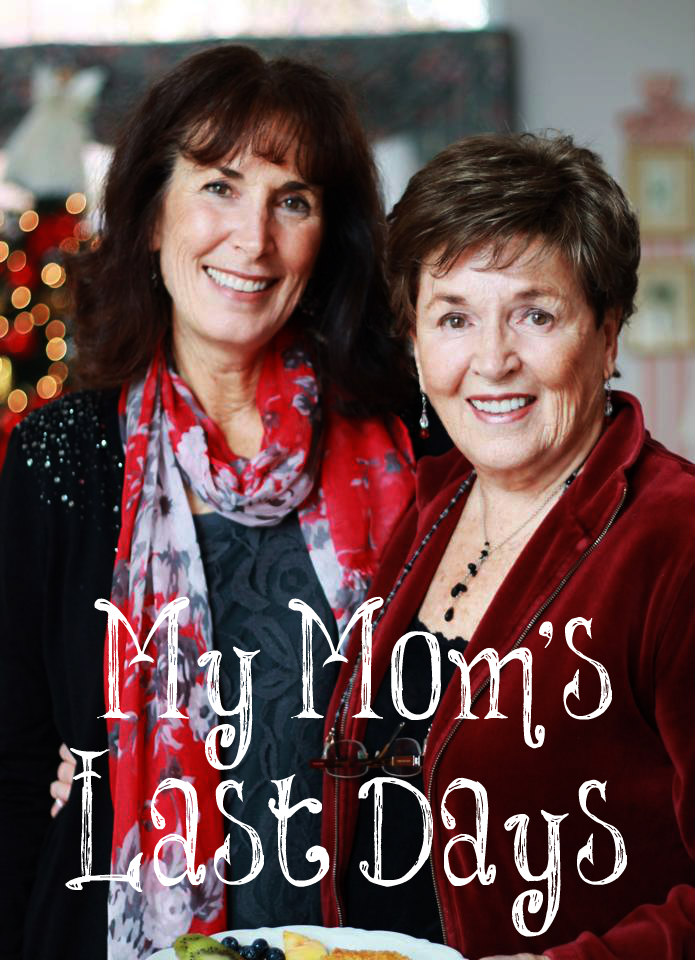 The other day, my mom told me that she didn't recognize my dad for a few hours and it scared her. She felt so badly because she loves him so much. It was the moment that I knew her days on this earth would not be much longer. I shared it with my children, my college friends, and the chat room. My children were grieved. They love their grandmother. My college friends shared all of their wonderful memories they have about my mom. The chat room shared the pain of losing their own mothers. It matters not if you have had your mother for 60 years as I have had or lost her as a child. It's always a difficult thing since death is the last enemy but thankfully, Jesus conquered the grave.
I've been writing my thoughts about her in my head since that day and decided I would do it now, when my dad could read it to her instead of waiting until she passes away into the arms of Jesus (which may be too late by the time I publish this since the hospice nurse said she only has a few days left to live).
As a child, she became my biggest supporter and encourager because I didn't have good friends from kindergarten through high school. We've always been very close. I was bullied a lot as I am sure many of you were. I would have loved to be homeschooled by her since I loved being with her so much but it wasn't heard of in our area back then. I know she would have gladly homsechooled me if she knew about it. She hated to see the pain I went through in the public schools.
She was a fun mother! She loved to entertain and feed people. She was extremely generous and gave whenever she saw a need. One of my college friends wrote, "She has been a lovely example of a joyful, peaceful Christian woman." Another one wrote, "I remember your mom's delicious carrot cake, her warm hospitality, her love for her daughters, and most of all her trust in God."
After I had my babies, she would come and live with me for several weeks. When one of my babies was fussy and I was exhausted, I would go to her house and she would be walking and rocking the baby to give me a break. She loved babysitting and being with her grandchildren! My children love her to this day. They never have had a negative thing to say about her, only love and appreciation.
When I got so sick with parasites then a brain tumor and neck fusion, she was always there for me helping any way that she could. She was such a big blessing in my life! She would brush my hair often since she knew this is what I loved while my dad gave me foot massages. I know it was so hard for them to see how much I suffered but it sure made the suffering easier having them helping to bear the load. I wish everyone was blessed with a mother like my own.
She's been wanting to go be with Jesus since she was 80 years old and has been continually dizzy from an inner ear infection that left permanent damage but she never complained about suddenly being quite immobile. Her favorite thing lately has been for us all to visit her throughout the week bringing her meals and simply sitting with her. She was one of seven children so she wasn't a loner at all. In fact, for her the more the merrier! She hated to ever see anyone left out.
Last week, she wanted to make sure I was okay due to the contentious comments I had received from my viral post. I assured her that I was fine. Even on her deathbed, she wanted to make sure I was alright! She has fully supported me in my ministry. In fact, she was the one who bought me "Created to Be His Help Meet" many years ago. It even changed her marriage in her old age. It's never too late to grow in Christ and become what He has called us to be.
Dear Mom, I love you so much and I'm so thankful for Christ's death and resurrection so that we get to spend eternity with each other. I will miss you but am so blessed that the Lord chose you as my mother. You had a life well lived! Love, Your daughter.
And I heard a voice from heaven saying unto me, Write, Blessed are the dead which die in the Lord from henceforth: Yea, saith the Spirit, that they may rest from their labours; and their works do follow them.
Revelation 14:13
UPDATE: My sweet mama passed into the arms of Jesus on Sunday evening.