Dead While She Lives
Dead While She Lives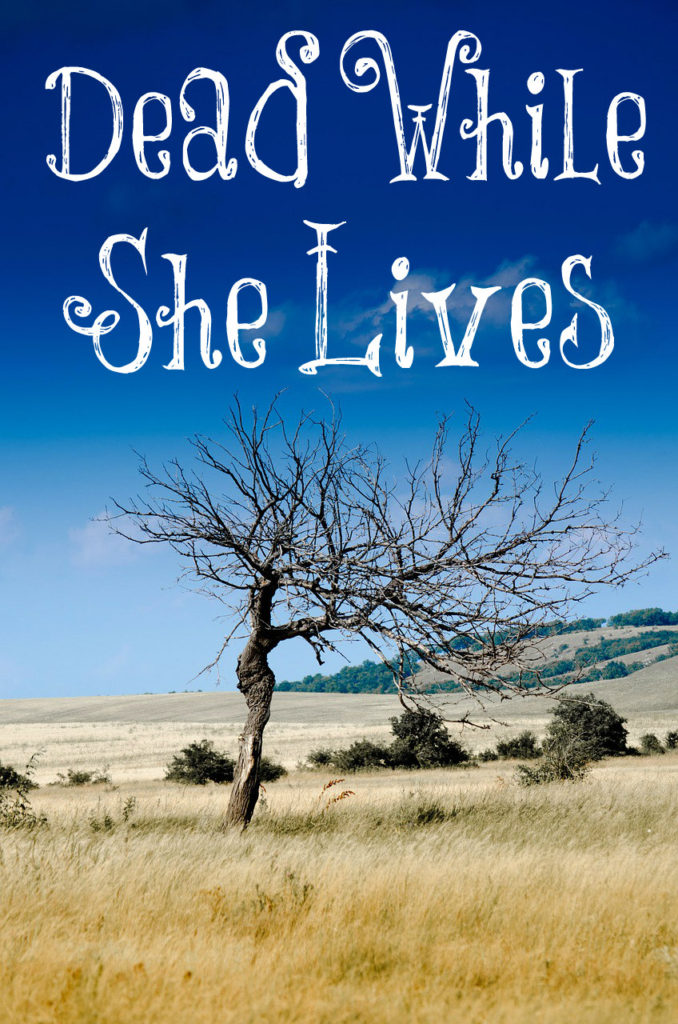 Are you dead while you live? We live in a culture that worships pleasure. We don't like quiet lives but feel the need to be entertained at every moment with television, music, and/or the Internet thinking only about ourselves instead of serving others. We have become seekers of pleasure rather than seekers of God. Most of those who call themselves Christians spend little to no time in the Word of God and learning from Him. No, they would rather learn and be entertained by the ways of the world.
The Apostle Paul, in giving instructions to widows, wrote about two different types of widows. One type were those who seek God and "continue in supplications and prayers night and day" (1 Timothy 5:5). They love the Lord and seek to please Him in all that they do. In contrast, the other types of widows don't trust and rely on the Lord "but [they] that live in pleasure are dead while [they] live" (1 Timothy 5:6).
We are told that in the end times, which we are presently living in, many will be "lovers of pleasures more than lovers of God" (2 Timothy 3:4). Even many Christians care more about seeking pleasure than seeking the Lord. If this is the case for you, then you are dead while you live. What does this mean?
"It properly means to live in luxury, voluptuously; to indulge freely in eating and drinking; to yield to the indulgence of the appetites. It does not indicate grossly criminal pleasures; but the kind of pleasure connected with luxurious living, and with pampering the appetites" (Barnes' Notes).
Do you pamper and indulge your appetites? We are to be known for being temperate in everything. "And every man that striveth for the mastery is temperate in all things" (1 Corinthians 9:25). Temperate means that we are moderate and not given to excess. We practice self-denial and self-control. We say "no" to the flesh and constantly seeking pleasure and "yes" to righteousness and serving others. We hide His Word in our hearts and allow Him to transform us as we renew our minds with truth so that we can live lives that are pleasing unto the Lord and bring Him glory.
"But she that liveth in pleasure,…. Voluptuously, and deliciously; lives a wanton, loose, and licentious life, serving divers lusts and pleasures:, is dead while she liveth; is dead in trespasses and sins, while she lives in them; is dead morally or spiritually, while she lives a natural or corporeal life" (Gill's Exposition).
Women who are dead while they live don't search scriptures to see how they are to live: how they are to dress, act, and speak. No, they go along with what culture is doing. They dress immodestly. They act according to their emotions and feelings and do as they please. They speak negatively about others and have no problems using swear words.
As godly women, we are called to live lives that are pleasing to the Lord, not pleasing to ourselves. Many falsely believe that if they continually seek to be entertained that they will be happy but no, when we seek to serve others and deny ourselves is when we find true happiness. "Happy is that people, that is in such a case: yea, happy is that people, whose God is the Lord." (Psalm 144:15). Joy comes from obeying and serving the Lord, not from serving ourselves and our pleasures.
"The widow-woman who could so forget her sorrow and her duty is spoken of as a living corpse, and sharply contrasted with her far happier sister, who, dead to the pleasures of the flesh, living a life of prayer and of self-denial, in the true sense of the word, may be spoken of as living" (Ellicott's Commentary).
It is in living a life of prayer and self-denial that fills our lives with joy. May we all be like "happier" widows who live their lives for the Lord and in serving others since only in living for the Lord are we able to find lasting joy and satisfaction. We don't find our strength in being busy and seeking pleasure. No, we find our strength in quietness and in trust. This is the truly abundant life!