Egalitarian Marriages Cause Contention
Egalitarian Marriages Cause Contention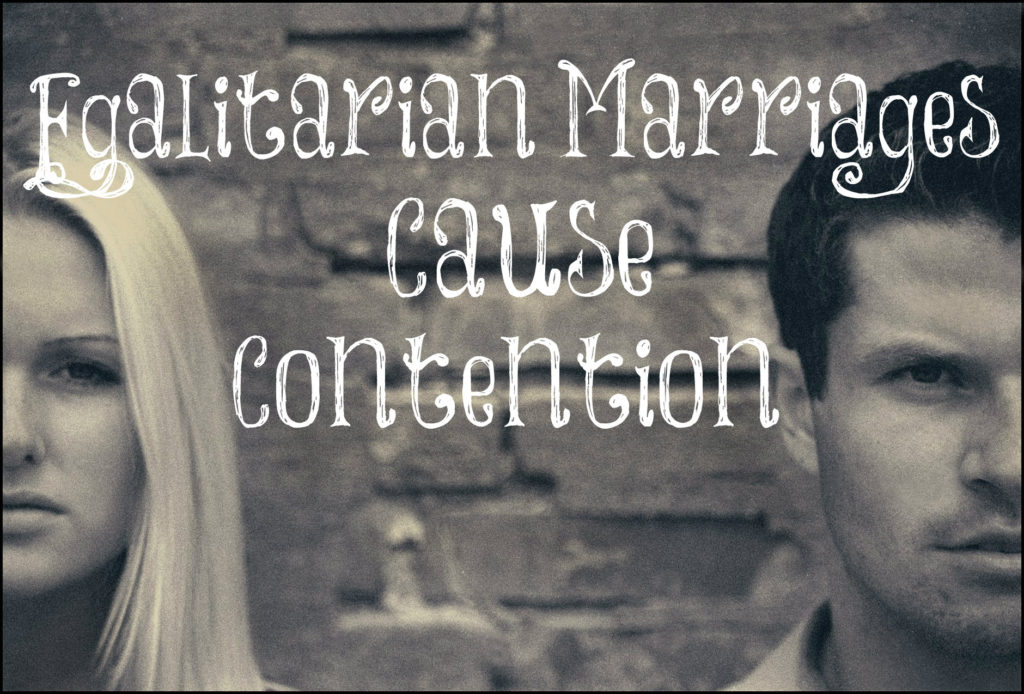 Most couples have had arguments about their roles in marriage. Most wives want their husbands to help with the home and children. Some husbands want their wives to make money and contribute financially to the home. This usually causes a lot of conflict, especially for women who want to have careers and aren't interested in being full-time mothers or homemakers and husbands who see dollars signs instead of the value of having a mother home full time with his children.
As believers, we know that God has ordained men as head over their wives. We know that He has ordained that women be keepers at home and look well to the ways of their household. Wives are to be submissive and obedient to their husbands. Men are ordained to make a living for their families. These are God's perfect ways. We always get in trouble when we depart from His ways. Lindsay Harold gives a great illustration of this.
"Egalitarianism (mutual submission) is like having a shared lawn with your neighbor while complementarianism (wives live in submission to their husbands) is like having separate lawns.
"If you share a lawn with your neighbor, you might have an expectation that he do half of the work to maintain it, and if he does nothing or very little to maintain the lawn, you are likely to feel anger towards him for not doing his share of the shared work. But if you have your own lawn and your neighbor has his, then you work on your own lawn and he does his. And if he ever comes over to mow your lawn for you, you feel grateful for his help and it builds goodwill between you. Why? Because he did something for you that he didn't have to do.
"In a marriage, it works much the same way. If you feel that all work should be shared equally, and none of it is solely any one person's job, then you'll be checking to see if the other person is doing their fair share and you'll get angry if they don't. But if you have separate chores for him and for her, then not only is there less strife over who is doing enough of the work, but when you get help from the other person, you feel gratitude. It's not just grudgingly accepting that they did what they should have done, but actual gratitude and goodwill. And that makes a huge difference."
As a wise pastor once taught, "Expectations are resentment waiting to happen." Don't allow expectations to destroy your relationship with your husband. The Lord has made him head over your and He has called you to submit to his leadership. When this is followed, there is peace.
Wives, submit yourselves unto your own husbands, as unto the Lord. For the husband is the head of the wife, even as Christ is the head of the church: and he is the saviour of the body.
Ephesians 5:22, 23