Enduring Hardness as a Good Soldier of Jesus Christ
Enduring Hardness as a Good Soldier of Jesus Christ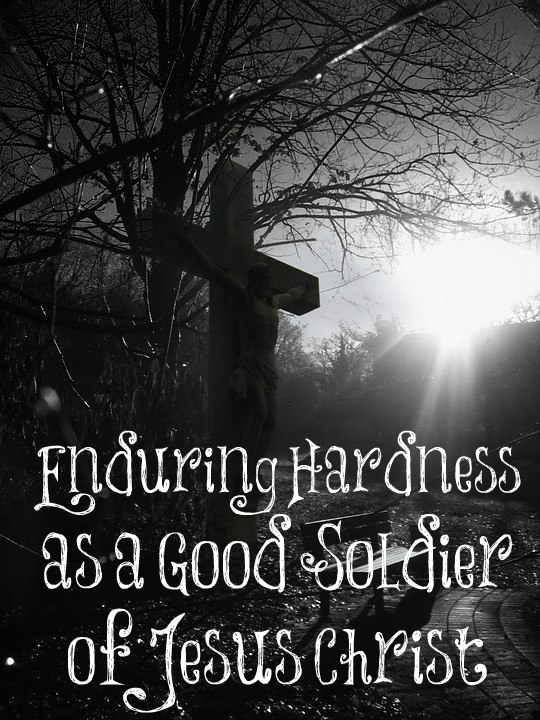 Yesterday morning, I read this verse: "Thou therefore endure hardness as a good soldier of Jesus Christ" (2 Timothy 2:3). Many people are going through difficult times right now. Mothers are caring for their sick children. They are woken up in the middle of the night often. They aren't feeling well themselves. Their husbands are struggling under the weight of not being able to work. Money is becoming scarce. Things of this world look frightening. Yet, we are told to endure hard times and trials as good soldiers of Jesus Christ. How do we do this?
We take one day, maybe even one moment, at a time. I was a very sick mother while raising my children. I suffered greatly and it was a hard time, but God helped me through. His mercy and grace covered me the entire time and He will do the same for you, women. He promises that we can do ALL things through Christ who strengthens us. The ALL things include everything that He has asked us to do. He will be your strength through these hard times. His grace is sufficient.
How do we keep our minds at peace when everything around us is raging. Here's what my godly friend sent to me and I pray it blesses you.
H – HALLELUJAH! WHAT A SAVIOR! Remember during these days that the government won't save us or bring us peace, only our Savior can do that. I Corinthians 2:5 says "Your faith should not rest on the wisdom of men, but on the power of God." And Ephesians 5:8 tells us "to walk as children of light." That is walking in the joy of knowing our Savior is alive and reigns and is still in control.
O – ONWARD CHRISTIAN SOLDIER! Remember to not get entangled in the news, the upward curve of the virus stats this week or anything else that brings you down. 2 Timothy 2:4 says, "No man that warreth entangleth himself with the affairs of this life; that he may please Him who hath chosen him to be a soldier." Don't be entangled in discouragement and fear, but instead move forward in faith and be God's light to others!
P – PURPOSEFUL HEARTS! Remember that our purpose is not to see the end of this pandemic, but to trust God and be peaceful in the midst of it and find ways to encourage and uplift others. We can do that through e-mails, texts, snail mail, phone calls, praying for others and by being an example. "Let us therefore follow after the things which make for peace, and things wherewith one may edify another." (Romans 14:19)
E – EYES ON JESUS! Remember to fix your eyes on Jesus, not on the world around you. Jehoshaphat was facing a desperate crisis in II Chronicles 20, but in verse 12 he says, "We are powerless before this great multitude who are coming against us, nor do we know what to do, but our eyes are on Thee." Eyes fixed on Jesus will always bring peace! (Isaiah 26:3)
Be careful for nothing; but in every thing by prayer and supplication with thanksgiving let your requests be made known unto God. And the peace of God, which passeth all understanding, shall keep your hearts and minds through Christ Jesus.
Philippians 4:6,7