Ill-Prepared to Be Wives, Mothers, and Keepers at Home
Ill-Prepared to Be Wives, Mothers, and Keepers at Home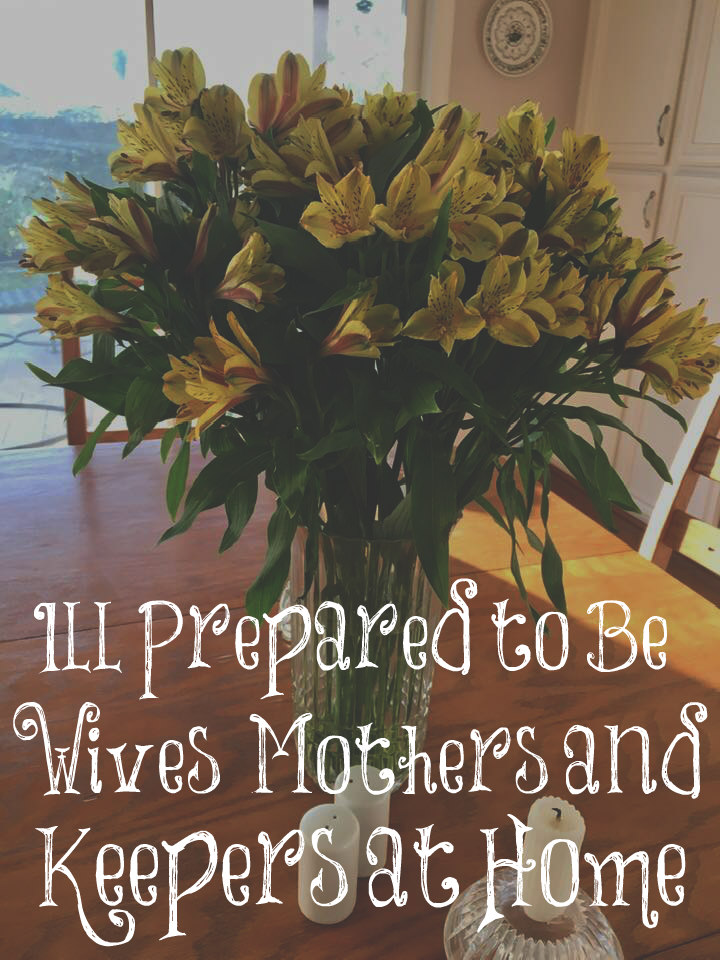 God commands older women to teach young women to love their husbands and children and be keepers at home (Titus 2:3-5). He commands that young widows marry, bear children, and guide the home (1 Timothy 5:14). It seems to me that God's will for young women is to marry, bear children, and guide the home, therefore, I will continue to teach this since His will is best. Most young women are very well prepared to be career women but ill-prepared to be wives, mothers, and keepers at home.
"The large percentage of career-minded woman is either a lack of scriptural understanding or a refusal to follow it. Either way this is not a financial, psychological, emotional or societal problem, but a spiritual issue. I believe if we return to the Lord and follow His ways, we will see many changes for good and chief among those will be our women staying home. Not from a government law, but in obedience to the law written in their hearts. Not from men demanding it, but from the God-given intelligence they know this is God's best for them, for their husband, and for their children.
"Look simply to our current society. Has there ever been a time when people don't know how to act, how to treat others, or how to take care of themselves? Is there not a correlation between our society sinking to an all time low and mothers leaving the home? I will always believe women are the best thing God ever created. Unfortunately, too many have chosen to sacrifice the eternal on the alter of the temporary." (Tim Keller)
Culture and the churches are telling young women to pursue a higher education and a career. This is all young girls hear from the time they are young. Few, if any, are teaching them the value of being wives, mothers, and keepers at home. Most older women are certainly not teaching young women to be keepers at home. If they were, what I write wouldn't be so foreign and disgusting to so many.
Many worry about living on one income, yet many families are living on one income. Don't believe the lies being promoted that this isn't attainable. God tells us that His commands are not burdensome and with Him ALL things are possible. Step out in faith and trust Him. After all, He is our provider!
If someone tries to convince you that being home full time is extremely isolating and lonely at times, having a career can be extremely isolating and lonely at times too. Our lives aren't about our comfort but about loving and obeying God even when it's isolating and lonely. You are doing Kingdom work! You are working for God Almighty and raising up godly offspring for Him. NOTHING can be more important than this. THIS is the message that young women need to hear.
For this is the love of God, that we keep his commandments: and his commandments are not grievous.
1 John 5:3