God Created Us to Be Married
God Created Us to Be Married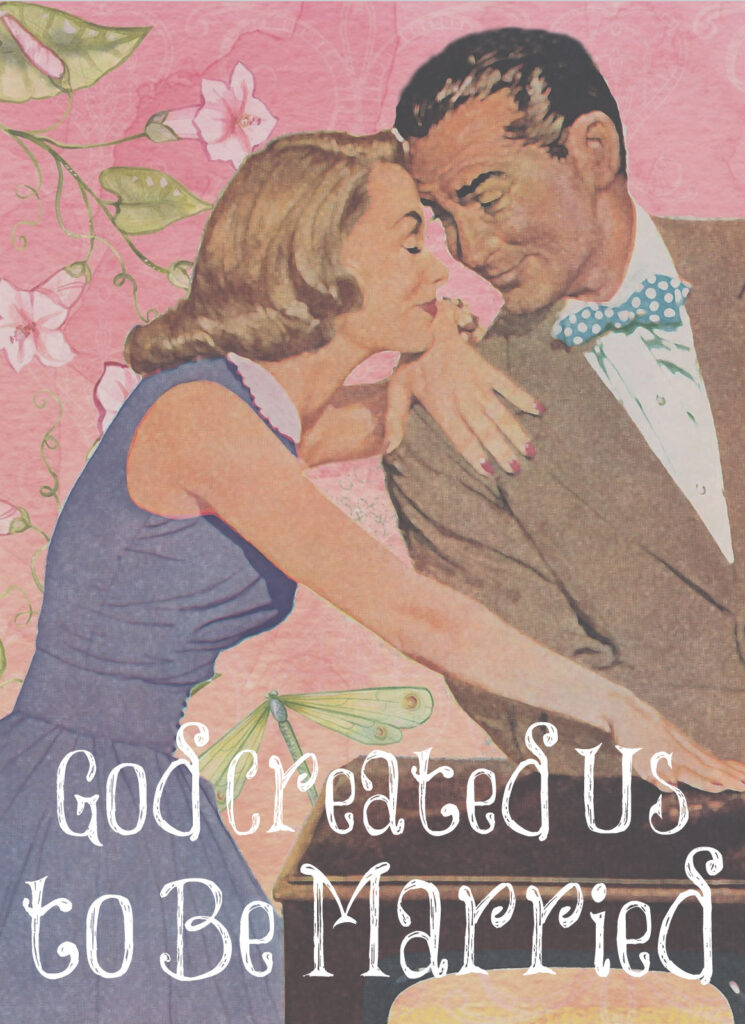 From the beginning when God was creating the world, He said that it was not good for man to be alone, so He would create a help meet for him (Genesis 2:18).
In Proverbs 18:22, we are told, "Whoso findeth a wife findeth a good thing, and obtaineth favour of the LORD."
In Proverbs 5:18, young men are admonished, "Let thy fountain be blessed: and rejoice with the wife of thy youth."
Then men are told this: "House and riches are the inheritance of fathers: and a prudent wife is from the Lord" (Proverbs 19:14). Prudent means " Cautious; circumspect; practically wise; frugal; economical; wise; intelligent."
In Proverbs 10, men are told what kind of a wife to look for: "Who can find a virtuous woman? for her price is far above rubies" (Proverbs 31:10) Virtuous means "morally good; chaste."
In Ecclesiastes 9:9, God exhorts men to "Live joyfully with the wife whom thou lovest all the days of the life of thy vanity, which he hath given thee under the sun."
Marriage is a symbol of Christ and His Church. Anyone who puts down marriage does NOT know God's Word.
What about the Apostle Paul's writing on singleness. He wrote those words by permission, not commandment (1 Corinthians 7:6). It's for those who don't burn and want to live their lives solely devoted to God and His word as Paul did. It's not for those who burn yet want to find an excuse to fornicate and watch porn while refusing to marry.
What do we gather from all of this? Men should not marry a feminist since feminism teaches women everything contrary to God's Word. In order to have a good marriage, a couple must live according to God's commands. God's commands to wives are to love their husbands, live in submission to them, obey them, reverence them, and learn what pleases them. This all seems disgusting to women in our day and age. They don't agree with God. They believe their way is better which often results in their tearing their own homes down.
God's ways aren't easy, but they're good. If you're a young woman longing to marry, this is a God-given desire. The same goes for single men. It's not good for them to live alone! Give these desires to the Lord. Become the woman that God has called you to be. Be involved in a solid, Bible preaching church that only has male pastors, preachers, elders, and deacons. Learn to love serving others. Learn all of the homemaking arts. Be prepared for marriage. Go through my study guide, then trust God's timing. Remind yourself daily that godliness with contentment is great gain. God can use you powerfully in your single years.
Therefore shall a man leave his father and his mother, and shall cleave unto his wife: and they shall be one flesh.
Genesis 2:24