He Hearkened to the Voice of His Wife
He Hearkened to the Voice of His Wife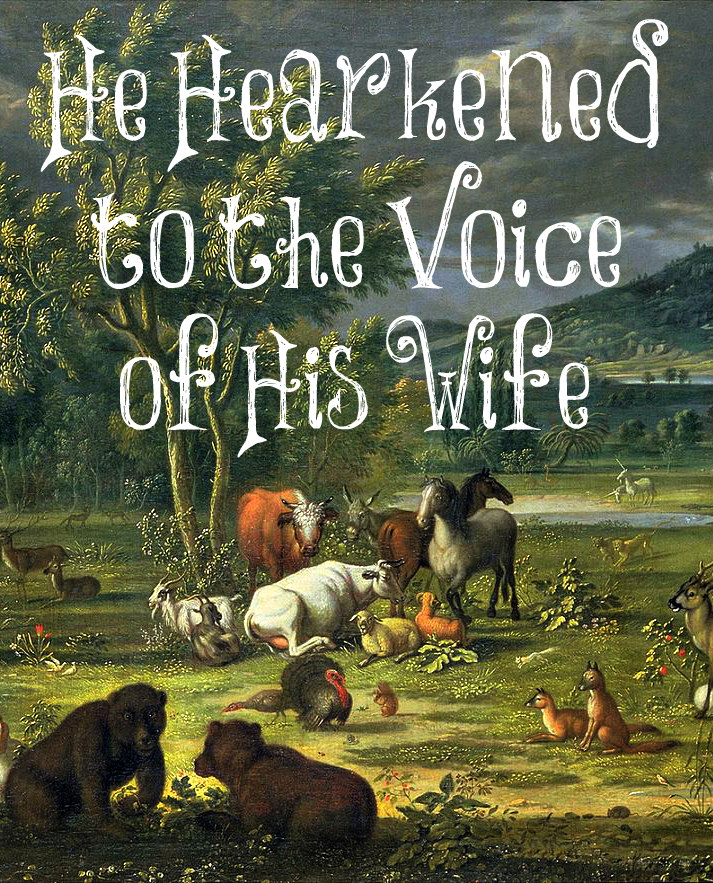 There are two very famous men who hearkened to the voice of their wives and caused much devastation as a result. The first man was Adam who listened to his wife and ate of the forbidden fruit. When God found Adam, He said to him, "Because thou hast hearkened unto the voice of thy wife, and hast eaten of the tree…" (Genesis 3:17) and then God gave the consequences of listening to his wife. Thus, the world was cast into sin.
The other famous man was Abraham who knew that God told him he would be a father of many nations yet had no child so Sarah suggested he sleep with the maid to have a child. "And Abram hearkened to the voice of Sarah" (Genesis 16:2) and did what she suggested which became part of the lineage of those who fight against God's chosen people, Israel.
Often when I teach about women being submissive to their husbands and obeying them "as Sarah obeyed Abraham, calling him lord…" (1 Peter 3:6), they want to find wiggle room in this by saying that they have a right to state their thoughts and opinions. "'Without the word' doesn't mean we can't say anything!" I believe God's intention for us as wives is to obey with gentle, quiet, and submissive spirits as unto the Lord. I believe this is His perfect will for us.
Does this mean we can't give our thoughts and suggestions? No, but if we are continually questioning, arguing, and giving alternatives or wanting our way, we are in sin. This isn't how God wants us to live in submission to our husbands. If we want to give our thoughts or suggestions, we must be careful when doing this, making sure it's wise advice and not just what we want, and don't do it often. We don't ever want our husband to be rebuked by the Lord for "hearkening to the voice of his wife."
Men typically want to please their wives and will do whatever it takes to make peace. But God made it clear that we are to have "quiet" spirits which means we are at peace, not wanting our way, and are willing to follow our husband's lead and choices. As John Piper preached, "This is how the holy women of old used to adorn themselves by submitting to their husbands. The deepest root of womanhood is hope in God. That's where we start defining Christian womanhood – hope in God. 
A Christian woman does not put her hope in her husband or in getting one. A Christian woman doesn't put her hopes in her looks. Remember my favorite verse in the Proverbs 31 woman? 'Strength and dignity are her clothing and she laughs at the time to come.' 'Everything that's coming at me, I'm laughing!' She doesn't cringe. She doesn't run. She's not naive about what's coming and she laughs because holy women of God hope in a Sovereign God who promises to help women whenever she needs Him."
If we trust God Almighty and His will for us, we will trust our husband's leadership instead of always having to give our input. God is wiser than us and maybe, just maybe our husbands will make great leaders if we let them and stop fighting them.
Even as Sara obeyed Abraham, calling him lord: whose daughters ye are, as long as ye do well, and are not afraid with any amazement.
1 Peter 3:6