Housework – The Bane of Most Marriages
Housework – The Bane of Most Marriages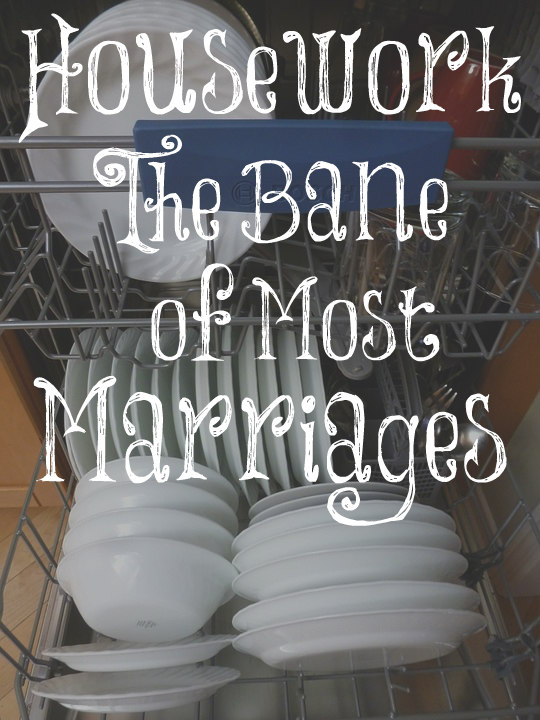 When couples don't understand God's roles for them in marriage, chaos ensues. Take the article called Housework Woes: Simply Having a Husband Creates Seven Hours of Chores. "Do you take this man to be your lawfully wedded husband, to have and to hold, to pick up after, to arrange appointments for, and to remind to turn on the dishwasher on the evening? 'I do!'
"If marriage vows sounded like this, would women still get married? A recent study suggests that, whether they expected it or not, a lot of married women find themselves doing more than their fair share of housework. In fact, researchers say that husbands are actually creating additional work for their partners, whether they realize it or not!"
Long gone are the vows from a wife on her wedding day to love, honor, and obey her husband. No, it's more about what can he do for her instead of what can she do to make his life better. Arguing about housework should never be part of a Christian marriage since we know from God's Word that the wife was created to be her husband's help meet and be the keeper of the home. She's the one who looks well to the ways of her household and does not eat the bread of idleness while her husband works hard to provide a living for his family. He is the one in the authority position so she isn't telling him what to do. Yes, she can kindly ask for help but she should not tell him what to do. Feminism and their quest to get women out of their homes and take on the men's jobs has created havoc in marriages.
The goal of this article: "Let's all hope that soon modern marriages will be truly equal. Stafford conducted a follow-up study presented in 2018 that also explored trends among children – in 2002, boys did about 21.4 minutes of housework a day compared to 40.5 minutes for girls. But, by 2014, those numbers started to equalize with boys doing about 26.8 minutes compared to 30 minutes for girls. So the next generation is on the right track."
Do you know how hard it is trying to be "truly equal" and how much strife it causes? Their definition of "equal" for feminists is "the same." Men and women will never be "equal" in the way they want them to be. We were created differently for good reasons. Our bodies aren't equal! Our strength isn't equal. Yes, we're equal in value and worth to God but we aren't equal in the way feminists want us to be and neither are our roles. Men and women are different. The sooner we understand and accept this, the faster our marriages will improve. We are to be the ones taking care of the homes, yes, even clean up and serve our husbands. Our husbands serve us by going to work each day. Be thankful!
When each spouse knows their God-ordained role, there is peace in the home. There's no tit-for-tat going on and keeping score. "For God is not the author of confusion, but of peace" (1 Corinthians 14:33). The husband does his role and the wife does hers. The greatest of all is the servant of all. Both husband and wife have important roles to fulfill. Take joy in the role that the Lord has given you, women. I have been so very thankful that it wasn't me who had to provide for my family. I am thankful to have a husband who has done this for many, many years. I love God's will and role for women. It's good, and acceptable, and perfect (Romans 12:2)!
And whatsoever ye do, do it heartily, as to the Lord, and not unto men.
Colossians 3:23