Marry a Christian Man Who Provides and Protects
Marry a Christian Man Who Provides and Protects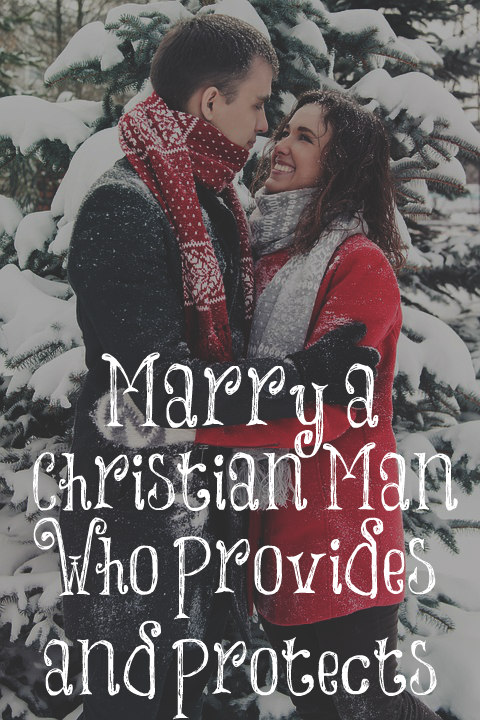 The two main qualifications I taught my daughters to look for in future husbands was that they loved the Lord and were hard workers. It's easier for a woman to be a keeper of the home as God commands if she marries a Christian man who provides for his family. This is something young women must discuss with future potential husbands before marrying them. My husband was well aware that I wanted to be home full time to raise our children. He was prepared to work hard to make this happen.
Recently, we were out to breakfast with my dad. I was born on September 1, 1958 and that same month, my dad began his third year of medical school. I asked him how he was able to support my mom being home full time with me while in school. He said that for three months solid during the summer before I was born, he worked 80 hour weeks going door-to-door selling sets of Bible Story books. He sold one a day and for each one he sold, his medical school (which was Seventh Day Adventist – no, we're not Seventh Day Adventist) would deduct $78 from his tuition. He didn't have to pay any tuition for the last two years of medical school!
He also was paid $14 per night by being an on-call pathologist. He would get more money if he was called in. They lived in student housing until my dad was in residency, then they bought a little home and continued to live simply. He never wanted my mom to work. He knew that she was the best one to raise us. This is how most men were back then. They knew it was their responsibility to provide and protect their families.
Yes, there's a problem that godly men have in trying to find women who aren't career-oriented feminists these days. Even most young Christian women are this way since they've been raised to go to college and seek a career. There's also a problem for godly women to find men to marry who don't want career-oriented feminists. Many men want their wives to work since they are thinking more about the financial benefit instead of the benefit for their marriage, children, and home BUT there will always be a remnant, dear women, who love the Lord and His ways!
Don't marry a man who wants you to work once you have children. Marry a man who will value your work in your home with your children. Marry a man who isn't afraid to work hard to provide and wants to protect you. Be a woman who appreciates men like this that haven't been deeply influenced by the feminism that permeates everything today. Yes, they are still out there. I hear from them often.
Until you find this man, work on becoming a godly woman. Learn all the beautiful ways of biblical womanhood and having a meek and quiet spirit. These qualities will draw a godly man to you. Find the strongest Bible-believing and teaching church around (one that doesn't have women in leadership positions) and go consistently. Be kind and friendly to the young men who go to this church. Ask God to bring a godly husband into your life.
But if anyone does not provide for his own family, especially for his own household, he has denied the faith and is worse than an unbeliever.
1 Timothy 5:8