Lack of Education Makes Bad Mothers?
Lack of Education Makes Bad Mothers?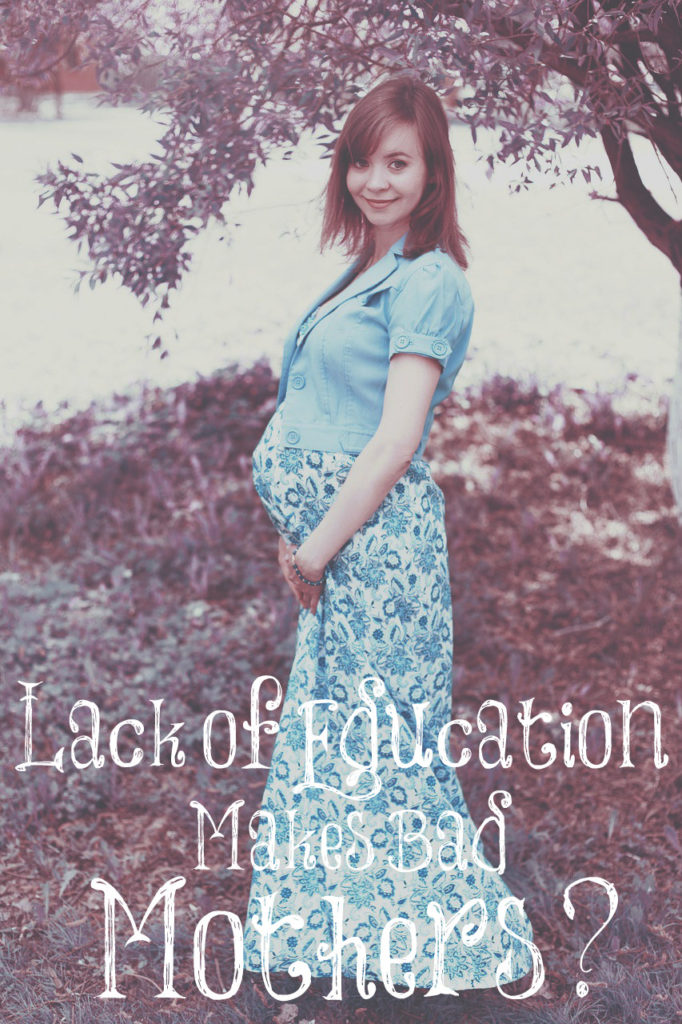 Joy Anna Duggar, who is nineteen years old is pregnant and is causing quite a stir among the feminists of today. "What? She doesn't have a college education?" "What will she have to offer her baby?" As one woman responded on an article about Joy Anna:
"What about an education? The ability to pay for a child's needs? Babies are a blessing but they deserve to be raised in a loving and accepting home. An uneducated teenager without a job other than TLC is not a role model for young girls . Originally my daughters were allowed to watch the show but as the young ladies grew and were denied an education and basic civil rights — the show was banned. I have 7 children. 4 college graduates , 2 daughters in college who also work to pay for their education . The Duggar ladies are an example of what not to do."
Up until about 150 years ago, few women received college educations yet children were still born and raised to be responsible adults. A college education does NOT make a woman smarter in any way that matters to the Lord or to eternity. In fact, most college educations poison women's minds since they teach everything contrary to the Word of God. Some of our most famous presidents were home educated by mothers without a college education.
From what I have seen, higher education makes uninvolved mothers since mothers aren't home full time with their children. They value their careers over their children. They find being home full time mundane and not for them, especially since it's so easy to find care for their children with the many daycare centers available today. Higher education does nothing to help women become more submissive wives, better mothers, or homemakers who keep clean and tidy homes. They teach nothing that the Lord cares about concerning godly womanhood.
Why would Joy Anna have to be the one to "pay for a child's needs" as this woman states? Joy Anna did it right. She married a godly, hard-working man to provide and protect her. If something happens to her, I am sure her family would support her as they are called to do biblically (1 Timothy 5:4).
Joy Anna's baby will be raised in a loving and accepting home. The Duggars believe that when a couple gets married, they begin having babies, if the Lord blesses them. Surprise, surprise! The fact that this is not common today, even among Christians, is tragic. God created marriage and commanded us to be fruitful and multiply. Children are gifts from the Lord and raising four children and now having almost six grandchildren, I can say without a doubt that they are all our greatest blessings!
"An uneducated teenager without a job other than TLC is not a role model for young girls." I can tell you that she is going to be a far superior role model to her children than many highly educated women are today. Joy Anna will be home full time with her children and showing and teaching them the ways of godliness. Her marriage will be strong and she will show her children the joy of the Lord. What's more important than this? An education and career? I think not!
Finally, this woman accused the Duggars by saying the children were "denied an education and basic civil rights"? They were all homeschooled and seem to be very intelligent and wise children and adults. I have no idea what she is referring to concerning basic civil rights. Does she mean it's because the girls all wore skirts and had long hair, didn't go to public schooling or universities, didn't grow up watching TV or maybe because they were given strict courting rules? From everything I have seen and read, they are one of the most joyful families I have ever seen! My mother never had a college education and she was a fabulous mother just as Joy Anna will be.
For the wisdom of this world is foolishness with God. For it is written, He taketh the wise in their own craftiness.
1 Corinthians 3:19