Distracting Women from Truth
Distracting Women from Truth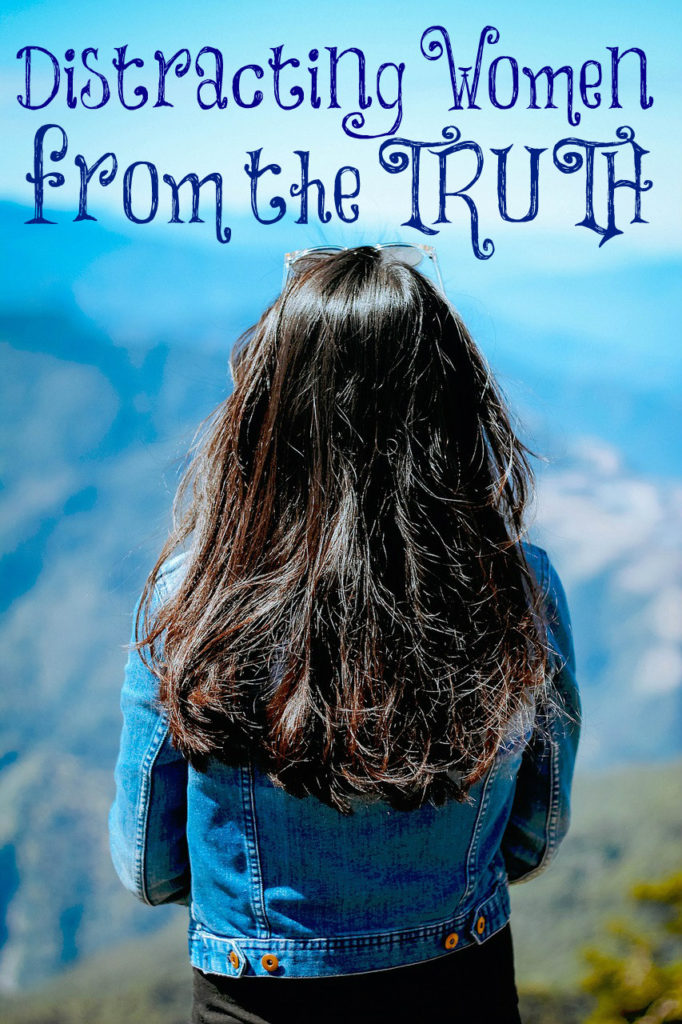 Nancy Campbell wrote an encouraging post on her Facebook page about wives smiling at their husbands.
"Recently I read about a wife whose husband was unkind to her and didn't want to spent time with her, choosing to spend all his evenings in other company. She went to a counselor. He didn't spend hours counseling her, but instead gave her one simple message, 'Always treat your husband with a smile.'
She began to put it into practice. A few months later she returned to the counselor to say that her husband no longer sought other company, but longed to be with her and treated her with constant love and kindness.
This secret works wonders for a problematic marriage, but also enhances a good marriage. Try it."
I was the first one to comment and wrote, "Whenever I mentor women in troubled marriages, this is the first assignment I give them: begin smiling at your husband every time you see him. One woman came back a week later and after asking her how it went, she replied, "He knew something was different about me so he asked, 'Have you lost weight?!'" 🙂 
Then right under my comment a woman named Hazel made this comment, "With a marriage that needs a bit of fine tuning, this will work. However, in an abusive marriage, this will only make things worse. I tried Love Dare. The further I got, the worse things became. He soon learned that it didn't matter what he did, I would still treat him kindly. I did this until it nearly killed me. We're now divorced and this is the best I've felt in years. Yes, life is hard but I no longer have the wet blanket of verbal abuse. The 'shut up and forgive' thing only goes so far. It never, ever applies to an abusing marriage." She received a lot of likes on her comment.
What was Hazel's goal in writing this? Was it to warn women to not try smiling and being kind towards their husband since it may make it worse? Was it to water down Nancy's encouraging and wise words to wives in order to distract women from truth? We can't know for sure but it's a consistent behavior among many women today. They do it to me frequently, almost daily actually. If I mention the word submission, being kind, loving, or serving our husbands in any way, women scream "abuse" or selfishness on the husband's part. Why do they have to say anything? It's as if they believe it's their job to protect women from our teachings as if our teachings cause harm and abuse.
Smiling and being warm towards our husbands DOESN'T cause abuse. Submitting and serving our husbands DOES NOT cause abuse. Even obeying our husbands DOES NOT cause abuse. Sin causes abuse, period, yet try to encourage women towards becoming godly, submissive wives and some women always have to warn women about abuse and put a negative twist to it. Yes, I know abuse is real and I have posts dedicated to this topic but it's completely unnecessary and unproductive to write about abuse or husbands maybe or made up faults every time I teach women about treating our husbands with kindness, love, and respect. It takes away from the truth and turns it into something ugly which seems to be their intention.
For of this sort are they which creep into houses, and lead captive silly women laden with sins, led away with divers lusts, Ever learning, and never able to come to the knowledge of the truth.
2 Timothy 3:6, 7