Men Need Women. Women Need Men.
Men Need Women. Women Need Men.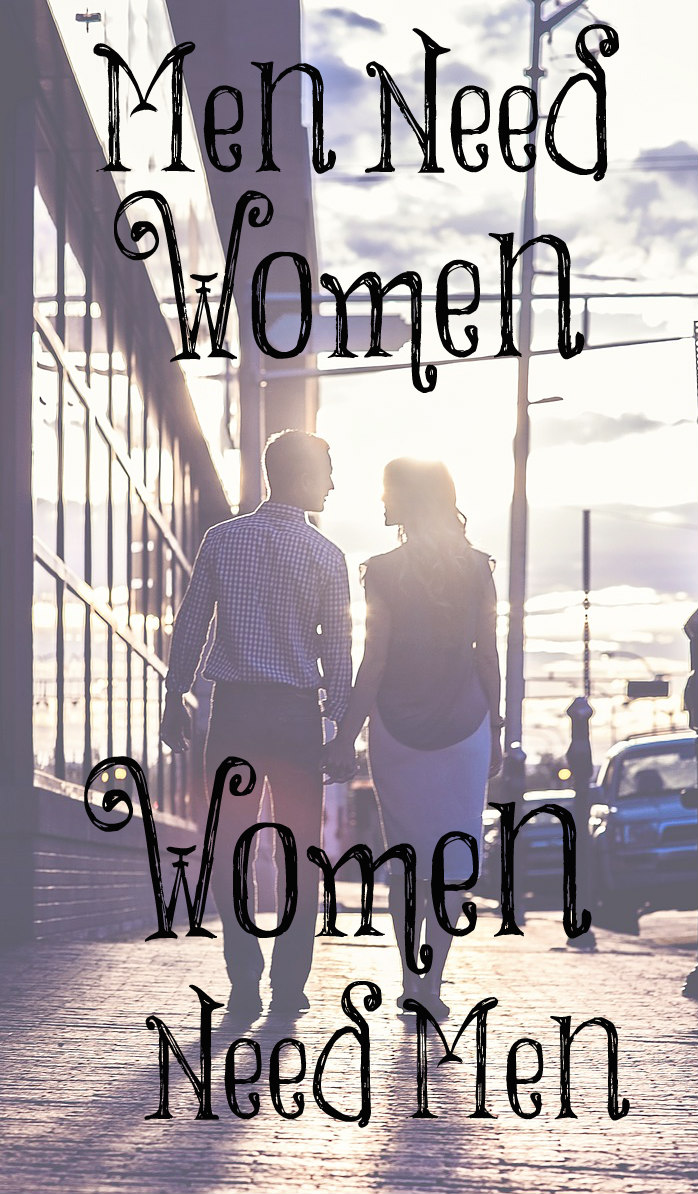 Last year, I watched a documentary of two couples who had to live like people did in the 1800s for a year. It was a great show! (I did a blog post about it but I forgot the name of it.) One of the women was a feminist and at one point was so frustrated that she couldn't do the hard work of tilling the land and all of the work the men had to do but instead had to do the work of cleaning and cooking. She had a difficult time accepting the fact that God gave men and women different jobs to do!
"Man needs the help of a good woman. A home is not a home without a woman…but any woman who runs a business of her own, who meets the world on its own terms, often feels her frailty, often feels the need for stronger hands and shoulders and a bolder brain than her own…In the pioneer home, there was need for strong arms and hands to fell the trees and clear the land and till it. There was needed boldness for protecting the home against the Indians and courage to supply the larder with the wild meat. But in the cottage there was a need for daintier fingers to rock the cradle, to do the sewing and the cooking. And there was need for a tenderer heart, for a woman's genius and a woman's devotion and a woman's loyalty." (John Rice)
I asked the women in the chat room, "What's something around the home that you NEED your husband to do because you are unable?" There were many great answers! Here are a few of them.
"Open Jars, carry heavy things, make babies (can't without him anyways)."
"Fixing many things I break. Getting on the roof like he had to yesterday. Blow off leaves and clean the gutters, move stuff up and down from the attic, make babies, make big financial decisions, and the list could go on and on!"
"Use the chain saw, fix vehicles, build, and move heavy things."
"Lifting anything heavy, open jars I can't, electrical, plumbing, mechanical jobs, and he is much more precise at doing a task so I help hold things and I'm the clean up person. He gets to deal with the snakes and mice when I come in contact with them."
"Make a living so I can stay home full time and care for the children and home."
Men build the houses but men need women to make a house a home, bear and raise children, and take care of all the duties that come with keeping a home. God's ways are so good and perfect for us!
And he answered and said unto them, Have ye not read, that he which made them at the beginning made them male and female, And said, For this cause shall a man leave father and mother, and shall cleave to his wife: and they twain shall be one flesh?
Matthew 19:4, 5