Heterosexuality is the Foundation of Patriarchy?
Heterosexuality is the Foundation of Patriarchy?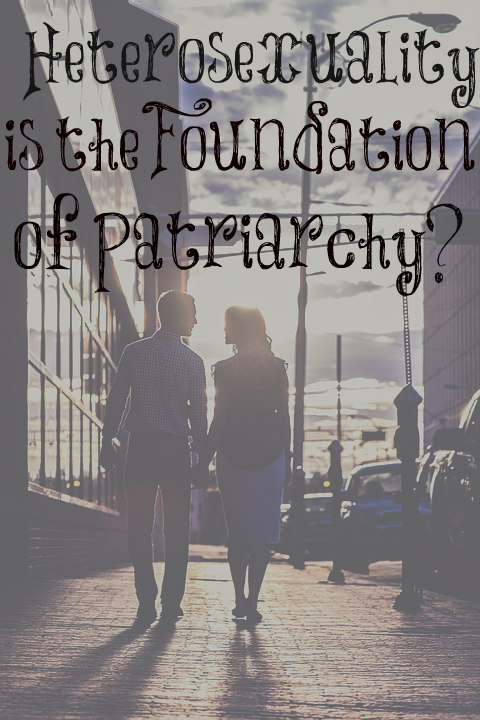 There's a Bible verse that tells us that "in the latter times, some shall depart from the faith, giving heed to seducing spirits, and doctrines of devils…forbidding to marry" (1 Timothy 4:1-3). We can clearly see the winds blowing this way in our culture, women.
There's an article written by a lesbian that states that heterosexuality is the foundation of patriarchy and has kept women subordinate for centuries. Women need to be freed from this bondage and be lesbians!
Feminism's initial and continuing goal is to get rid of patriarchy, and it has infiltrated the Church sadly. God created men to be the leaders in the churches and head over their wives. This is His created order and feminism rebels against this. Feminism teaches women to hate men and that they don't need men. They only know how to tell lies as their father, the devil, does.
Heterosexuality is NOT the foundation of patriarchy. God is, and His ways are good. He is the one who created heterosexuality, too. A man and a woman becoming one flesh for life is His will. This doesn't put women in "subordinate" positions, as feminists would have you believe. It's God best for you, women!
Women being quiet in the churches, as God commands, doesn't put women in subordinate positions either. God created man first and he is the one God ordained to be in authority positions in the churches and in the homes. It doesn't mean women are less than, just as an employee is not less than the employer; it's for order since God is a God of order.
Yes, there have been and are many bad male leaders and husbands but it doesn't void God's will for us. There have also been and are many good and godly male leaders and husbands. Life on this earth is temporary and is filled with sinful human beings so nothing will ever be a utopia, as some seem to strive for.
Nothing will ever be perfect in this short life that we've been given. Encouraging women to reject heterosexuality and patriarchy isn't going to make their lives any better. They will make them worse. The farther one strays from God's path, the worse their lives will become; for we reap what we sow. I have found that the more obedient I am to Christ and His ways, the richer my life becomes. Yes, I still have trials and sufferings (this is promised to everyone) but there is more joy in relationships, in my marriage, and with the Lord.
His ways are perfect, women, even if you can't understand them. Begin living them out with the power of the Holy Spirit working mightily within you, then taste and see that the Lord is good! His mercies are new every morning. Whatever you have to do, even if it's living in submission to your husband (even if he's not a great husband), the Lord will give you the strength to do so.
Trust Him with your life and obey Him. He's our perfect Creator and He leads us on the narrow path that leads to life. Stay married to the husband of your youth until death do you part. Bear and raise children for the Lord. Be home with them full time. Love deeply. Forgive easily. Let no root of bitterness grow in your heart. As you go along this narrow path, you will see that the blessings are abundant!
Feminism is far from the heart of God. God created us to be feminine women of God with meek and quiet spirits. It's for our good and His best. Trust Him!
It is of the Lord's mercies that we are not consumes, because his compassions fail not. They are new every morning; great is thy faithfulness.
Lamentations 3:22, 23