No One Ever Told Her to Marry and Bear Children
No One Ever Told Her to Marry and Bear Children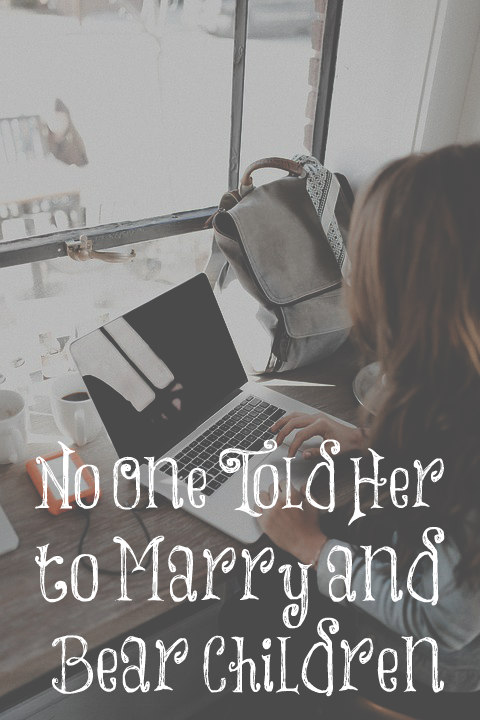 Young women are made to believe they can have everything they want but almost always, they find out the hard way that they can't. On the Dennis Prager show last Friday, a young man called in and related a story about this issue. He was out on a business lunch and a woman in her forties sat next to him. She was a very successful business woman. Somehow the topic of marriage and motherhood came up and she sadly said, "I missed out on being a wife and mother." The young man asked her, "Why didn't you get married when you were young?" She answered, "No one ever told me."
Dennis immediately replied, "NO ONE tells young women to get married! NO ONE!" (I was driving down to the airport by myself and I was raising my hand and exclaiming to the radio, "I do! I do!") Then Dennis added, "If anyone does teach young women to marry, they are accused of patriarchy." Young women who don't read my blog or maybe a few others blogs, and have never read the following verse commanded by God, will never hear anyone telling them to marry and bear children. "I will therefore that the younger women marry, bear children, guide the house, give none occasion to the adversary to speak reproachfully" (1 Timothy 5:14).
Most churches aren't teaching this, although, I remember listening to a sermon John MacArthur gave years ago and he sure was telling the young people in his congregation to get married but I think it's a rare pastor who will teach this these days. "Oh, that verse (1 Timothy 5:14) doesn't mean what it says…" they will say and try to make us believe that it isn't relevant for young women today.
No, most young women are taught to seek higher education, get a career, travel, and just have fun. God commands young women to marry, bear children, and guide the home but few are willing to speak these words aloud. I love seeing young women on Facebook using their platform to teach women about biblical womanhood. They get mocked and ridiculed by the many feminists in their midst but they don't care. They know they are spreading God's truth and His ways are good, and acceptable, and perfect (Romans 12:2).
I know there are some young women who are reading this post who are in their late twenties or maybe even thirties. They would love to get married but no godly man has asked them to marry. What about them? My encouragement to them is to wait upon the Lord. I would have loved for all of my children to be married by their early twenties like Ken and me, but it didn't happen. Two of them were 24 and the other two were 27 when they got married. It was all in God's perfect timing BUT those single women must make themselves available where godly men can find them. Go to big churches in their area. If friends or family want to set them up with someone they think would be perfect for them, GO! Even if it has failed many times before. This may be the one!
The most important thing, however, is to learn to be content while being single. Paul had to learn contentment in a prison. You need to learn to be content while single just as married women who can't have children need to learn to be content and mothers who are busy doing the same thing day after day with little children need to learn contentment. Older women like me with no children in the home and who can get lonely, we even need to learn contentment. You will be much more attractive to a godly man if you are cheerful and content!
I will continue to teach young women to get married! It seems to be a dying institution in our culture. My parent's generation all got married in their early twenties and immediately began having children. Many in my generation got married in their early to mid-twenties and began having babies shortly after marriage. This generation is not doing either of these! I know many children my children's ages who are not married or if they are, they aren't haven't children. NO ONE is teaching them.
I will therefore that the younger women marry, bear children, guide the house, give none occasion to the adversary to speak reproachfully.
1 Timothy 5:14