What About Barren and Single Women?
What About Barren and Single Women?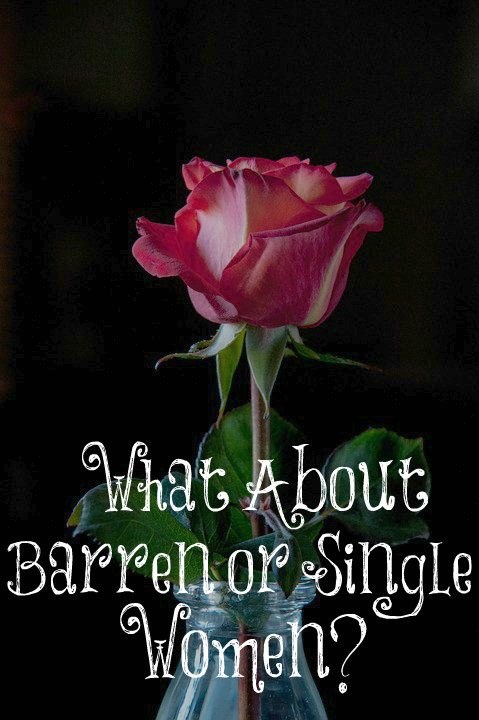 Written by Nancy Campbell at Above Rubies
A reader once asked me, "If motherhood is the highest calling of women, what about women who are single or married women who are barren?" This is a very valid question.
When we give birth to a baby and gradually add to our family we are propelled into the realm of motherhood. However, this is not the beginning of motherhood. Every female is ordained at birth to be a mother. Little girls love mothering from the earliest age. Did you know that a baby girl has approximately two million eggs in her ovaries when she is born?
Every woman is created to be a mother, whether she has many children, is barren, or single. God put within every female an innate desire and anointing to nurture. Even those who spurn motherhood, because of the brainwashing of our humanist society, can't get away from it. If they don't want to nurture babies, they will nurture a pet. They have to have something on which to pour out their God-given mothering instinct.
Some of the greatest mothers who have lived were not married women and never gave birth to children. Of course, we immediately think of Mother Theresa, who although a single woman, poured out her life in sacrificial love to the poor and the needy. In doing so, she was a great mother and a totally fulfilled woman. A single woman or a woman who is not able to conceive is still a mother.
There is a drought of mothering in our needy and hurting society today. Mothers are the greatest need in society, whether married or single. There are hurting children, disturbed young people, and lonely and needy elderly who are all desperate for the loving touch of an anointed and nurturing woman, whether married or single.
Single women should ask God in what direction He wants them to pour out His loving nurture He has innately put within them. God will lead them to many broken and messed up lives. Often the barren woman ends up with more children than the married. Isaiah 54:1: "Sing, O barren, thou that didst not bear; break forth into singing, and cry aloud, thou that didst not travail with child: for more are the children of the desolate than the children of the married wife, saith the Lord."
The most important thing is for each one of us, married and single, to generously embrace the lifestyle of mothering God intends for us. Mothers with children, embrace your wonderful high calling of motherhood. Don't hanker for another lifestyle; you are in the perfect will of God.
Single women or precious mothers who cannot conceive at this time, embrace the mothering anointing that God has given you and open your heart to mother all whom God brings into your life. There are so many waiting for you.
Love from Nancy Campbell