Privileged to Serve Your Man
Privileged to Serve Your Man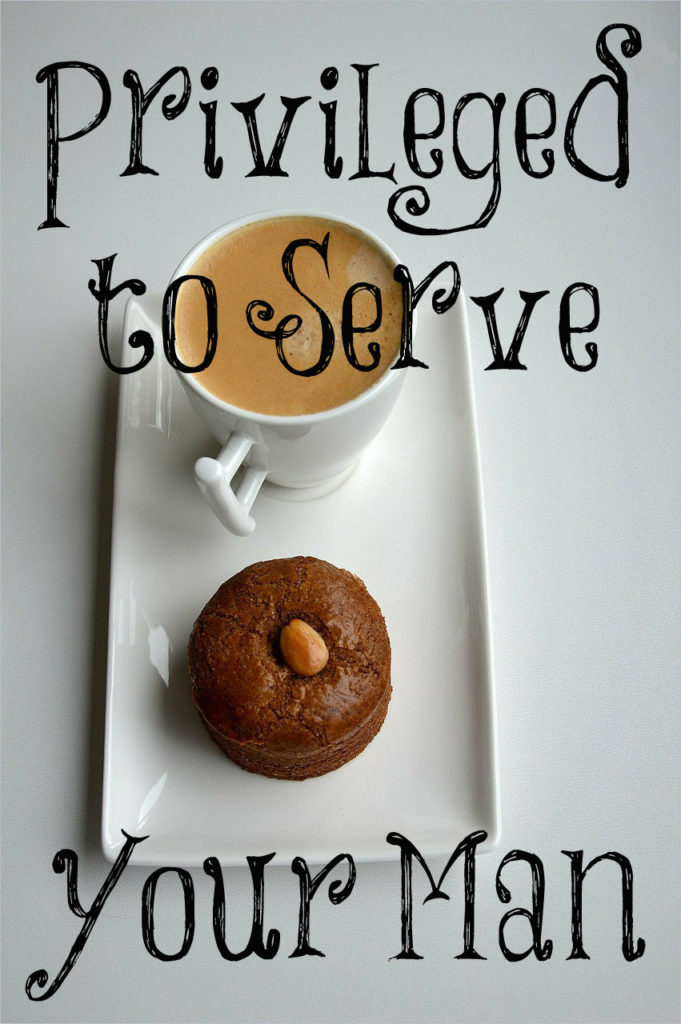 One woman's husband works a lot and is away from home. They have many children, a big garden, and a big home. She struggles with her marriage and disciplining and training her children. She is unhappy with her lot in life. Happy Homemaker had some very wise counsel for her.
Stop with all the negative thinking and grow a backbone with those kids. Remember, you fell in love with the man for a reason, so think back to that if you have to. Also, THINK and I do mean sit down and TRULY think of all he does for you. I am just basing my words on your post, but you said he works twelve hour shifts and you stay home.
Now, I am a housewife and I know it's not a piece of cake, but it truly is MUCH less work and stressful than what your husband does. Really think about that, and I don't see how you can not appreciate him. Those children can learn chores and help you around the house. Even a toddler can be taught to pick up their dirty clothes and toys and much more if you teach them.
If you haven't read Lori's book (The Transformed Wife) or Debi Pearl's (Created to be a Help Meet) then I highly, and I mean highly recommend getting a copy. Created changed my life and marriage, and it was exactly what I needed because I needed a good kick in the rear and to be told I was wrong. If you've already read both books, re-read them. Find encouraging Bible verses and memorize them. I will give you my favorite one (and I had to memorize it when I was letting my negative thoughts and feelings let me become depressed because I would only dwell on the ugly in life and not all the many wonderful positives that the Lord had blessed me with.)
Thou wilt keep him in perfect peace, whose mind is stayed on thee: because he trusteth in thee.
Isaiah 26:3
If you don't get rid of those nasty thoughts, they will turn into more negative thoughts and it will eventually be all you think. Don't let that happen. So, right now stop thinking anything negative, if you have a negative thought, replace it with something positive. My favorite example: if there are dirty socks on the floor, when you start thinking how ungrateful he is to have left them, remind yourself that there is always someone out there that would LOVE to pick up her husband's dirty socks (widows, unmarried ladies) and that it is a privilege to get to serve your man. And it truly is a privilege; I honestly believe that now.
Another thing I have learned the hard way is that not only is love an action word, but so is JOY, you can choose to be joyful. Yes, it is really hard at first and seems impossible (trust me, I've been there) but the more you choose to be joyful, the easier it becomes next time.
I don't normally like to share my prayers, as prayers are a personal conversation with God, but maybe it will help you. When I pray, I ask God to help me make our home a joyful and peaceful place for my husband and I also ask Him to help me to not nag and complain, but to be joyful and glad. I also ask God to help me to obey and submit to my husband JOYFULLY and to help me to honor and reverence my husband in all things.
You see, I don't want to JUST submit to my husband, I want to do it joyfully. As far as desire for intimacy goes, maybe you don't feel desire because deep down you know something isn't right and that you need to change? For me, nothing stirs up that desire more than knowing God created me for my man — I am his and I was created to serve him, there is nothing better than knowing this.
Now, as far as kids go, I haven't read To Train up a Child by the Pearls, but I hear a lot of good things about it. Yes, this too will be hard, but worth it. If you get those kids under control and behaving better, that too will help with your relationship with your husband (or at least from people I have spoken to, that's the case).
Above all else, pray that God change your attitude and mindset. That He helps you get your joy back!
As each one has received a special gift, employ it in serving one another as good stewards of the manifold grace of God.
1 Peter 4:10