Raise Your Daughters in the Ways of the Lord
Raise Your Daughters in the Ways of the Lord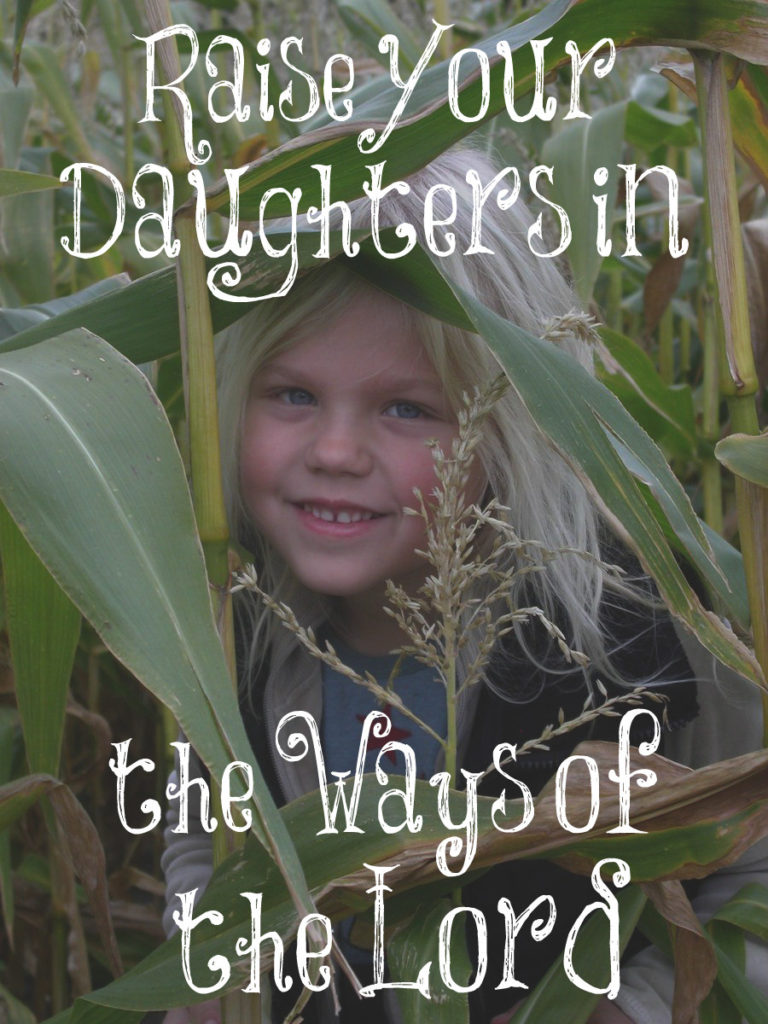 Recently, I wrote this on twitter: "Raise your daughters from an early age that their highest and best calling is to be a wife and a mother! They will hear the opposite from culture." Of course, the reaction was fierce and highly condemning. K. B. Davies agreed with me and wrote a beautiful post in reaction to this.
RAISE YOUR DAUGHTERS RIGHT:
I absolutely love swimming against the apostate tide of this world and going against its ungodly opinions/culture (so do I!). This is one such case and suffice to say, I agree with The Transformed Wife.
According to the Bible, the highest calling for a woman is to be a helpmeet unto her husband (Genesis 2:18), a homemaker unto her family (1 Timothy 5:14), and a mother unto her children (Psalm 131:1-3, Deuteronomy 32:11, 12).
This is not opinion. It is scripture.
Titus 2:3-5: "That the aged women…teach the young women to be sober, to love their husbands, to love their children, to be discreet, chaste, KEEPERS AT HOME, good, obedient to their own husbands, that the word of God be not blasphemed."
And if this isn't good enough for some, 1 Timothy 5:14 even includes young women who have been widowed:
"So I would have younger widows marry, BEAR CHILDREN, MANAGE THEIR HOUSEHOLD, and give the adversary no occasion for slander."
Do you know what it means to give the adversary "NO OCCASION FOR SLANDER"? It means do nothing that the Devil can go to God to accuse you of. In this particular case, the scriptures are referring to a woman's primary purpose.
Unfortunately, this biblical truth is an abomination to a people who have departed from the ways of God and are simply operating through the god of Self and wisdom of the world.
This wisdom tells women to leave their households, to submit to other men outside, abandon their children to daycare centers, and devolve their motherhood duties to nannies and au pairs – all in the name of women's empowerment and equal opportunities.
The sad thing is, many of those (husbands) appointed spiritual leaders and mentors over them, and who are meant to lead them in the ways of the Lord, are the ones actively promoting and encouraging this ungodliness and rebellion. Like Adam before them, they have partnered and become one flesh with them in disobedience.
More so, if a man is supposed to be a provider to his family – as the Bible states and many agree, why on earth are women leaving their homes, marriages, and children to work outside? Is it that his provision is not enough?
Of course, it is because many have bought into the lie of dual income households; all because of abject greed, crass materialism, and shameless covetousness.
If people were to let go of their desire to look a certain way, drive certain cars, live in a certain house, send their kids to certain schools, and live in a certain way, they will find one income is MORE than enough for a family to live on.
Inadvertently, people have sold their soul and become slaves to mammon. They are now trapped in a lie they cannot free themselves – because if they did, the illusory house of cards they built will come crashing down.
So back to the Bible…
Nowhere in the Bible can you find any verse telling women to go outside and submit to any other man in the name of employment. Nowhere will you find God telling them to shatter any glass ceiling or reach any heights in the corporate rat race of nine to five, whilst putting themselves under all manner of pressure and abandoning their homes in the process.
Even the famed industrious Proverbs 31 woman often mentioned was self-employed and working in the home.
Truth is, if you weren't raised right, or you were and rejected the training, you can make sure this cycle of rebellion stops with you – by raising your daughter in the ways of the Lord, rather than in the ways of the world.
Now, all this is based on the WORD OF GOD, rather than the worldly wisdoms of feminist icons like Michelle Obama. So, if you'd like to opine on this post, please make sure it is also based on the word of God. It is the ONLY thing that reigns supreme here!
For the word of God is quick, and powerful, and sharper than any twoedged sword, piercing even to the dividing asunder of soul and spirit, and of the joints and marrow and is a discerner of the thoughts and intents of the heart.
Hebrews 4:12