Rebellious Women Defraud Their Husbands
Rebellious Women Defraud Their Husbands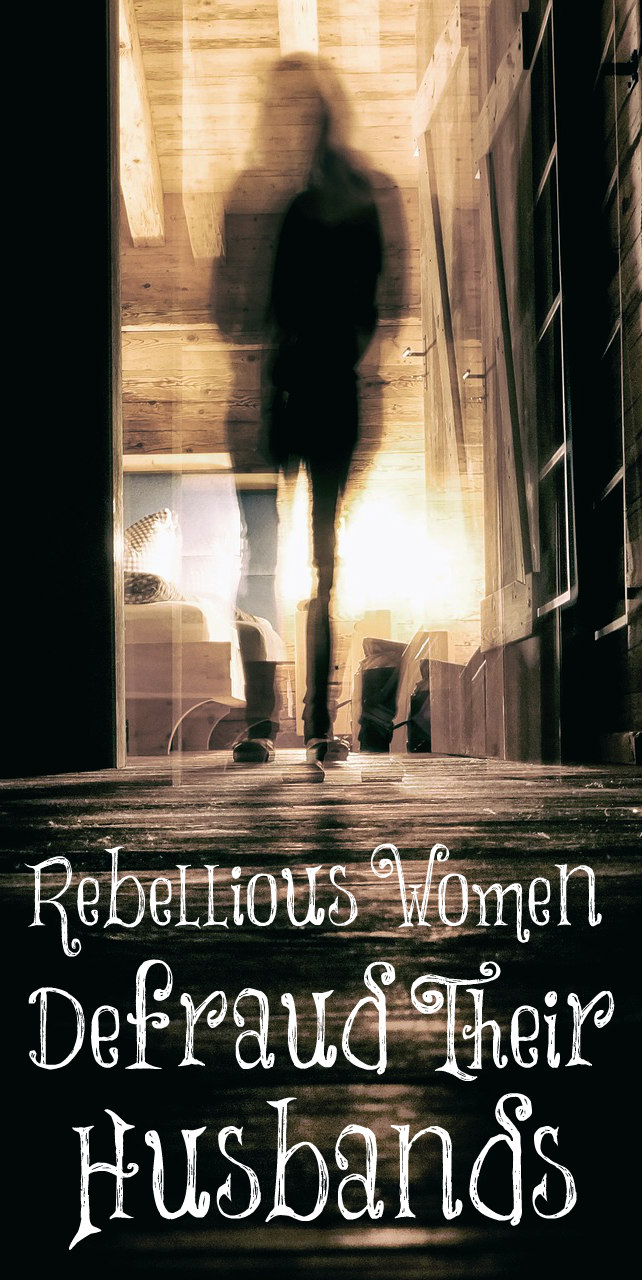 The defrauding of one's husband of sexual intimacy had severe consequences back in the day. A wife who deprived her husband was called rebellious, then sent away and was left destitute. As believers in Jesus Christ, we should never take any of God's commands to us lightly or frivolously; for we are promised that we will reap what we sow.
All of the biblical translations use the word "deprive" in 1 Corinthians 7:5 except the KJV which uses the word "defraud." Defraud ye not one the other, except it be with consent for a time, that ye may give yourselves to fasting and prayer; and come together again, that Satan tempt you not for your incontinency.
The definition of deprive is "to hinder from possessing or enjoying." The definition of defraud is "to withhold wrongfully from another what is due to him." Defraud is a much stronger word than deprive and defrauding our husbands of intimacy should be taken very seriously by all those who claim to love the Lord Jesus Christ.
Gill's Exposition further explains defraud this way: "it is what both have a right to, and therefore, if either party is denied, it is a piece of injustice."
A similar verse comes just two verses before this one. It is 1 Corinthians 7:3; Let the husband render unto the wife due benevolence: and likewise also the wife unto the husband.
Gill's Exposition interpretation of this verse: "And, likewise also the wife unto the husband; she is not to refuse the use of the bed when required, unless there is some just impediment, otherwise she comes under the name of a 'rebellious wife'; concerning whom, and her punishment, the Jews give the following rules: a woman that restrains her husband from the use of the bed, is called rebellious; and when they ask her why she rebels, if she says, because it is loathsome to me, and I cannot lie with him; then they oblige him to put her away directly, without her dowry; and she may not take any thing of her husband's, not even her shoe strings, nor her hair lace; but what her husband did not give her she may take, and go away: and if she rebels against her husband, on purpose to afflict him, and she does to him so or so, and despises him, they send to her from the sanhedrim, and say to her, know thou, that if thou continuest in thy rebellion, thou shalt not prosper? and after that they publish her in the synagogues and schools four weeks, one after another, and say, such an one has rebelled against her husband; and after the publication, they send and say to her, if thou continuest in thy rebellion, thou wilt lose thy dowry; and they appoint her twelve months, and she has no sustenance from her husband all that time; and she goes out at the end of twelve months without her dowry, and returns everything that is her husband's."
The reasons noted in 1 Corinthians 7 for getting married in the first place were to "avoid fornication" (7:2) and for lack of self-control (7:5). The Word also tells us that it is better to marry than to burn. God created sex for marriage and when a husband is deprived and defrauded for any reason other than ill-health or injury, a wife is definitely being rebellious and living in sin which is a dangerous place to be in. Please, heed the scripture's warning, women, and love your husbands as God commands that you love him.