Sending Daughters Off to College Out From Under Male Protection
Sending Daughters Off to College Out From Under Male Protection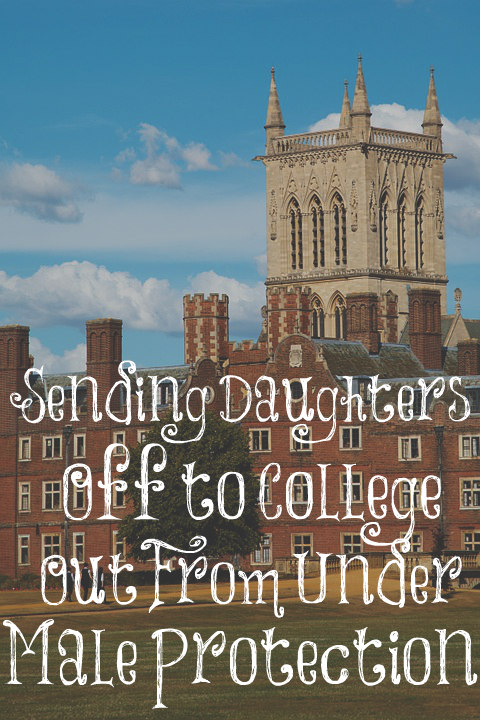 Is it wise for parents to send daughters off to college? Many daughters who are raised in Christian homes turn away from their faith when they go out from under their father's protection and go to college. In the movie "Unplanned," Abby states that she grew up in a Baptist home in a small town, then her parents shipped her off to college. She was soon indoctrinated with the Planned Parenthood mantra ("a woman has a right to choose what she wants to do with her body") and became involved in partying, drinking, and all that goes with this. She ended up having two abortions.
Cane Caldo wrote, "Foolish and worldly talk, as I have seen and heard first hand in churches I have attended, is when Christian fathers send their 18 year old daughters off alone to a college campus in a far off city where they will be surrounded by sexual immorality and expected to join in with the general bacchanalia. She may be drunk and passed out in a frat house, but at least she's in college and unmarried. This is foolish and worldly."
The breakdown of the family and feminism has made women more unsafe. God's intention is for women to be protected by good men that love them. Even as Jesus was dying on the cross, He asked one of His disciples to care for His mother. He wanted His mother in the care of a man's protection.
Can we find any examples in Scripture that tells us of young women willingly leaving their homes to go off somewhere without a father's or husband's protection? Can we find any commands that this is okay? In fact, God's will for young widows is not to go off and be independent but to marry, bear children, and guide the home so they give none occasion to the adversary to speak reproachfully (1 Timothy 5:14). It seems that woman tend to get in trouble if they are independent and doing their own thing as we can clearly see today. (One example some may bring up is Ruth and Naomi, since Naomi's husband and sons died and they went off to another land but soon were under the protection of Boaz. This is not an example of willingly leaving a man's protection.)
Who thought it was a good idea to send off young and impressionable daughters to places where they would be given complete freedom to live as they please? Most colleges teach nothing about the Lord but most everything against Him. Young women aren't even safe on most college campuses with rapes and abductions occurring. It's not wise for them to be walking around the campus at night alone. They are much safer in their homes with their fathers and under their roofs (if they are good men) or when married with their husbands under their roofs.
God never meant for women to be independent, making their own money for their pleasures, and living without any male protection. Women are the weaker vessel and need protection. God meant it to be this way. Our culture has gone so far from God's will for women that it's difficult to find our way back. It's hard to see through all of the feminist agenda to see what is actually the good and right way.
Colleges take most daughters far from God's path for them and this is why we are seeing fewer and fewer marriages, more young women living with boyfriends, and many fewer children being born, even by Christian young women. Most Christian colleges are infiltrated with feminist's doctrine instead of godly, biblical doctrine for women. As culture becomes darker and more wicked, parents need to think carefully before sending their daughters off and away from the father's protection.
When Jesus therefore saw his mother, and the disciple standing by, whom he loved, he saith unto his mother, Woman, behold thy son! Then saith he to the disciple, Behold thy mother! And from that hour that disciple took her unto his own home.
John 19:26, 17