Men Have Made It So We Think We Don't Need Them
Men Have Made It So We Think We Don't Need Them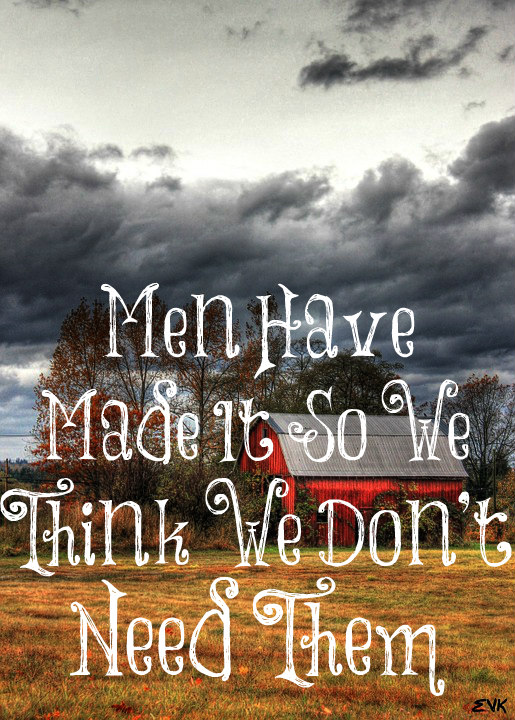 If a woman wants a steak, she drives to the store in her car that men have invented and built, goes into the store (that men have built) with the money she has earned, and buys a steak. The steak was from a cow on a farm that most likely a man had run. Then a man slaughtered that cow and cut it up to ready it to be sold. Then a man drove the semi-truck to the store. Then she goes home and flips on a switch to turn the lights and air conditioning on: all things that were invented and built by men. This is the same for almost everything else that she will use.
Our homes were built by men. The factories where our clothing is made was built by men and so were the machines that made the clothing. Men have made it so good for women that women think they don't need them any longer. They can leave their homes all day, work for a boss, and get a paycheck. They are strong, independent, and freed from needing a man in their lives. Most mothers are teaching their daughters that they don't need men.
The one power that women actually have over men is sex. Men want sex and women will give it to them IF they want to give it. In past generations before birth control, it wasn't nearly as easy for women to wield power over men in the area of sex. If they had sex, there was a strong likelihood that they would get pregnant and getting pregnant out of wedlock was seen as a shameful thing. Women used to be more careful about having sex with men before marriage. Now they no longer have to be because of the availability of birth control which men created for them and abortion. (I did find out that two women invented the suction device that made abortions "safe." NOT so! One person is always murdered in an abortion. This is an evil invention created by women – Romans 1:30.)
You will most likely see women commenting on this post about all of the amazing achievements of women, therefore, men really aren't that great nor have they made our lives better. Ignore them. Yes, women have invented a few things but they are minuscule in comparison to what men have invented and built. Feminists don't want to admit this. Many of them truly seem to despise men. They made the term "patriarch" to be a horrible word as if men as leaders of families and nations was a horrible thing. They think they can do better than men.
Well, I can tell you I am thankful I have a man, very, very thankful. I have been able to be home full time for almost 34 years. I was able to be the one home to raise my children because he works so hard to provide for us. I am thankful my children have a father in their lives who helped me raise our children. I am thankful my sons have a father who spent hours playing ball with them and that all four of my children have a father who loved them deeply and spent countless hours talking to them about everything. I am thankful to have a man who fixes things I can't, carries things that are too heavy for me, and takes care of me in numerous ways. I can't imagine ever thinking that I didn't need a man. I always wanted a man! I never fell for the feminist agenda.
Young women, feminism has sold you a load of lies. (I want so badly to use another word but I won't since I don't.) The best things in life are from the Lord. He created marriage and He calls children a blessing and gift from Him. He created MALE and female. He made us the weaker vessel so we would need and want a man. In past generations, women and children wouldn't have been able to survive without men and if something were to happen to all of the men today, we wouldn't survive for long either. They still do all of the heavy lifting that keeps cultures running smoothly.
For the man is not of the woman: but the woman of the man. Neither was the man created for the woman; but the woman for the man.
1 Corinthians 11:8, 9