She Poured Herself Into the Task of Raising Children For the Lord
She Poured Herself Into the Task of Raising Children For the Lord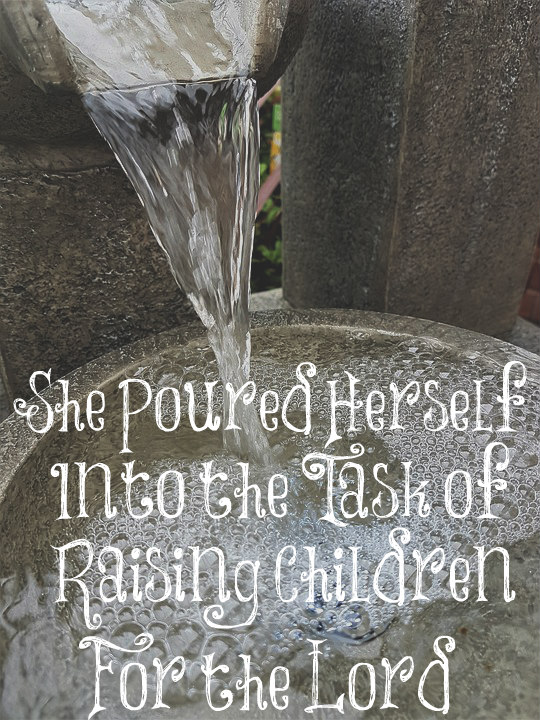 "Hannah (in the Bible) never spoke at a women's conference. She never wrote a book. She never broadcast over the radio or appeared to the masses on television. She was not the leader of any women's ministry, nor did she ever have a following of women while she lived. How, then, did she come to be numbered among the great women or history? Her 'secret' is simple. She bore children, and poured herself into the task of raising them for the Lord" (Helen Aardsma).
Hannah wanted a child almost more than anything else but the Lord had "shut up her womb" (1 Samuel 1:5). She "poured out her soul before the Lord" and asked Him for a child because she knew that He is the only one who closes and opens wombs. She made a vow to the Lord that if He gave her a child, she would give that child back to the Lord. "Wherefore it came to pass, when the time was come about after Hannah had conceived, that she bare a son, and called his name Samuel, saying, Because I have asked him of the Lord" (1 Samuel 1:20). She kept her vow and gave her child to the Lord after he had been weaned. Hannah went on to bear three more sons and two daughters.
She didn't want fame as many women today. She simply wanted to raise children for the Lord and the Lord blessed her with this task. She was the one home teaching and training her children for the Lord which is a full-time ministry. This is all she wanted to do with her life. She loved the Lord deeply and she knew that her greatest contribution she could make in life was to raise children who knew Him. What can be more important? "I have no greater joy than to hear that my children walk in truth" (3 John 4). There's NO greater joy!
Women are told today to "find themselves" and "love themselves" and make sure to have plenty of "me time." None of these were important to Hannah; for she knew that in order to find oneself, it required giving oneself away. She didn't need to find herself because all that mattered to her was that God knew and loved her. She prayed, "My heart rejoiceth in the Lord, mine horn is exalted in the Lord: my mouth is enlarged over mine enemies; because I rejoice in thy salvation" (1 Samuel 2:1).
She didn't need to learn to love herself because she knew God, who is love, loved her deeply and she was secure in His love not her's. Her value and worth came from Him. "He will keep the feet of his saints, and the wicked shall be silent in darkness; for by strength shall no man prevail" (1 Samuel 2:9).
She also didn't search for "me time" since she wanted to give her life as a living sacrifice to the Lord for all He had done for her. "He raiseth up the poor out of the dust, and lifteth up the beggar from the dunghill, to set them among princes, and to make them inherit the throne of glory: for the pillars of the earth are the Lord's, and he hath set the world upon them" (1 Samuel 2:8).
When I was a mother with children under my roof, I wasn't involved in many activities outside of my home. I was too sick to be which, in hindsight, was a blessing because it forced me to be home with my children. They learned to entertain themselves and be content at home while being loved and cared for by me. There was no social media that took my time away from them or prompted me to want to be "famous." I'm not sure I would have much to teach women when I was a young mother. I thought I knew everything but I didn't! (I still don't but I try to base what I believe and teach upon the Word of God.)
If you have been blessed with children, young women, pour your life into those precious blessings from the Lord. Yes, you'll feel overwhelmed and exhausted at times but those times will pass. Your children will grow up sooner than you can imagine and leave your home. All that matters is that they know the Lord and His Word. Remind yourself that the joy of the Lord is your strength and that you can do all things through Christ who strengthens you. When your children grow up to walk in truth, you will know without a doubt that there truly is no greater joy!
He raiseth up the poor out of the dust, and lifteth up the beggar from the dunghill, to set them among princes, and to make them inherit the throne of glory: for the pillars of the earth are the Lord's, and he hath set the world upon them.
1 Samuel 2:8