Studying to Be Quiet
Studying to Be Quiet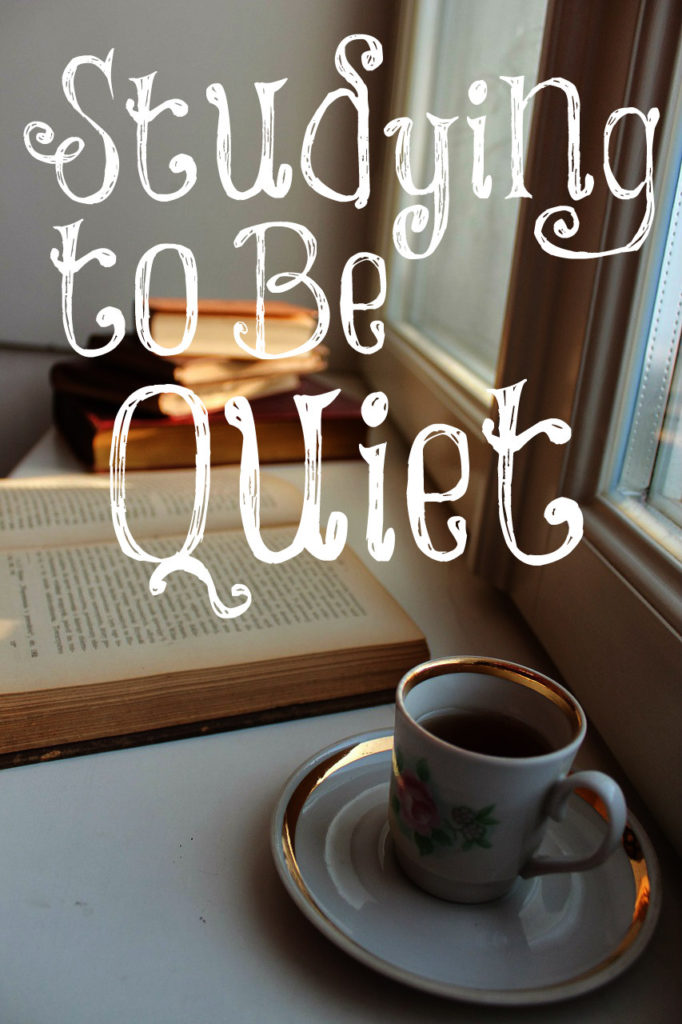 This world is chaotic and noisy but we, as believers in Jesus Christ, are called to be peaceful and quiet. "And that ye study to be quiet and to do your own business, and to work with your own hands, as we commanded you" (1 Thessalonians 4:11). How do we study to be quiet?
"Orderly, peaceful; living in the practice of the calm virtues of life. The duty to which he would exhort them was that of being subordinate to the laws; of avoiding all tumult and disorder; of calmly pursuing their regular avocations, and of keeping themselves from all the assemblages of the idle, the restless, and the dissatisfied. No Christian should be engaged in a mob; none should be identified with the popular excitements which lead to disorder and to the disregard of the laws. The word rendered 'ye study' means properly, 'to love honor, to be ambitious;' and here means the same as when we say 'to make it a point of honor to do so and so.'" (Barnes Notes on the Bible)
It's our job, women to have orderly and peaceful lives. We are commanded to build up our homes and look well to the ways of our household. If you are busy keeping your home clean, orderly, and tidy, you are studying to be quiet. As you dust your furniture, clean your dishes, organize your closets, vacuum your floors, fold your laundry, and train your children, you are learning to be quiet. You are doing your business, which is being a keeper at home, with your own hands and the Lord is pleased with this.
The way to have a calm and peaceful life is to allow the Word of God dwell in you richly so that you won't sin against the Lord. Daily renew your minds with God's truth since this is what conforms you into the image of Christ. This will match your emotions and feelings with truth. You will be lead by God's Word instead of selfishness and what you feel like doing. You won't get riled up and worried about the state of the world because your mind is steadfast on your hope and trust in God.
"To live peaceably in their own families, and to give no disturbance to other families, by talebearing, whispering, and backbiting; to behave with quietness in the neighbourhood, town, or city, they dwell in, and to seek the peace thereof; and to lead a quiet and peaceable life, in all godliness and honesty, in the commonwealth, and under the government to which they belong; and not to create and encourage factions, divisions, animosities, and contentions, in their own church, or in any of the churches of Christ; and it becomes saints to make this their study, to be very solicitous for it, to strive for it, and pursue after it: the word used signifies to be ambitious of it, as what is a man's glory and honour, to emulate and strive to outdo each other, as who shall have the honour of being the quietest person, and the most peaceable member in the community:" (Gill's Exposition)
How do we live peaceably with our own families? By being kind towards them and loving them. We don't argue with them or insist upon being right. We serve them just as the Lord took on the form of a servant, we are to do likewise and serve our families.
Talebearing, whispering, and backbiting should have NO place in a believer's life. Yes, we are to speak the truth in love but we don't share things about others that shouldn't be shared. We don't allow any unwholesome word to come out from our mouths but only those that encourage and build others up.
We are not to create divisions in the church. We don't rebuke the pastor if he said something we don't like. We don't sit in our chairs and criticize in our minds what's wrong with the singing and the service. We don't murmur against what we don't like about the church to others. No, we find things to praise in our churches and focus upon these things!
We are known as a peaceable member in our community. We don't debate the political climate with others in order to force our views upon others. No, we show them the love of Jesus. We obey our government authorities and pray for them. We are salt and light in our communities by not grumbling and complaining but being joyful and content; for godliness with contentment is great gain.
Study to be quiet, women. Learn to do your own business in your home. Learn from those who keep clean and orderly homes. Work hard with your own hands. This is God's perfect will for you!
And whatsoever ye do, do it heartily, as to the Lord, and not unto men.
Colossians 3:23