No Ability to Be Good?
No Ability to Be Good?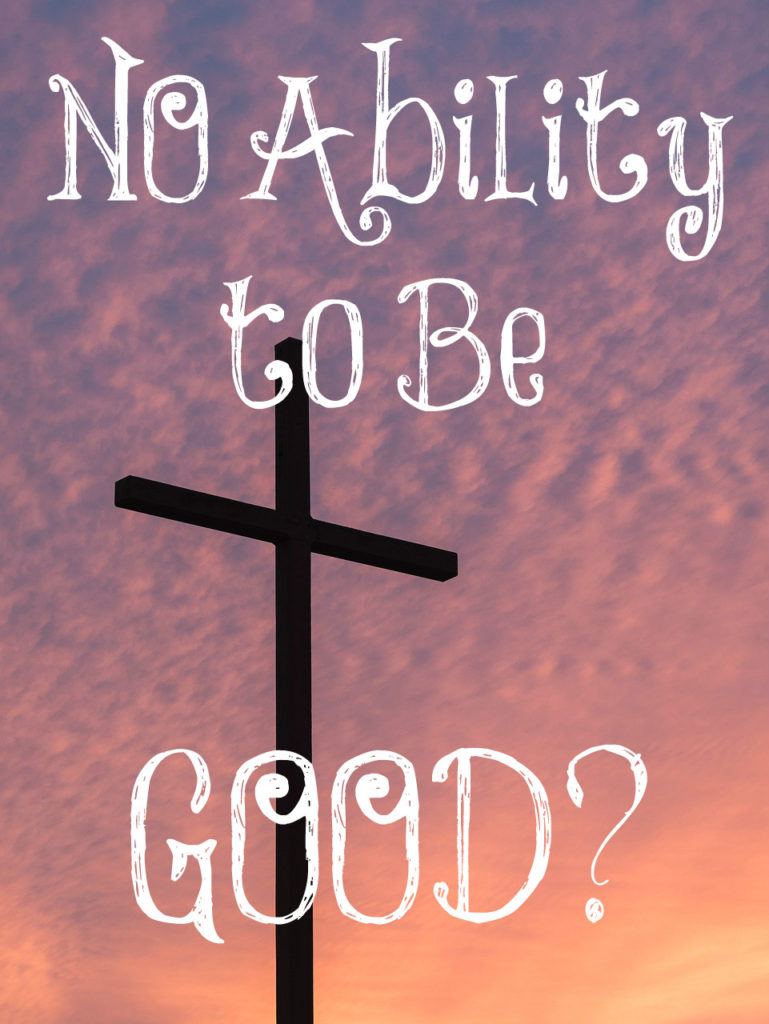 In Titus 2:5, older women are commanded to teach young women to be "good." Do young women have the ability to be good?
In Romans 7, the Apostle Paul admits that he has no ability to be good:
"For that which I do I allow not: for what I would, that do I not; but what I hate, that do I. If then I do that which I would not, I consent unto the law that it is good. Now then it is no more I that do it, but sin that dwells in me. For I know that in me (that is, in my flesh,) dwells no good thing: for to will is present with me; but how to perform that which is good I find not."
He tells us that in him "dwells no good thing" so it must have been impossible for him to be good. Then why would God command older women to teach young women to be good? I believe Paul was writing about the time when he lived under the Law and was not filled with the Spirit. He knew what being good looked like because of the Law but he had no ability to keep the Law.
Does this describe Christians today, as many believe? Do we have no ability to be good? If you believe this, then you must believe that the same Spirit that raised Jesus from the dead has no power living within you. You must believe that the Christian has no ability to overcome sin in their lives. You must believe that the multiple times in Romans 6 that Paul told us that we are dead and freed from sin isn't true. You must believe that greater is the sin in you than the Spirit that indwells within you.
Read Romans 7 in context. It is sandwiched between Romans 6 and 8 in which Paul explains to us who we are in Christ and all that happened at the cross and resurrection. Paul ends Romans 7 with these words:
"O wretched man that I am! who shall deliver me from the body of this death? I thank God through Jesus Christ our Lord. So then with the mind I myself serve the law of God; but with the flesh the law of sin."
What does he mean that he serves the law of sin with his flesh? He just told us that Christ delivered him from the body of death. In Romans 8, he wrote these words:
"For the law of the Spirit of life in Christ Jesus hath made me free from the law of sin and death. For what the law could not do, in that it was weak through the flesh, God sending his own Son in the likeness of sinful flesh, and for sin, condemned sin in the flesh: That the righteousness of the law might be fulfilled in us, who walk not after the flesh, but after the Spirit."
THE SPIRIT OF THE LIFE IN CHRIST JESUS HATH MADE ME FREE FROM THE LAW OF SIN AND DEATH. He tells us the Law couldn't free us from sin and death but Christ, who came in the flesh, condemned sin in the flesh so that we are now righteous and able to WALK NOT AFTER THE FLESH BUT AFTER THE SPIRIT.
YES, you can be good because Jesus Christ dwells within you! Yes, you can say NO to the flesh and YES to righteousness. Yes, you can have victory over sin and walk in the Spirit. Can you be perfect? No! You will still stumble but sin should no longer define your life. Self-control is a fruit of the Spirit that lives within you so you can overcome sin. Listen to this sermon over and over again until you believe it!
God would not have commanded older women to teach young women to be "good" if young women had no ability to be good. We are filled with His Spirit. He has made us new creatures in Christ. We are the righteousness of God. NOW "Go and sin no more!"