The Blessing of Ordinary Days
The Blessing of Ordinary Days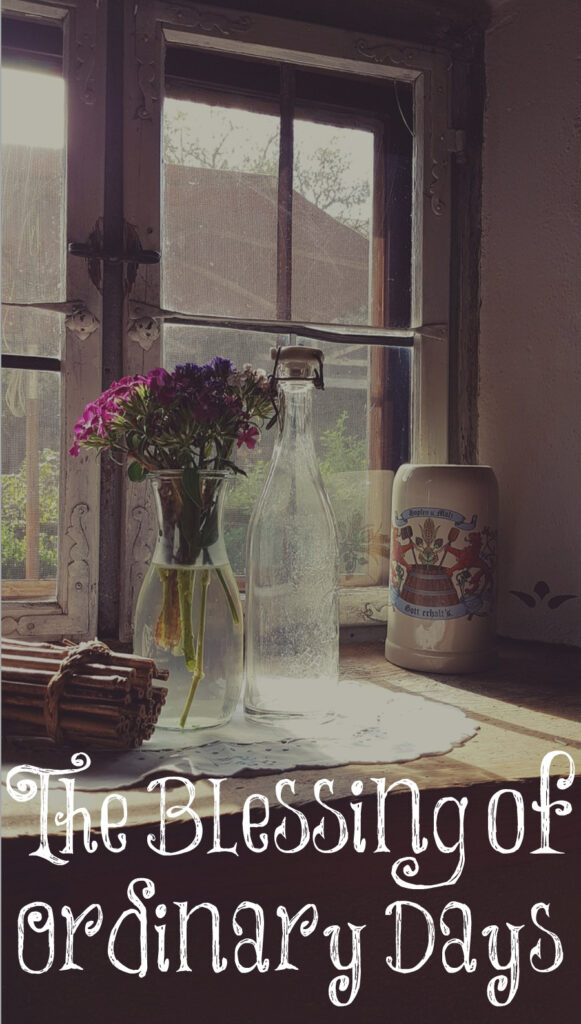 Yesterday, I slept for most of the day. I had a fever and a terrible headache. I felt a bit better by the afternoon, so I watched a movie called "The Magic of the Ordinary Days." It's an old movie set during WW2, and I had seen it before but I decided to watch it any ways.
A beautiful young woman grew up in a loveless home. She went to USC and studied to be an archeologist. She wanted to travel and dig for old relics. But then she met a man who was in the Navy and gave herself to him seeking love. The movie opens with her being driven to a lonely farmer's home whom had committed to marrying her to take away her shame after her father had arranged the marriage.
They married, and she took the bedroom upstairs. She didn't know how to cook, so she got some cookbooks at the local library. She criticized him about only talking about weather and crops. She asked him if he didn't want something more. She wasn't happy the way he lived, since he was so far from the "exciting life."
They attended church where everyone was loving and kind. They sang a great hymn of the faith. When she asked him what people would think when her baby came early; wouldn't they mock and ridicule her? He told her that they wouldn't do that, since they wanted the best for them.
He told her that his father loved to please his mother, and he wanted to do the same for his wife. And he did try to please her. He was loving, kind, and selfless. She finally admitted that she had never felt so loved in all of her life. She had her baby and found joy in being his wife and living in the country.
She had fallen for the lies of feminism; that life was out there traveling, going to college, and living her life the way she wanted to live it. In the end, she found that life was being loved and loving, being with family, and having a man who loved her deeply. She found the blessing of ordinary days.
Blessed is every one that feareth the Lord; that walketh in his ways. For thou shalt eat the labour of thine hands: happy shalt thou be, and it shall be well with thee. Thy wife shall be as a fruitful vine by the sides of thine house: thy children like olive plants round about thy table. Behold, that thus shall the man be blessed that feareth the Lord.
Psalm 127:1-4