The Fruit of My Ministry
The Fruit of My Ministry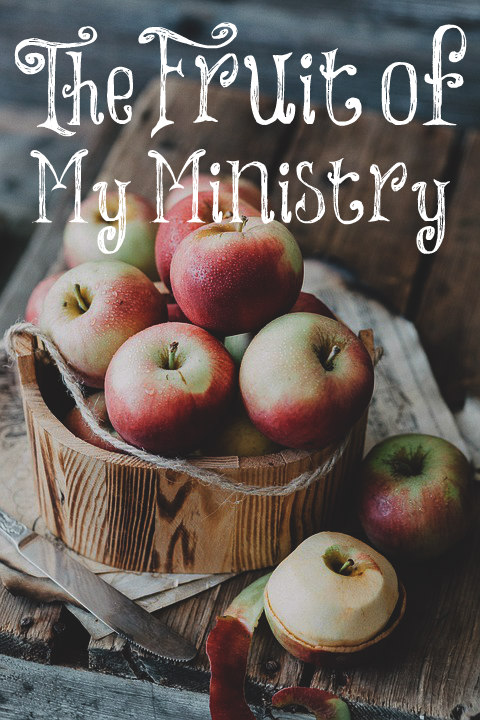 The fruit of one's ministry tells us if it is good or not. Almost every day, I receive private messages, emails, or comments on social media thanking me for my ministry. I don't write these things to boast in me because without Christ and His Word, I am nothing and would have nothing of value to teach. It's all because of Him, and I give Him all the glory. Here are a few of the messages I have received recently:
"Hi! I follow you on Instagram and I watch your YouTube videos. I have only been following for about eight or so months. In learning from you, I have turned into a completely different wife. For years, I ran on emotions and feelings, and my husband would often tell me that I am being irrational and impossible. Of course, I would be completely offended! But I have learned if I control my emotions rather than my emotions controlling me, we do not fight at all.
"I also quit my career as a nurse to be home with my family, and I cannot even put into words how life-changing that has been for us! I serve my husband and I am submissive to him. He recently said, 'Grace, I have always loved you, but now I am completely IN LOVE with you.'
"Two years ago, he told me I needed to lose weight. I was extremely overweight, however, him pointing out my sin offended me. But now I realized he was loving me as Christ loves the church; he wanted me around for a long time. After I realized my sin, I had gastric sleeve surgery and have lost over 100 pounds and now follow Weight Watchers to control myself.
"In learning from you, I now ENJOY serving my husband, homeschooling my boys, and being a keeper of the home. I said all this to say, your ministry to younger women is often hated, picked apart, not understood, and mocked but please continue to do what God had commanded. It is changing lives! It has changed my life and saved my marriage. I just want to say thank you!"
"My dear Lori, please be strong and continue to fight this good fight. Though many may froth at the mouth in rage, yet even if only one woman were to be brought home full time or one marriage be mended for the wife's submission to her husband, it will have been worth it in the end.
"In truth, it's not just one, indeed there are many women who are benefiting from your ministry because it's foreign to most pulpits. The under shepherds are starving the sheep so this ministry is of paramount importance.
"I like how you call it like the Bible calls it, no sugar coating, no kiddie gloves, just good old incisive scripture. The word of God is powerful and no one hears it and shrugs in their conscience. The response to God's Word is visceral in everyone who hears it. Some respond in faith unto obedience and others with outrage unto condemnation. Still both reactions bring glory to God. The former in praise for His mercy in saving and sanctifying a sinner; the latter in praise of His holiness and coming judgement on all unrighteousness everywhere.
"There are precious Christian women tangled in feminist delusion out there who need to hear the truth. The truth will set them free. Many don't know because they have not been told in their churches. Others do but need to have the idols of fear, money, prestige and autonomy torn down with the sword of God's Word.
"Your husband and you are the best thing on the world wide web. Don't ever think about stopping posting. You both are a blessing to Christianity. It's an honour and privilege to read your posts. Thank you for giving us that chance."
Let another man praise thee, and not thine own mouth; a stranger, and not thine own lips.
Proverbs 27:2